Offshore action is right around the corner, and now's the time to start thinking about getting ready to take on those tunas, billfish, mahi-mahi, and wahoo. It's been a long, long winter, people. And no matter how carefully you packed away that gear, there are sure to be some lost fish in your future if you don't do some serious spring cleaning.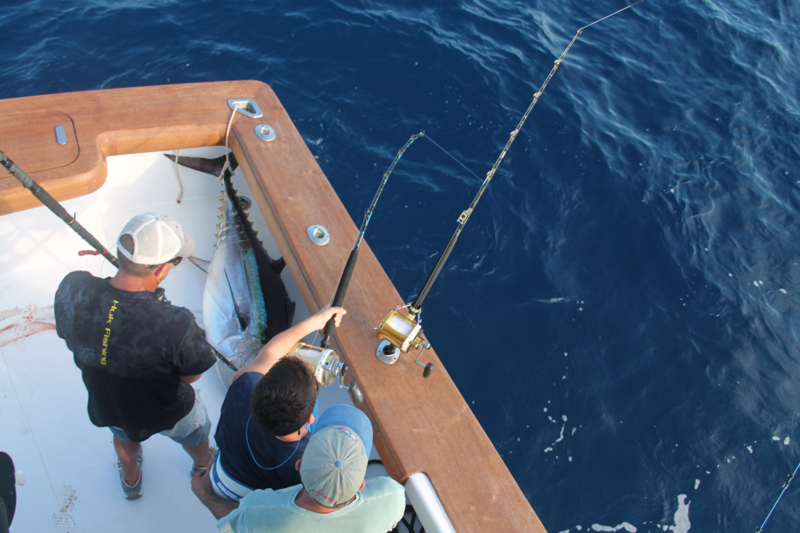 Offshore Fishing Gear
Clean and lube your reels. 'Nuff said.
Leaders need to be unwound and straightened a bit if you don't want to deal with tight, springy coils. Hang the hook or lure as high as possible in a closet or spare room and let the line drape down as you pinch it with a damp cloth and go from end to end. Check every inch for chafing or nicks and replace anything the least bit questionable.
Hooks can and should be sharpened, but also consider simply replacing them. It's impossible to sharpen a hook back to the find edge modern chemical- and laser-sharpening provides, and any crimps more than a year old should probably be replaced, anyway, so replacing versus sharpening is usually a smart move.
Check the points on your gaffs, and sharpen as necessary. It's amazing how common it is to discover a bent or blunted point, and most anglers never bother to assess a gaff's sharpness. That can lead to missed shots and lost fish.
Service/clean/lube your outrigger's pullies and clips. This is critical gear that rarely receives the attention is deserves (if you struggle to get those lines in and out or wonder why your clips are so difficult to deal with… guilty!)
Prepping for Specific Species
You should gear up ahead of time so you're prepared to deploy species-specific offerings when the occasion arises. Many offshore anglers fail to choose specific offerings for specific species, and instead just pull the same old mixed spread. This is a big mistake, because there are a few go-to lures that up your chances when one type of fish or another is biting. So before you even think about leaving the dock stock up on these lures, for these fish:
Albacore Tuna – Green Machines.
Bigeye Tuna – Large spreader/splash bars and skirted rigs with hooks sized for horse ballyhoo.
Bluefin Tuna – Blue/white Ilanders sized for large or horse ballyhoo.
Yellowfin Tuna – "Rasta" or "Psycho" multi-colored spreader bars, and a bird trailed by triple Green Machines for your way-back down the middle.
Mahi-Mahi – Small pink and green plastic squid (daisy chains are great).
Blue Marlin – Large chuggers (blue/white and purple are great choices).
White Marlin – Rigs for naked dink ballyhoo.
Wahoo – Black/purple or red/purple skirts rigged with ballyhoo, sent deep on at least one or two lines.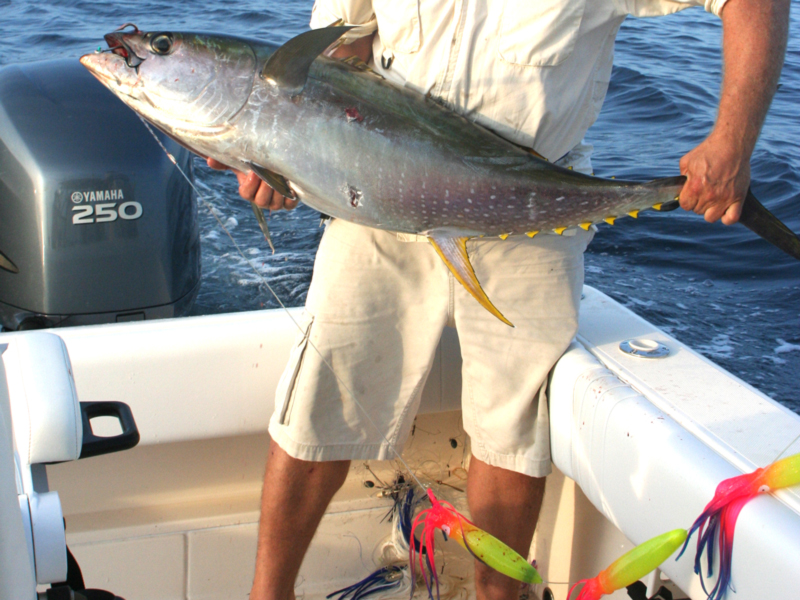 Pre-Trip Planning
As spring progresses and yellowfin start popping outrigger clips with more and more frequency, more and more anglers will head offshore to get in on the action. We've covered trolling for this species more than once (head to FishTalkMag.com and plug "yellowfin" into the search box to get the skinny) but what we haven't covered in detail is the critical aspect of pre-trip planning that applies to any sort of offshore trip. Planning can make the difference between a successful voyage and massive disappointment, so as you consider making a run to the deep think about:
Baits and Rigging
Depending on a tackle shop to have good ballyhoo in stock works, until it doesn't. Anglers with years of experience under their belt will make darn sure they have a bait supply before they go to bed the night before an offshore run. There's just too much time, effort, and expense associated with offshore fishing to discount the possibility that a shop's freezer could go out, their baits will be picked through, or that the guy with the keys will fail to show up on time at zero-dark-early in the morning.
Doing a Full Equipment Check, Boat Included
Rods, reels, and spreader bars need to be working at 1000 percent and ready for action. The day before heading offshore all should get a complete check. Critically, so should the boat. Have you ever lost out on a fishing trip due to mechanical failure? We thought so. Before you hitch up the trailer and tow for hours on end, test-fire the engines, check the charge of the batteries, top off the fuel tanks, check your running lights, and make sure the VHF is working properly.
Investing in Intel
Intel gathered from friends can help you decide on a destination, but this is the time to pull out all the stops and utilize all the tech possible. That means checking the FishTalk fishing reports, of course, but it also means getting a read on SST charts. The latest option in this regard is adding SiriusXM Fish Mapping to your electronics system (you will need an antenna and/or a receiver based on your electronics suite). Then, rather than looking at a day-old shot the night before you fish, you can pull down up to date SST data directly on your MFD from the SiriusXM satellites orbiting overhead as you run offshore and as you fish. Fish Mapping also comes with SiriusXM marine weather features so you know about approaching storms and weather conditions out beyond cell range.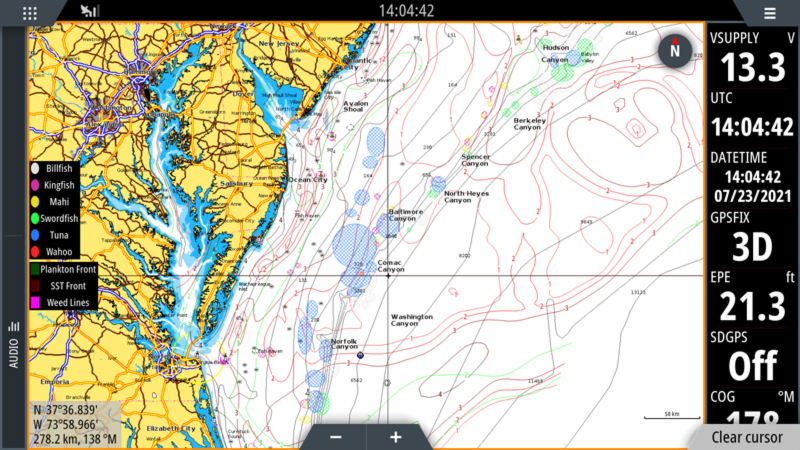 You've probably already noticed that SiriusXM is a new FishTalk supporter (thanks, folks!). But this is a system that's easy to boast about in any case, and we'd be talking about getting the latest SST data regardless. Plus, this service not only provides up to date data, it also gets you subsurface temperatures, plankton concentration and front strength, and can even nail down prominent weedline locations. Added bonus: Sirius has oceanographers analyze the intel and provide on-screen color-coded recommendations as to where fish of specific species are likely to gather. We wouldn't ask you to merely take our word for it — check the system out, and make your own call. We're pretty sure doing so will be well worth your time. If, that is, you want to catch more tuna, billfish, mahi-mahi, and wahoo. Added bonus: SiriusXM even has a trial offer to get you started; check it out at SiriusXM.
Tune in next month for Part II: Location, Location, Location.