Some center console fishing boats are well engineered but poorly built, some are poorly engineered but well built, and some boats just plain take your breath away. You think you can find a single piece or part that wasn't well thought-out and planned on the Pursuit S 248? You think you can find a place where they skimped on the construction or left a flaw in the fit and finish? Go ahead and try — we dare ya.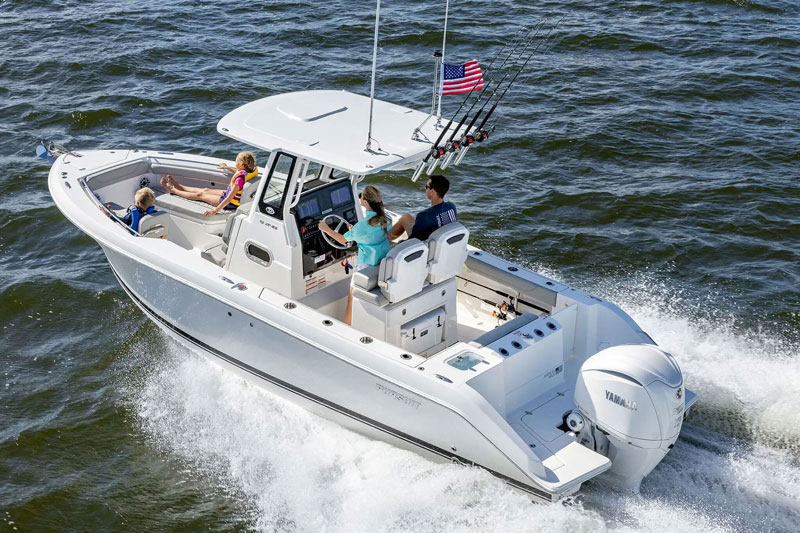 You'll first pick up on just how rare an "all of the above" boat like this is when you start noticing the things they've designed which you've never seen before. The head console compartment is a perfect example. A front door isn't uncommon, and delivers a much easier way to enter the head compartment without too much crouching and contorting. But there's a drawback in that it generally eliminates the front console seat or vastly shrinks it (lest it smash into forward bow seats) to the point that it really isn't very comfortable. Pursuit addressed the issue by designing a unique door with a large lip along the bottom. The lip goes about three-quarters of the way and then jumps up to the seat bottom, so when you swing the door open, part of it is above the forward bow seat and the lip is alongside it. Viola — you get a wide, easy to access forward entry, and a big comfy forward console seat along with it.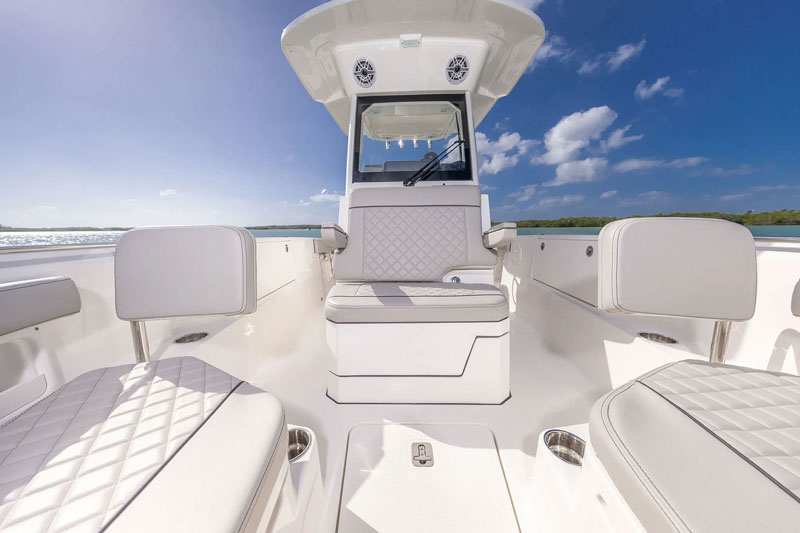 There's another example to be found in the transom bench seat. Sure, everybody's got 'em. But most look like Frankenstein-level creations, and have mechanisms that can be extraordinarily complex or difficult to manipulate. In this case, when you swing the seat closed you get the look of a finished transom, not the look of a bunch of pieces-parts that were bolted together and mounted on a hinge nobody understands how to work. And opening and closing it just takes one good yank. While you're back there admiring the looks, be sure to check out additional touches like the magnetic catch in the transom door, the heavy-duty twist-lock hatch latches, and the stainless-steel scupper grates. Our fave, of course, is the brace of four flush-mount rodholders in the transom.
Speaking of rodholders: the Pursuit is rigged to fish and fish hard, with four more flush-mounts in the gunwales, four rocket launchers on the T-top, fishboxes in the deck which are evacuated via those nearly-bulletproof diaphragm pumps, and a 24-gallon lighted livewell in the transom. The leaning post is designed for a combination of comfort and fishability, with a pair of adjusting helm chairs sitting on a fiberglass base that has a large tackle stowage drawer above a fully contained slide-out Yeti cooler. And while you're sitting in the helm seat be sure to check out how the entire helm tilts aft to access the back. This is a Pursuit trait that allows the builder to finish the console interior with a full fiberglass liner, without having to cut holes for access points or depending on a curtain to cover up the rigging. It's just one more example of taking design and engineering to the next level to boost the boat's overall fit and finish — most builders would have taken the easier route, and cut those holes or snapped in a piece of canvass.
The S 248 is available with an F300 on the transom, and while we haven't run our own numbers on this model the Yamaha performance reports (which we've found to be dead-on accurate in the past) show a 4500-rpm cruising speed in the mid-30s while getting around 2.4 mpg. Nail the throttle, and top-end edges up over the 45-mph mark. Digital electric steering, Helm Master EX digital controls and CL5 digital display all come standard.
Shop it against other boats and you'll find that the S 248 does not come cheap. No surprise there, since when it comes to boats like most other things, you get what you pay for. And if what you want to get is a modern 25-foot center console that's designed and engineered to be a better boat, go ahead and jump aboard a Pursuit S 248. Try to find a detail or development that they missed. We dare ya.
Pursuit S 248 Specifications
LOA – 25'8"
Beam – 8'6"
Displacement – 6050 lbs.
Draft (hull) – 1'10"
Transom Deadrise – 21 degrees
Fuel Capacity – 120 gal.
Max. Power – 300 hp
Area Dealers – In Maryland, Bosun's Marine, Grasonville, (443) 347-6314. In Virginia, North Point Yacht Sales, Gloucester Point, (804) 885-4090.