When it comes to boats size matters, but sometimes you encounter one like the Release 21 RX center console and it throws the usual rules right out the window. Step aboard this boat without first looking at the specs, and you could swear it was really a 23-footer. You don't believe it? Okay, fine - take a look at the 21 RX on video and see what you think.
The first reason why the 210 RX seemed so bodacious when we jumped aboard was the F1 hard top package surrounding the console. The console itself is on the large side, but more importantly, the top on this boat integrated a three-sided enclosure at the helm. Finding this kind of protection on a 21-foot center console is rare and will be much appreciated when the early spring or late fall bite is going off. The console's size also makes for an exceptionally large head compartment, which was easy to get in and out of.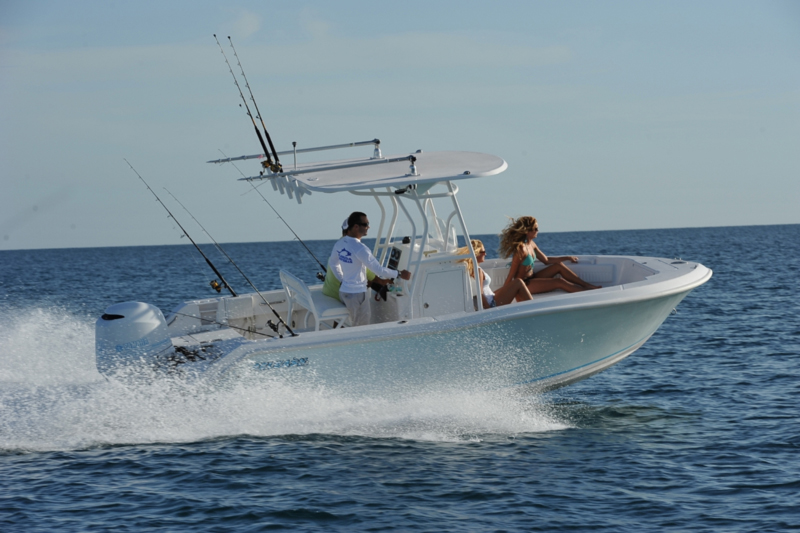 Wait a sec — doesn't utilizing a larger console make for less deck space? Well, sure. But Release recoups the investment with several smart design touches. Walk into the bow, and you'll note that there are flanking seats (with stowage boxes underneath) rather than U-shaped or wrap-around seating. This means you can walk all the way up to the peak of the bow and cast or work a fish without a forward seat getting in your way. Or, ditch the seat cushions and you can use the flanking seats as forward casting decks.
The stern arrangement is rather unusual for a boat of this nature, as well. In fact, it's more similar to what you'll see on many bay boats as opposed to deep-V center consoles. Three individual transom seats have flip-down backrests that allow you to convert the seating into an elevated aft casting platform. Or flip the seat bottoms up, and you get access to a 15-gallon livewell and more stowage compartments.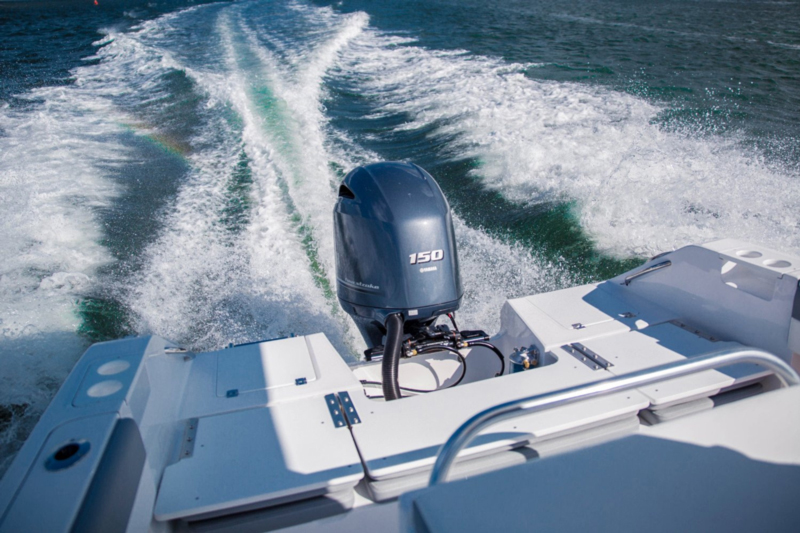 Ready for the list of additional angling accoutrements? Four flush-mount gunwale rodholders come standard along with a raw water washdown, there are under-gunwale racks on both sides, a Simrad Go9 XSE sits at the helm (exchanging for a Garmin is optional), coaming bolsters ring the cockpit, and there's a fishbox in the foredeck. There are also a few non-fishy but still important standard features included on this boat that many other manufacturers would charge extra for, like trim tabs, a Fusion RA70 stereo with four speakers, a Simrad RS20 VHF radio, and hydraulic steering.
This is one of the new boats we discovered at the Chesapeake Bay Boat Show, so alas, we weren't able to put it through any on-the-water paces. That said, Yamaha has a performance report (and in our experience their reports are dead-on accurate) on a slightly older version of this model which shares the same specifications, and with a F150 they pegged a 4500-rpm cruising speed at 31.7 mph and top-end at 42 mph. Best efficiency came at 4000 rpm and 26.1 mph, when the boat got 3.9 mpg. And if you want a bit more juice, the 210 RX is rated to take an additional 50 horses on the transom.
What size boat is best for your specific needs? That's a call only you can make. But one thing is for sure: step aboard the Release 210 RX and you'll wonder how some other boats make the same size feel so darn small, while this one feels so darn big.
Release 210 RX Specifications
LOA – 20'8"
Beam – 8'6"
Displacement – 2500 lbs.
Draft (hull) – 1'2"
Transom Deadrise – 20 degrees
Fuel Capacity – 68 gal.
Max. Power – 200 hp
Area Dealers – Maryland Boat Sales, Middle River, MD (410) 574-3988.