The wind was piping down the South River when I showed up at Waterfront Marine, in Edgewater, MD, to get in a sea trial on the Robalo Cayman 246. With a southern bay-boat style design and a mere 16-degree transom deadrise I wondered if we'd get a bit beaten up or soaked from spray, and to make matters worse as I walked down the dock I saw that our test boat had a ski tow-bar mounted on the aft casting deck – how dare they take up valuable casting deck space with water-toys! Little did I know, I was about to get schooled. But before we dig into the details, check out this quick boat review video we shot while testing the Cayman:
So, what else did we learn? Lesson number one: in a river chop, the boat rides flat as a pancake and doesn't bump one bit. Now, don't be misled – virtually any bay-boat with a 16-degree semi-V is going to bounce around some if you go charging forth at high speeds when two or three-foot waves are rolling through the open Bay. That's a simply matter of physics. But in a moderate tight river chop, the 246 had no problem scooting right over the bumps without bumping. Nor did we get wet.
Lesson number two: much as a ski tow-bar might seem like a complete waste of space and money to a die-hard angler, anyone who enjoys casting light tackle should get one on a boat like this. When we started casting I noticed that it gave me something to lean against it when tired, and hook my foot around at the base when the waves started rocking us. Then when the official captain aboard, Tommy O., mentioned that you can have rodholders welded onto the tow-bar (as long as you opt for the anodized version, not the powder-coated option), I was sold.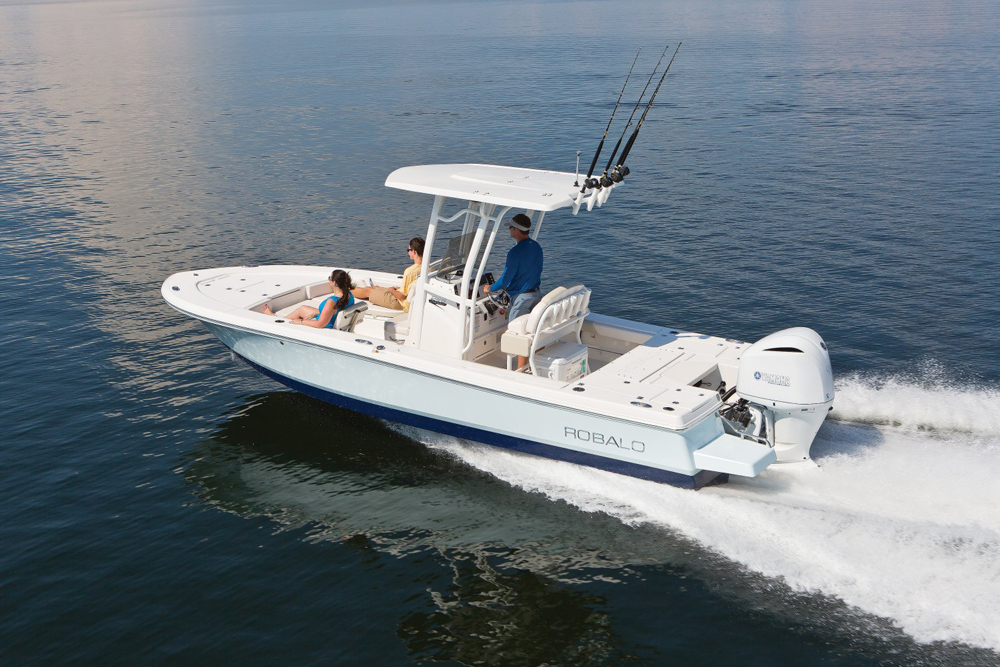 That tow bar wasn't the only thing I liked about the aft casting deck. The centered bench seat folds flush, there are livewells (with individual dedicated pumps) to either side, and the aft port compartment is sized to hold a five-gallon bucket. Remove the bucket, and you have easy access to the livewell plumbing.
The foredeck is well-designed, too, with a 45-gallon fishbox under one side and a rodbox in the other. Both have removable backrests, which is great for when you're running. When you're fishing they'll be a bit of a PITA and you'll want to stow them, and they are rather bulky.
Lesson number three: with the Yamaha F300, performance is everything one would hope for. At 4500 rpm we cruised at 37 mph, and at wide-open, we hit 48.5. On flat water without a chop, this will probably be a 50 mph boat. Just as important, efficiency peaks at over three mpg and stays darn close to that mark (2.5 to 2.8) at cruising speeds.
So: what'll a Cayman cost ya? The 246 lists at a hair over $54,000 at the time of this publication. That doesn't include tax and tags but the boat does come with a surprisingly long list of standard features, including a few surprises like a second livewell in the bow, all the bow cushions, a lighted compass at the helm, and a tandem-axle aluminum trailer with disc brakes and LED lighting. So in the grand scheme of things, this model is going to price out below much of the direct competition.
For more information, visit Robalo.
Quick Facts:
LOA – 24'6"
Beam – 9'0"
Displacement – 3700 lbs.
Draft (hull) – 1'0"
Transom Deadrise – 16 degrees
Fuel Capacity – 75 gal.
Area Dealers – Waterfront Marine, Edgewater, MD, (443) 949-9041; Cedar Creek Marina, Milford, DE, (302) 422-2040; Whelan's Marina, Farnham, VA, (804) 394-9500; Centerville Waterway Marine Services, (757) 547-4498.