The Robalo R272 is, like the Cayman 246 we reviewed a few months back, a serious center console fishing machine. And one of the things we love about these Robalo Boats is the way they're built. You can see the overbuild-it attitude in the video below, when we walk through the R272. Pay special attention at 0:55 (look at those huge stainless-steel hinges), at 1:30 (listen to how the door firmly clunks closed), and 1:45 (note the integrated windshield, console, and pipework).
On film it would have been nice to grab the back of the hard top and do a few chin-ups. We tried it at another time, and that top won't sway, jiggle, or move one iota. Try it for yourself, and then next, flip up the gunwale over the dive door in the side and slap a hairy eyeball on the hinges. These chunks of stainless-steel are so beefy they look like they belong on a battleship. Before you move on, however, also swing open that door and check out the custom hinges which allow it swing all the way in and sit flush against the inwale, where a magnetic catch grabs it and holds it in place. Then consider the console, which is integrated with the windshield, T-top supports, and hard top. The design incorporates all of these into one unit, adding structural strength as well as slick looks. Added bonus: it eliminates the need for forward top pipework supports, thus doing away with those potential toe-stubbing pipe-feet.
The model we checked out had a pair of F200 Yamahas on the transom, which give it a cruising speed in the mid-30s and a top-end right around 50 mph. We think that's plenty of speed (and keeps the NAP price right around 120K), but if that's still not enough juice for you, the boat can optioned up with a pair of Yamaha V-6 F250 outboards.
As far as fishability goes, all the prerequisites are present and accounted for. There's a 30 gallon livewell in the transom, a 100 gallon fishbox in the deck, coaming bolsters all around, raw water washdowns, six flush-mount rodholders, under-gunwale racks for six rods, and stainless-steel toe-rails. The bow incorporates seating with cushions you can ditch to turn the seats into a casting deck, and removable bow-seat backrests. (These will get in the way and be tough to stow when it's time to cast rather than cruise, so we'd suggest leaving them in the garage on serious fish-trips.) Another fishing perk goes right back to that console design. It's relatively svelte, leaving more space than usual to either side, so there's room to cast and retrieve while leaning back against it. In order to maintain easy accessibility into the head compartment inside, Robalo went with a swing-open front door on the console.
Okay - it should be pretty clear by now that we liked this boat. But the next time we step aboard, we want to have rods in-hand as opposed to video cameras.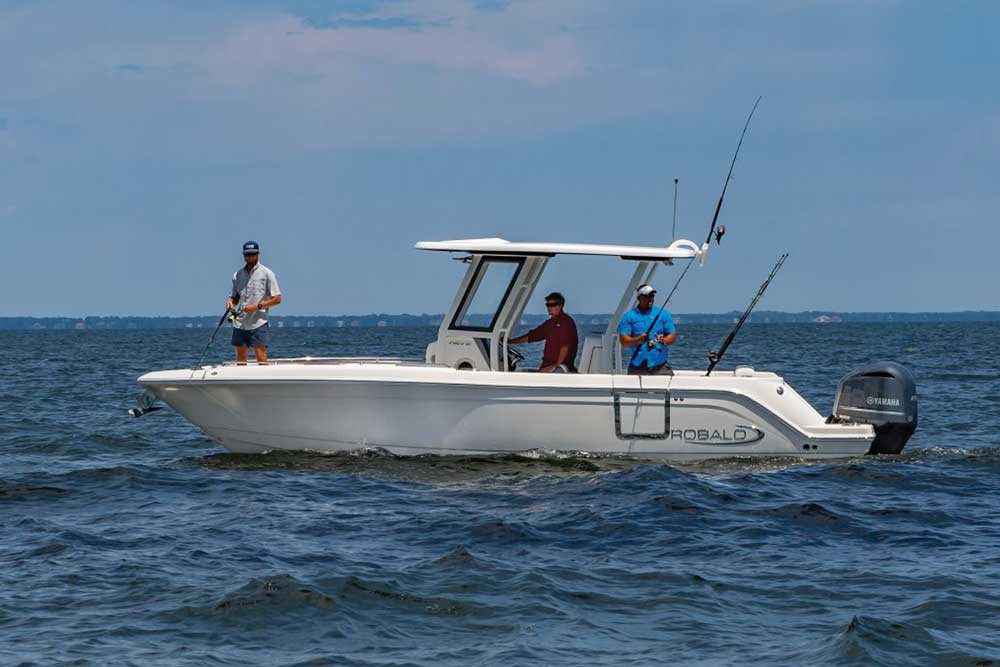 Specifications:
LOA – 27'4"
Beam – 9'6"
Displacement – 7000 lbs.
Draft (hull) – 1'8"
Transom Deadrise – 23 degrees
Fuel Capacity – 180 gal.
Max. Power – 500 hp
Area Dealers – Waterfront Marine, Edgewater MD, (443) 949-9041.