Scout Boats has a new hybrid bay boat to their lineup, and the 281 XXS is not only their newest in this lineup it's the largest as well. Par for the course for this builder, it's also jam-packed with features that you won't find on any other fishing machine.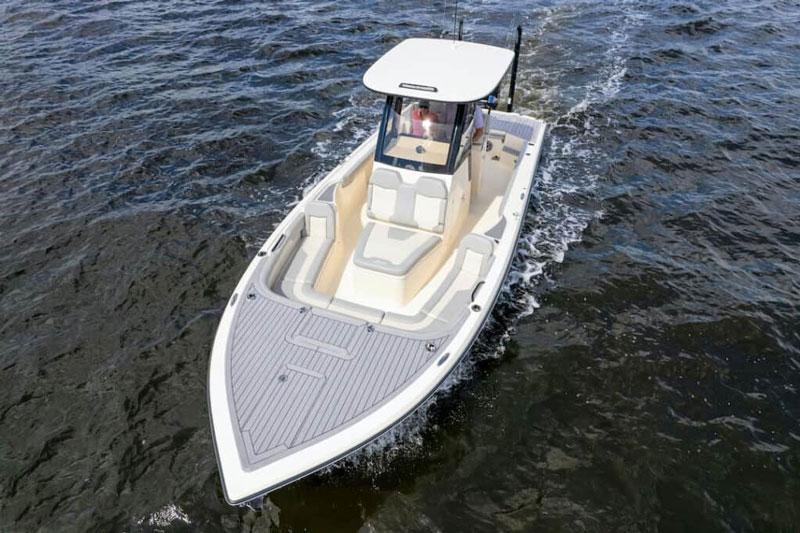 When we saw this model at the Miami International Boat Show, the first thing that jumped out at us was the leaning post. Sure, all hybrid bay boats have a leaning post. But this one's a stand-out among the stand-outs. Tackle stowage is solid, with four Plano-style boxes in one side and two large stowage drawers on the other (plus there are additional stowage drawers in the steps up to the aft deck). In the back you'll find an aquarium-stye livewell up top and a slide-out 65-quart Yeti down below. And on either side of the livewell there are pull-out washdown hoses on internal self-retracting reels. And the post has two comfy chairs at the helm with flip-up bolsters and flip-down arm rests, and four rocket launchers across the back. We're left slack-jawed trying to imagine how they managed to fit all those goodies into the leaning post on a 28-footer, but fit them they did.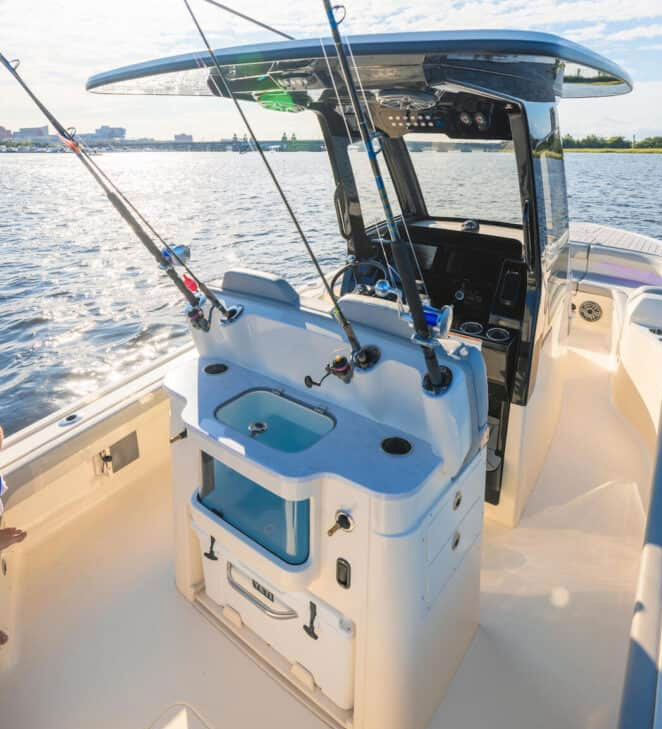 Another major-league highlight is the layout. In the bow Scout incorporates a forward console lounger which has a coffin box style fishbox underneath, ringed by U-shaped seating that can do double-duty as an elevated casting position when the cushions are pulled. Both the forward upper casting platform and the aft casting platform are decked in cushy synthetics.
Speaking of the aft casting deck: it's home to a flip-up seat, with port and starboard fishboxes that can be optioned up as livewells. Nice, but no surprises… right? Wrong — flip up the two aft center hatches and you'll discover four tubes dedicated to fender stowage. In our humble opinion these ought to be plumbed as tuna tubes, but hey, for those who enjoy cocktail cruises and raft-ups it certainly is a feature to appreciate.
Additional fishing goodies include eight flush-mount rodholders, horizontal under-gunwale racks, and a Garmin 943XS with a B60 transducer. It's critical to note that Scout builds their boats at the peak of the tech curve, and the Garmin (which you can upgrade to a pair of MFDs) serves not only as a chartplotter/fishfinder but also as a touchscreen interface with all the boat's digital switching systems. Whether you want to turn on the underwater lights or run the livewell pump, it's a screen-swipe away.
Another techy touch can be found in how this boat is built. Scout uses epoxy infusion with carbon fiber and e-glass throughout the 28 XXS. And if you've been aboard a modern Scout you already know that the fit and finish is utterly awesome. You say a good fit and finish is nice, but you want the hottest-looking fishing machine in the marina? There are a number of upgrades available for customizing the boat to your tastes, from custom painting the engines to a carbon fiber finish on the hatches.
We're almost out of space but we can't let you go without covering the boat's performance, which is positively hat-stripping. Mount a single Mercury 450R on the back and you're looking at a cruise of over 40 mph at 4500 rpm, and a top speed around 62 mph. What's even better is that the boat's peak efficiency of 2.3 mpg runs from 4000 to 4500 rpm, so you don't need to worry about cruising slower to save fuel.
Is the Scout 281 XXS the ideal fishing machine for you? That's your call. But among a fast-growing fleet of hybrid bay boats, this is one that stands out big-time.
Scout 281 XSS Specifications
LOA – 28'1"
Beam – 9'4"
Displacement – 5457 lbs
Draft (hull, approx.) – 1'2"
Transom Deadrise – 15.5 degrees
Fuel Capacity – 126 gal.
Max. Power – 450 hp
Area Dealers – Anchor Boats, North East, MD, (800) 773-2628.