Sure you know the name Sea Fox Boats, but toss out any preconceived notions you may have about the line right now, because when we found some of the latest Sea Foxes at the Baltimore Boat Show, what we saw was fresh and innovative. Then at Miami we spied their latest offering, the 268 Commander—and again we were struck by how different and unique the model was. So, what's so exciting about this boat? Think big. But first, check it out on video:
To put it in a nutshell, what you see on the 268 Commander out-sizes the boat's size class. Start with the fact that this is one of the smallest boats around to offer a dive door in the side. Usually you don't see these until reaching the 30-ish size range, and they can make boarding a lot easier, not to mention how convenient they are when trying to drag a mega-monster tuna aboard.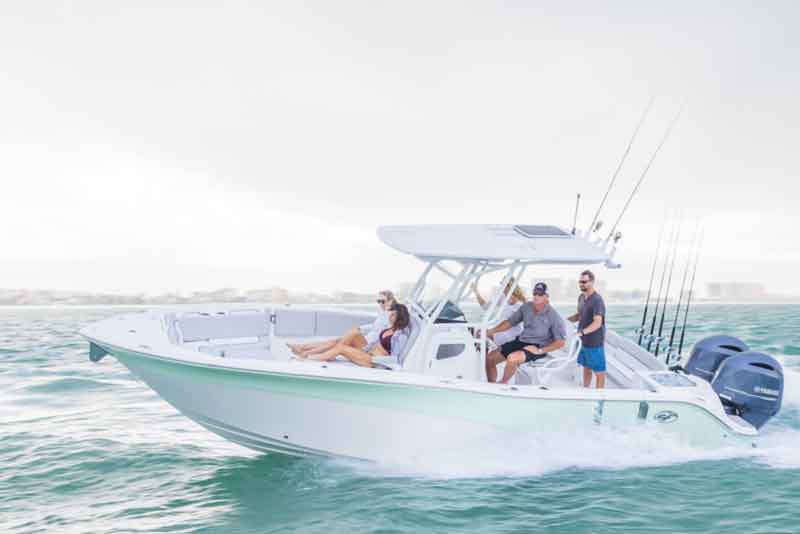 Another thing you commonly see only on larger boats is the type of livewell the Sea Fox sports. It has a clear top and an aquarium-style front viewing port, is pressurized, and holds 30 gallons. Added bonus: there's even a little compartment integrated into the transom for your dip net.
A third item that's rarely seen on a 26-footer is the rather extraordinary hard top, which has stowage compartments on both sides, fore, and aft, and even has a slide-open sunroof. There's also a nifty fire extinguisher/flares compartment built into the front of the hard top, a great use of space which ensures that all your safety gear will always stay centralized in one location.
And finally, the forward console lounge houses what we'd call a mini coffin box. No, it's not as large as the full-blown coffins found on some 30-plus-footers. But it does provide a lot more fish-stowing capacity than the average 26-foot boat can, particularly when considered along with the pair of in-deck fishboxes.
We also found the leaning post a bit unusual for this class of boat. While many others will have a fiberglass post with built-in accessories like additional livewells or tackle stowage, Sea Fox instead equips the boat with a pipework post sized for a 65-quart Yeti underneath. True, you don't get the integrated features of a fiberglass post, but on the other hand, its more compact nature means you enjoy maximum deck space in the cockpit. And speaking of maximizing deck space, we also liked how Sea Fox kept the console and forward lounger svelte enough to easily pass by with a bent rod in-hand. There's still plenty of elbow room in the head compartment (plus room for dive tank racks), but zero sacrifice in fishability.
In the bow, again, you'll be surprised by how Sea Fox uses the space. Swing-out seat backrests eliminate the need to stow those clunky pull-out backrests seen on many competing boats, and front-hinged hatches make it easy to get seriously bulky items into the stowage compartments. We also noted that the angled backrest molded into the front made sitting while facing aft a lot more comfortable than the norm.
What does all of this add up to? A boat that feels and acts a lot bigger than its LOA. Like we said, approach the new Sea Fox 268 Commander with no preconceptions—what you'll find is probably not even close to what you'd expect from the average 26 foot fishboat.
Sea Fox 268 Commander Specifications
LOA – 26'0"
Beam – 9'3"
Displacement – 7372 lbs.
Draft (hull) – 1'4"
Transom Deadrise – 20 degrees
Fuel Capacity – 140 gal.
Max. Power – 400 hp
Area Dealers – Rhode River Boat Sales, Edgewater MD, (443) 406-4796.