This next-generation 527 horsepower outboard motor offers contra-rotating propellers.
Seven Marine shocked the boating world when they first introduced the 557 hp outboard, and today, they roll out the next generation in a 527 horsepower package. Like the 557 (and the juiced 627 hp model) it's a supercharged 6.2L V8 four-stroke EFI motor. But this newer version has a new cowl with a multi-louvered intake to improve air flow design; the option for standard or contra-rotating propellers; a choice of 1.47, 1.6, 1.75, and 1.91:1 gear ratios; and the ability to run on 89 octane fuel without suffering a power loss.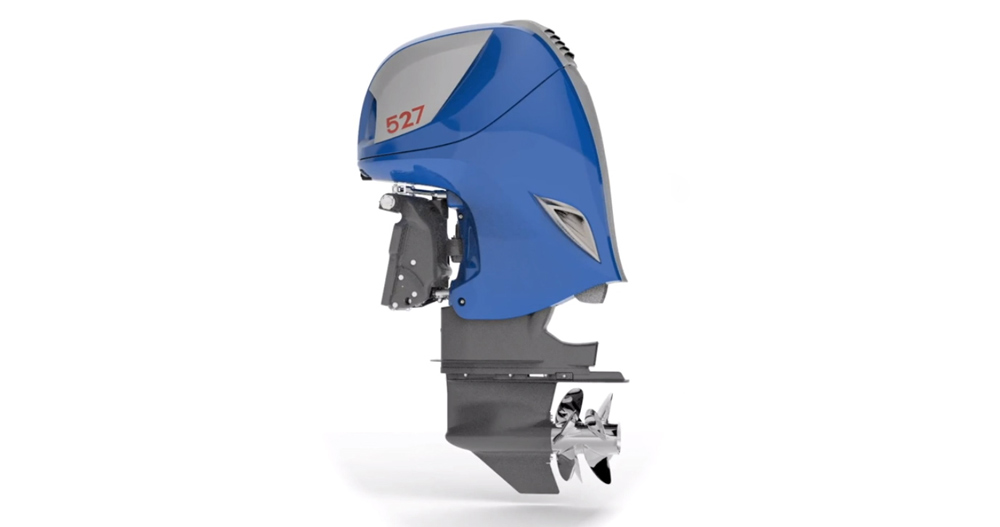 Unlike many large marine-dedicated designs the Seven Marine is derived from an aluminum supercharged GM V8 powerhead, built for the Cadillac CTS-V. The powerhead is mounted horizontally rather than vertically, and utilizes a computer-controlled disc-clutch transmission made by ZF Marine. (Controls are also made by ZF, with the Smart Command 5000 system). This does produce a better power-to-weight ratio than many other outboard engines, although it also naturally creates the usual issues with marinizing motors originally intended for use on dry land. The other potential down-side here is the fact that the outboard cost $69,950, which is almost as much as the entire Cadillac CTS-V.
A big part of the change with the 527 comes at the lower end of the engine, where the gearcase can swing the largest blades in the recreational boating industry. Single propeller applications can handle props from 14 inches to a whopping 19.5 inch diameter. The availability of contra-rotating props is quite a surprise, and follows close on the heels of Suzuki Marine's introduction of their 350 h.p. contra-rotating DF350A (which FishTalk covered in Hot New Gear, August 2017).
Contra-rotating propellers (counter-rotating propellers spinning on a single shaft), when used to get larger, heavier boats on plane and properly trimmed, has at this point been proven and is seen as a significant advantage in numerous applications. So don't think for one moment that these monster outboards are only intended for things like powerboat racing. In fact, they should serve a wide range of applications.
We were expecting change to come to Seven Marine after it's purchase by Volvo Penta – but change has come even faster than expected. Visit Seven Marine to learn more.