Bay boats have been becoming more and more popular for Chesapeake Bay fishing in recent times, and it's no wonder why: they're ideal for light-tackle casting and jigging, the relatively low gunwales make it easy to handle and release fish, they maximize fishing space, and they ride waaaaay better than the bay boat models built just a few years ago. But most bay boats are relatively small, falling into the 20- to 24-foot range. You say you want enough room for a half-dozen anglers to go fishing in such comfort that they feel like royalty? And you want the beef to run offshore from time to time? Enter: The Sportsman Masters 267.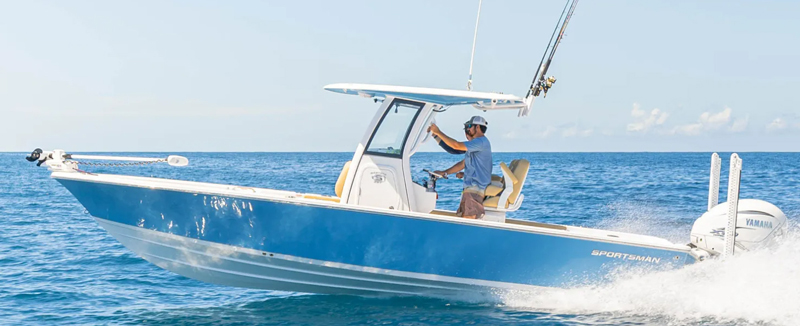 With a 26'7" LOA and a 9'2" beam this is one of the largest bay boats around, and it has room for all those anglers and then some. In fact, when we tested the 267OE we fished with five aboard and the boat felt practically empty. Hold on — why take a look at the 267 when we've already reviewed the OE version, a similar model differing mostly in that a coffin box/lounger is added and the deck layout is a bit different? Because for the 2023 model year Sportsman has redesigned and reintroduced the 267.
So, what's new? The helm seats perched atop the leaning post/tackle station is one big change. Each now swivels independently, and can face aft for when you're interested in what Sportsman likes to call going into "sandbar mode" as opposed to fishing. It's a slick mod, and although you do lose the rocket launchers on the back of last year's seats, the comfort factor of these sliding, swiveling, arm-rest-equipped seats is second to none. Another change in seating can be found in the bow, where the old flip-up backrests complementing the foredeck sunpad have been swapped out for the drop-in type. Additionally, the backrest on the forward console seat has gotten an upgrade.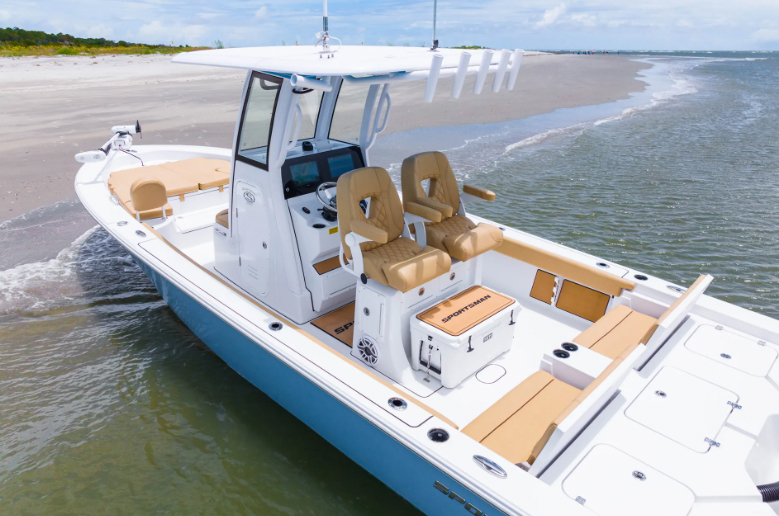 From the angling perspective the forward casting deck's reshaping is a bit more important. You still have a single step up to an expansive platform, but the deck hatches have a different shape. The two on the side are now squared-off, and offer locking rod stowage for up to 10 rods. If you ever look seriously at one of these boats, be darn sure to swing open those hatches and give them a hairy eyeball. They're a case study in how to make hatches the right way — finished on both sides, lifting on gas-assist struts, gasketed, and dogged down tight and lockable when closed. Other highlights in that monster foredeck include a 14-gallon bow livewell with Pro-Air aeration, a fishbox, and pre-wiring for your trolling motor.
The stern and stern deck remain more or less the same as in the past, with flanking 21-gallon livewells and a 35-gallon center compartment that can serve either as a cooler or can be plumbed as yet another livewell just in case three of 'em isn't enough for you. The real highlight back here, however, is the flip-up seating. This boat is so darn wide that you don't get a jump seat on either side, you get a double-wide seat with an arm rest and cupholders in the middle. That means that when you're making a run to distant hotspots you have prime seating for a total of six people aft of the console.
What about performance? Since we inspected the new 267 at the Annapolis Boat Show we couldn't take it off the dock, but we wouldn't expect to see any significant differences between this model and the predecessor. When we ran that boat (with a Yamaha F425), we noted a top-end of 60.2 mph, a 4500-rpm cruise of 43.5 mph, and a most efficient cruise of 2.7 mpg running 31.3 mph at 3500 rpm. Sportsman did shave 300 pounds off the boat, so if anything, the new version could be just a hair faster.
Most would agree that the 2023 Sportsman Masters 267 is more of a refresh of an existing model than it is some kind of earth-shattering development. But most would also agree that Sportsman has made some cool improvements to an already awesome model. Long live the king.
Sportsman Masters 267 Specifications
LOA – 26'7"
Beam – 9'2"
Displacement – 4300 lbs.
Draft (hull) – 1'3"
Transom Deadrise – 16 degrees
Fuel Capacity – 116 gal.
Water Capacity – 25 gal.
Max Power – 425 HP
Area Dealer – Riverside Marine, Essex, MD, (410) 686-1500.