Stamas is the oldest continually family-owned fishboat builder in the nation, having splashed their first hull over 70 years ago. Unlike many boat brands which change hands multiple times through the years and produce some good boats and some not so good boats depending on who's running the show at any given time, Stamas has earned a reputation for producing rock-solid fishing boats through the ages. And those ages continue to stretch into the foreseeable future with models like the 33T Aventura. The styling is new, with sharper, more modern lines, the use of multiple color gel coats, a three-sided helm enclosure with an integrated hard top, and a through-hull anchor chute. But like the Stamas boats of years past, when you close a hatch or slide a door it locks shut with a resounding "thunk." When you do chin-ups on the hard top or plop down in the aft bench seat, nothing moves and nothing bends or gives. Each and every piece and part from stem to stern is as rugged and stoutly constructed as you could hope to find on any boat built… well, ever. Ready for a quick peek at the 33T? Here's a video we shot on it this spring:
That type of construction is probably this boat's strongest trait, but it's certainly not the only highlight. Not by a mile. Stepping into the cockpit, I spy with my little eyes: a four-box/two drawer tackle station, a rigging station with sink, knife/pliers holders, two big livewells with clear viewing ports, eight hard top rocket launchers, eight transom rocket launchers, a tuna-sized fishbox, and a raw water washdown neatly contained behind a pie plate. If you're ISO a serious fishing machine that's in the low- to mid-30-foot range yet has all the armaments of a battlewagon, you're in luck.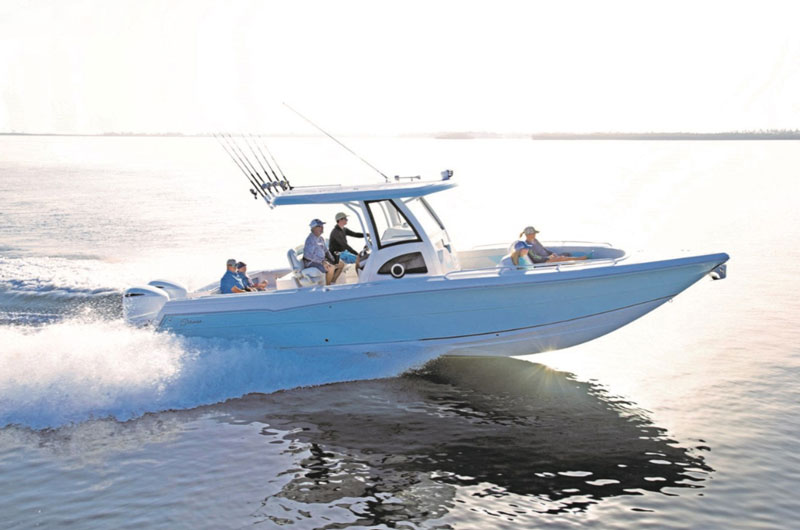 Stamas gives a nod to the comfort-factor by incorporating a large U-shaped settee into the bow, with an adjustable center table that can be set at the same height as the seating and capped off with a cushion to create a rather massive sun lounge. You can maintain fishing dominance by stripping off the cushions and turning the lounger into a casting platform. Note that the sides of the bow are capped with coaming bolsters, and rigid fiberglass seatbacks are molded in for secure seating while cruising.
Luxury gets another boost via the console cabin arrangement, which is notably more substantial than virtually all boats of a similar size. It incorporates a small settee, a forward berth stretching under the deck, a full stand-up head, and a mini-galley with a sink, refrigerator, and single burner cook top. With six feet of headroom I could stand upright, while enjoying the cool breeze coming from the inverter-powered (optional) air conditioning system.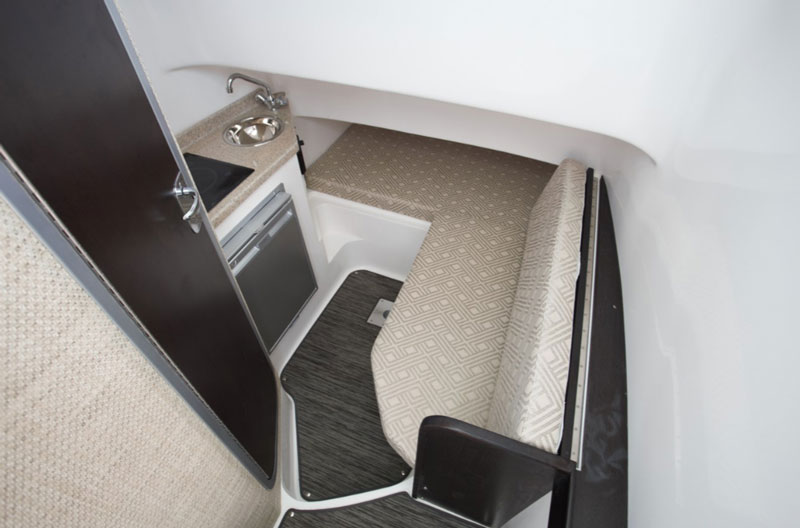 Although we were (sadly!) stuck at the dock for the Bay Bridge Boat Show when we poked through the 33T Aventura, Suzuki Marine has published performance figures on this model with twin DF350AT engines. They post a cruise of about 37 mph running at 4500 rpm while getting a hair under 1.3 mpg, and a top-end hitting 52.5 mph. That's with two people aboard and about a half-load of fuel, so even after loading the boat down this should still be a 50-mph rig. Or — considering today's fuel prices — maybe rig with a pair of 300s. You won't lose too much on the performance end and can pocket the savings at the pump.
One note for you DIY folks: the 33T Aventura also stands out when it comes to ease of access for maintenance. This is a trait rarely seen in modern production boats, as the manufacturers generally don't expect modern boat owners to get their hands dirty. As a result, pumps often get buried in impossible-to-reach compartments and something as simple as replacing a fuse can require Elastic Man contortions. If you work on your boat yourself you'll discover that this is far from the case on the Stamas. If you don't, your boatyard will thank you every time it needs to be serviced because a huge deck hatch in the cockpit swings up to expose belowdecks systems, pumps, and plumbing. And when the electronics need attention, the helm swings back to provide wide-open access without having to step down into the console cabin.
So: just how does a company stay in business and remain family-owned for 70-plus years? By providing a quality product that lasts. But don't take our word for it. Check out a 33T Aventura for yourself. Try slamming some hatches and swinging from the T-top, and we're betting you'll agree.
Stamas 33T Aventura Specifications
LOA – 35'0"
Beam – 11'2"
Displacement – 9800 lbs.
Draft (min.) – 1'7"
Transom Deadrise – 24 degrees
Fuel Capacity – 350 gal.
Max. Power – 850 hp
Area Dealers – Annapolis Yacht Sales, Annapolis and Tracys Landing, MD, and Deltaville, VA, (410) 267-8181