In a world full of frou-frou gentrified express cruiser "fishing boats," the Stamas 370 Aegean is a breath of fresh fish-scented air. Stamas has long been known for building no-nonsense boats that are tough as nails, and although we haven't seen any new ones in this neck of the woods for several years, the company recently expanded their dealer network and new models are back on the Bay. We wasted no time in zipping over to Annapolis Yacht Sales to go for a sea trial, and quickly discovered that this boat lives up to its namesake — while also delivering a dose of modern styling and performance. Jump aboard with us, and check this puppy out!
Look at the Aegean and you can tell it's a newer model than the old-school Stamas boats, with more elegant lines than its predecessors. Well, big whoop. Anyone can make a pretty boat. Making one that can stand up to day-in, day-out angling is a lot tougher. And this boat is nothing if not tough. The most obvious example you can test out for yourself? Grab the T-top pipework and do a few chin-ups. Shake it, bang it, and throw all your weight against it. It won't budge an inch. Then go to the tackle station in the cockpit. Open and slam the three drawers and do the same to the hatch hiding four tackleboxes. They're all solid as a rock. Now go down below and lean against the dinette table. On most boats those tables are so flimsy you have to wonder how a drink is supposed to stay upright, but on this one yet again the words "rock solid" apply.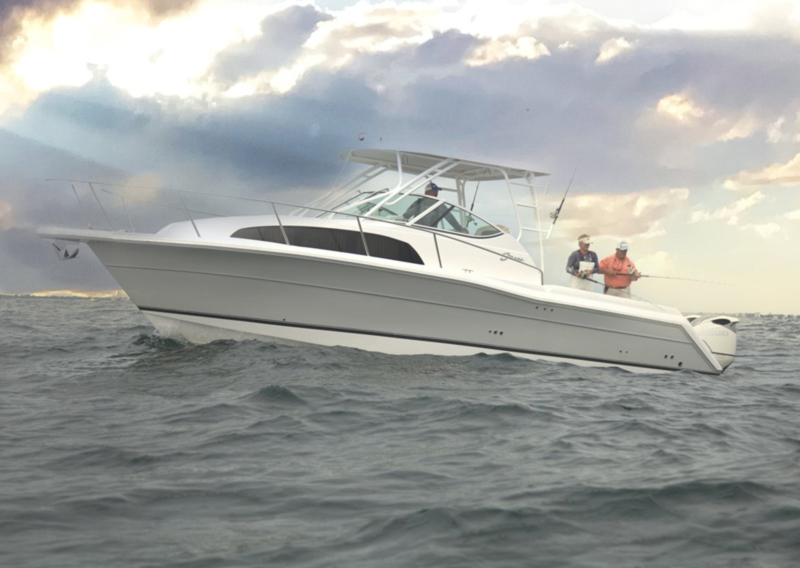 That's not enough evidence to satisfy you? Me neither, so I ran out into a 15-knot breeze and a tight Severn River chop, and then turned into a head sea. Like many boats of this nature the 370 leans into the wind so I dialed in the standard tabs (with indicators) before mashing the throttles to the dash. With the pair of Suzuki DF350 outboards spinning their dual props around nearly 100 times per second we hit a top-end of 48.1 mph with four people aboard — and this boat is rated for 1275 horses.
Though you could pile on more power, IMHO it's unnecessary. At a 4500-rpm cruise the Suzukis delivered a cruise in the mid-30s and efficiency was around one mpg, which is pretty darn good for a boat of this size and type travelling at these speeds. Look at similar competitors of this size and you'll note that most are running triples, but the average speed gain is just three to five mph while efficiency drops by around 20-percent. You'll even see some models where it drops as low as (shudder) 0.6 mpg. That's not to mention the added expense and maintenance costs associated with a third outboard.
Still, the best thing about running the Aegean 370/twin DF350 package might just be its close quarters maneuvering abilities. Our test boat was in one of the tightest slips in the marina, which was cocked at an angle and up against a bulkhead for good measure. Yet we had zero issues wiggling the boat into place. Oppose the engines and it reacts more like an inboard boat than an outboard, spinning in its length. And if you say you'd rather not put it to the test that's not a problem, because you can opt for joystick controls.
Down below the boat is set up in a traditional layout that maximizes utility. There's a mid-cabin berth closed off with a privacy curtain aft, a dinette that converts into a berth to port, a V-berth forward, and a full galley (two-burner cook-top, microwave, refrigerator, sink, and stowage) to starboard. But the real stand-out belowdecks, surprisingly, is the head. It's significantly larger than most and the entry is also oversized, so you'll never feel cramped or have to contort even if you're showering. Headroom down below is six feet four inches, by the way, so tall folks will find this cabin particularly attractive.
Fishing-wise the boat has everything you expect including four flush-mount gunwale holders, braces of rocket launchers on the transom and hard top, a 23-gallon livewell in the transom, fresh and raw water washdowns, and under-gunwale rodracks. Highlights include a comfy aft-facing bait-watching seats for offshore trollers with a drink cooler underneath, and a copious 58.75-gallon fishbox in the transom. We note that the transom bench seat sits almost flush when stowed, and flips open and closed with far less fuss than those over-engineered jigsaw puzzles found on some boats.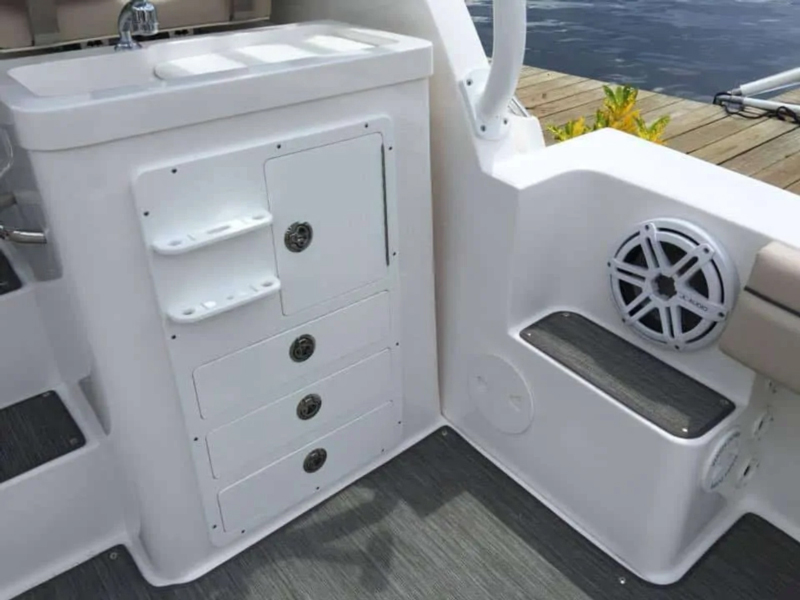 Comfort perks include air conditioning in the cabin and at the helm, and out test boat was fitted out with a mister system as well. Yes, there's also a potent Polk Audio stereo system. Sure, the adjustable flip-up bolster seats at the helm are uber-comfy. Again, we say: big whoop. You can find all that stuff on lots of boats and sure it's nice, but it doesn't count for much when there's a red-hot bite 50 miles beyond the horizon and the wind is whipping. Plenty of people reading this right now don't go fishing in adverse conditions merely because they're worried about breaking the boat. And they're welcome to sit at the dock and sip a frou-frou drink in luxury. But if you'd rather have a boat that's built rugged, runs fast, handles great, and can bring home the bacon, there might just be an Aegean in your future.
Stamas Aegean 370 Specifications
LOA – 39'5"
Beam – 11'2"
Displacement – 13,100 lbs.
Draft (min.) – 1'10"
Transom Deadrise – 17 degrees
Fuel Capacity – 350 gal.
Max. Power – 1275 hp
Area Dealers – Annapolis Yacht Sales, Annapolis and Tracys Landing, MD, and Deltaville, VA, (410) 267-8181.