Summer is almost here and I can't wait to get out in the sun and do some fishing. I love that warm feeling of the sun on my shoulders and face as I fish off my kayak. But that can be a big problem, because our skin and the sun don't mix very well. Over the years I have had several suspect spots cut — ouch!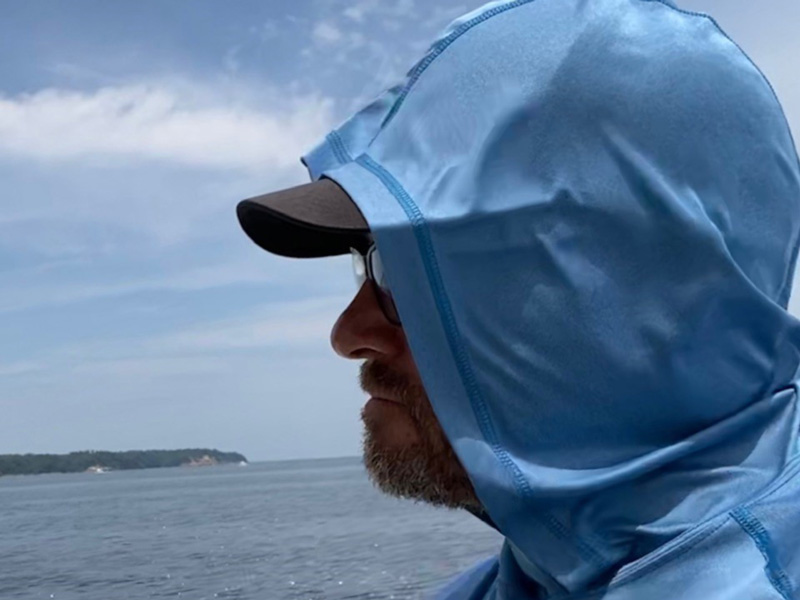 What's happening is that your skin is being exposed to Ultraviolet radiation (UV). UV is a part of the natural energy produced by our closest star, our sun. So we need to cover up, especially when we are out on the water. You not only have the sun coming from above, but its UV rays are bouncing up off the water too.
So, what are we to do? Let's start with sunscreen. Not all sunscreens are the same so do your research and find one that suits you best. Sunscreens come in various levels of protection. When using a sunscreen with a rating of SPF 30, (which by the way stands for Sun Protection Factor) when applied correctly and reapplied after five hours or after sweating, it would take you 30 times longer to burn than if you weren't wearing any protection at all. The higher the SPF number, the longer the protection lasts.
Sunscreen is a good start, but we should use additional UV protection. So, lets start at the top. A hat with a brim of three inches or more will help to protect your ears, face, and eyes. You should also invest in a good pair of sunglasses. Your eyes can get burned as well as your skin and in extreme cases (called photokeratitis) cause itching and discomfort.
To protect your neck you will need a sungaiter. I have several I rotate through, so if one is in the wash I have another. Plus, I like to change my look once in a while, I gotta keep up on the latest style of the day! Anyway, these are great to wear and if you opt to wear a ball cap, you can pull the gaiter up over your ears to gain even more protection.
You should also wear a long-sleeved shirt with a UPF of 50. UPF is ultraviolet protection factor, and a UPF of 50 will block 98 percent of the sun's rays and allow just two percent to penetrate. They do make some nice sun shirts that are essentially like lightweight hoodies, so if the sungaiter isn't your thing you can pull up the hood. I can also anticipate that some of you are thinking a long sleeve shirt would be too warm to wear in the summer. Surprisingly I find that I am much cooler wearing these long-sleeved shirts, which are designed to remain cool even as they protect you from the sun. Plus, I look cool(er) too…?
At the end of your arms, you will also need to protect those hands. I find that a good brand of fishing sun gloves, again with a UPF of 50, will do the trick. Just be sure to wet your hands before handling any fish you catch. You don't want to handle fish with dry gloves or hands because you may damage their protective slim coating.
You will need to find a good pair of pants, too. If you don't like to wear pants a good pair of shorts will work but you will need to use sunscreen on your legs. Or, you can opt for a zip-off pant, pants that have the lower part of the legs zip off to make a pair of shorts. Hey, who wants to sit around with friends after a day of fishing drinking a cold glass of beer in a pair of pants when you can wear shorts?
Check your local sporting goods store or retailer to find clothing with UPF ratings. Simms, Orvis, Huk and AFTCO are among some of the brands that make UPF fishing apparel.
What about your feet? When I'm out fishing in my kayak I hate wearing shoes, but there are other options out there. You can find a good pair of kayak shoes. These are flexible and are made to step in and out of the water.
Do your research and/or talk with your dermatologist or physician if you have special needs when it comes to sun protection. Be safe out there on the water, cover up, and fish on!
-By Eric Packard