For some waterways pontoon boats are an ideal fishing platform and there's simply no denying how comfy, stable, and roomy these things are, especially when you're drifting for flounder or dropping baits while at anchor. So, for some anglers a pontoon will be the prime pick — yet it was recently pointed out to us that we have only once ever reviewed a pontoon boat on the pages of FishTalk. Oops! We can fix that: Let's check out the SunCatcher Select 322.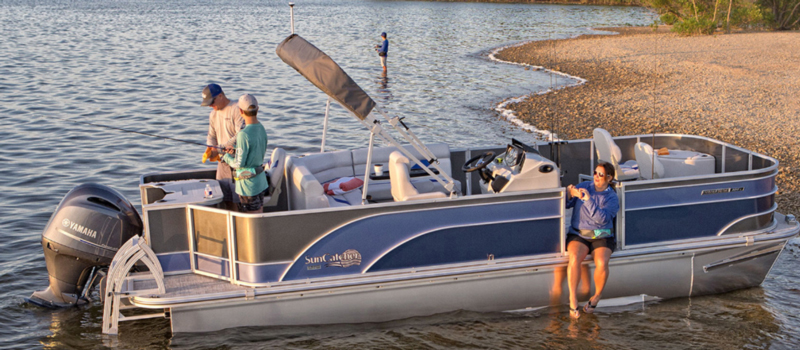 Like many pontoon platforms, the Select 322 comes in a number of flavors. There's the 322C, 322CC, 322F, 322RC, 322FC, 322RF, and 322SS. Each model features a slightly different deck layout, ranging from those packed with twin aft loungers and L-shaped settees to center consoles with pedestal fishing seats, vertical rodracks, and a livewell. Each to his own; which layout will be best for you and your family is a call only you can make, and with this many choices it's probably smart to peruse the SunCatcher website to get the lowdown on each.
What the Select 322s all share in common is a triple 23/25-inch log hull with closed cell foam, 0.125" nose cones, through-bolted deck extrusions on 16-inch centers, under-deck shielding, and lifting strakes. Put this sort of construction together and you not only get the enhanced seakeeping abilities a center pontoon provides, but a whopping-big 225 max horsepower rating. That'll earn you a cruise in the mid-30s and a top-end in the mid-40s. Even if you opt for far less power and drop to a F150 on the motor pod (which can knock seven or eight grand off the bottom line depending upon model choice), you'll still be cruising in the mid- to upper 20s and topping out in the mid- to upper-30s.
Family fun features include a Jensen Bluetooth stereo system, 12-V outlets, a cell phone holder with USB port, a contoured four-step boarding ladder, ski tow-eyes, and the option to add goodies like tables, additional cup holders, or a pop-up changing room. In our neck of the woods, most folks will probably also want to opt for the saltwater package. One feature to pay particular attention to, however, is the stock Bimini top. It's framed with beefy 0.125-inch aluminum, which is just another indication of how well the boat is built.
There's an ideal boat for every angler, but is a pontoon prime for your needs? Only you can say for sure — and if the answer is yes, taking a peek at the SunCatcher Select 322 will be a good move.
Suncatcher Select 322 Pontoon Specifications
LOA – 22'6"
Beam – 8'6"
Displacement – 2500 to 2800 lbs. (depending on model)
Transom Deadrise – NA
Fuel Capacity – 46 gal.
Max. Power – 225 hp
Area Dealers – Anchor Boats, North East, MD, (410) 287-8280.