The dog days of summer are upon us. The ocean is warm, beach sand burns your feet, and surf fishing can be good — really good. This is not the time to try and drag a big monster bluefish or black drum out of the surf, that was back in May or later this fall. But for anglers, the surf has a lot to offer now. And if you have kids, this is the perfect time to introduce them to surf fishing.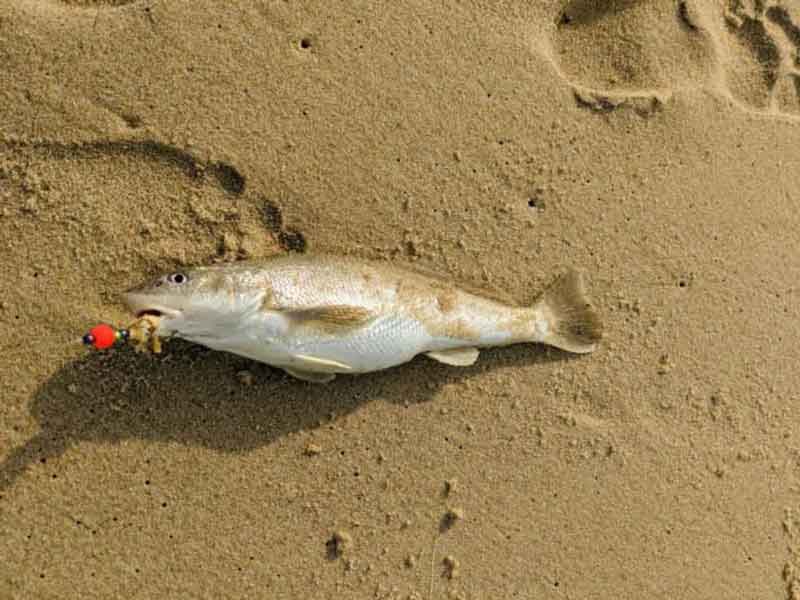 If you wade into the surf or watch someone else walk in, you will notice a drop-off where the water suddenly comes up to about the waist in depth (or deeper at high tide). At dead low tide this drop-off may be mere feet from the sand. At high tide it will vary depending on the slope of the beach, and could possibly be 50 or more feet off the beach. This drop-off is the trough. Typically, you will feel shells under your feet when stepping in the trough. If the water is fairly calm and clear and you don a mask and plunge your face underwater, crabs, sand fleas, silversides, and small spot will be observed scurrying about. To larger fish like flounder, sea trout, blues, kingfish, and croaker, this is the buffet.
During dead low tide fishing may not be that productive in the shallow water. But the last two hours of and incoming, the turn of the tide, and especially during the first couple hours of the outgoing, this is the location to place a bait. If the preferred tides coincide with first light or right before sunset, all the better. Fish like feeding in the trough in low-light conditions. The trough is perfect for kids, easy to cast to, doesn't require any expensive surf gear, and you can even use a small spinning outfit to fish it. Occasionally, you may see your child holding on to their rod for dear life as it doubles over and line disappears, thanks to a bite from a larger species. But I've found when this scenario ends with a busted line, it becomes better than actually catching a bluefish or sand shark — the stories of the "big one" that got away never get old!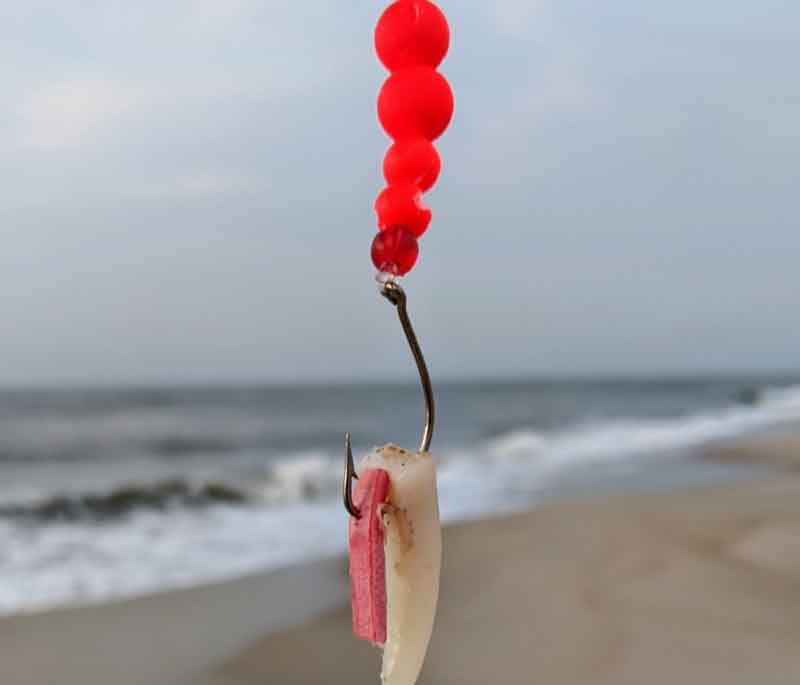 Rigging for fishing the trough is simple, a basic two hook top/bottom rig with small hooks is all that's required. Many anglers think that when fishing in the ocean, there are big fish so use big hooks. But for the most part, the majority of fish being caught like kingfish and spot are going to be less than a pound, or small sharks which might be 15 or 16 inches (and I've never seen a child who did not get excited about catching a shark). Number-four or number-six hooks will do the trick. Often my young grandkids get number-eight hooks which are ideal for catching those little three- and four-inch spot that make excellent fresh bait for larger species. A piece of bloodworm keeps them busy catching bait, which Pop then fishes live on a big surf rig just in case something larger is roaming around. When the ocean is calm, a one- or two-ounce pyramid sinker is all that's required to hold bottom in the trough with light gear.
While fish can be anywhere, often anglers cast as far out as possible. Many times they're casting over the trough, and placing bait up on the outer sandbar. During high tide fish can be caught crossing the bar, but seldom during low tide with breaking waves, so remember that keeping the bait closer to the beach is sometimes the better move.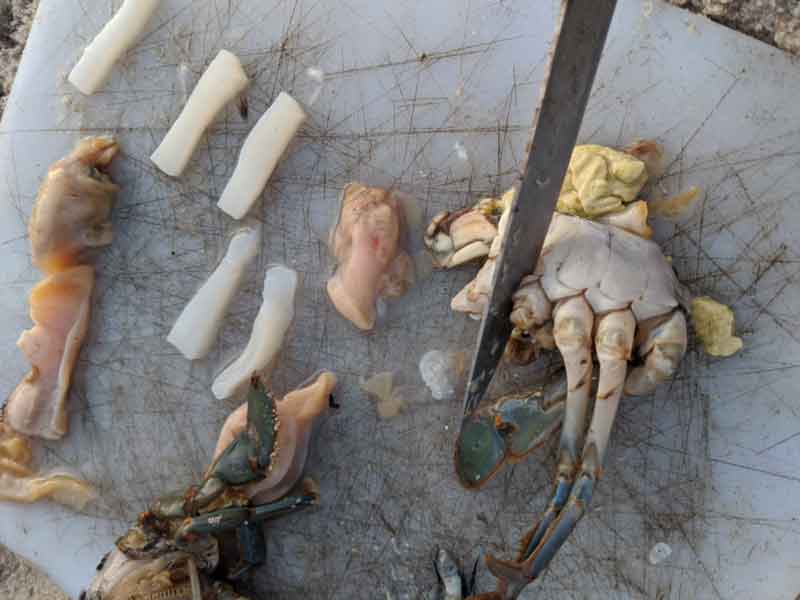 For bait, as mentioned, you cannot go wrong with small pieces of bloodworm. Peeler crab also provides many baits when cut into small pieces. Clams can be shucked (striking two clams together gets you inside) and cut up so a section of the foot is on each bait. The foot is the toughest part of the clam, and should be used for securing a hook. And of course, there is the old reliable squid strip. If using boxed squid, be sure to clean the squid by scraping the skin off before cutting it into small, thin strips of bait. Also, do not discount the tentacles on squid. A tentacle on a hook with a piece of Fishbite bloodworm is a deadly combination for kingfish. Squid can be purchased already cleaned in peeler juice, and then you can just cut the strips into thin pieces that can be easily swallowed by smaller fish's mouths. Those sand fleas the kids dig up along the shore line are also tasty treats to predators cruising the trough.
I will not discount the popularity of packaged scented baits. As stated, I typically use a piece of Fishbite bloodworm in conjunction with a strip of squid. However, I've conducted my own unscientific test several times using just a scented bait on hooks, compared to using fresh natural bait or scented bait in conjunction with a piece of fresh bait. I have yet to have scented bait out-fish fresh natural bait in the surf. This is not the case in other fisheries, like flounder fishing in the bay or casting for schoolie stripers. Often in these scenarios scented bait on a bucktail will out-fish natural bait. But I've found this is not the case when surf fishing.
You're heading to the beach for that annual family vacation? Don't forget to pack a couple of fishing rods and some bottom rigs, and try casting in the trough.
- By John Unkart, author of Offshore Pursuit and Saltwater Tales, available at Amazon.com.
Check out these other surf fishing articles on FishTalkMag.