The DelMarVa Peninsula is a gem among gems to anglers of all types, but there are a few select spots where kayak anglers hold an ace up their sleeve. You say you're up for an Eastern Shore adventure this fall? Then consider: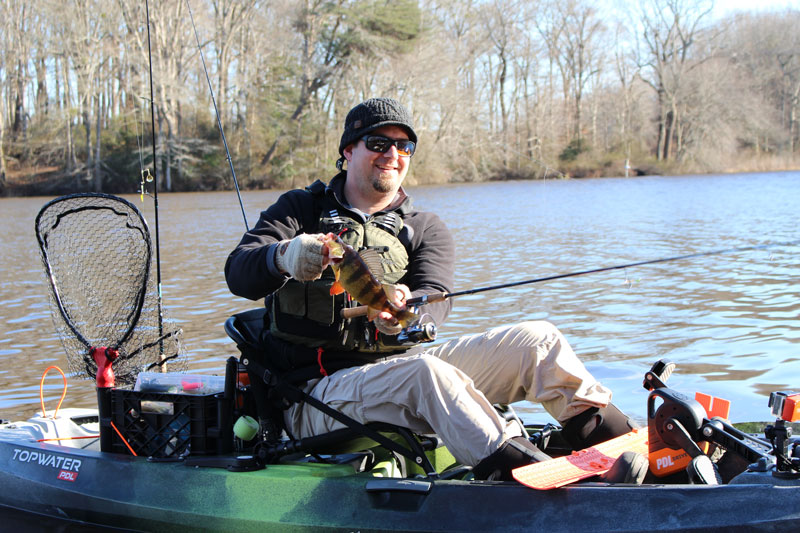 Upper Shore: Unicorn Lake – Located far north on the Shore at the headwaters of the Chester River, this 43-acre millpond offers excellent fishing for pickerel, crappie, yellow perch, bass, and catfish. But most of the lake is just a couple feet deep, and several areas are inaccessible to boats except those with just an inch or two of draft. There's relatively deep water by the dam and a channel running along the west shoreline, both otherwise, much of the lake is shallow and weedy.
Paddlers Only – Boats with props (and even kayaks with pedal drives) can't get through the shallow flats in the lake's southern extreme, to access the area where Unicorn Branch feeds the pond. Paddle over these shallows, however, and you'll be able to fish the creek mouth. It's several feet deep where it hits the lake, has much more current than elsewhere, and fish love to congregate here.
Tip – It's hard to out-fish a minnow suspended a foot or two beneath a bobber on a marabou jig or shad dart, in these waters.
Mid-Shore: Little Blackwater River – No discussion of DelMarVa kayak fishing opportunities would be complete without talking about the fantastic mid-shore snakehead fishing in the Blackwater zone. And top among the kayak angler's targets is the Little Blackwater. Every inch of river north of Key Wallace Bridge is prime territory, and there are multiple launch points (at the bridge, at pull-offs on Maple Dam Road, and at the Egypt Road soft launch). Not only are trailer-boats unable to use these launches, much of this water is simply too shallow and weedy for propellers to get through.
Paddlers Only – Countless creek arms and offshoots are incredibly shallow and weedy. Simply get out of the river's main channel, and you've found a paddlers-only spot.
Tip – The shallow waters of this river system combined with the snakehead's temperamental nature means small changes in the weather can have a big effect. A single day of bright sun will bring up water temps by several degrees and can trigger lots of action, while a cold front can send the water temps plummeting and shut down the snakehead bite. Choose your days accordingly.
Lower Shore: Mockhorn Island WMA – If a serious saltwater adventure and a rather advanced-grade kayak fishing trip is up your alley, head for Mockhorn Island WMA near the southern tip of the Peninsula. Be prepared for strong currents and long paddles from the launches (at either Oyster or Wise Point). Large waves aren't usually an issue in these coastal backwaters, but strong breezes can be, so pick your days wisely.
Paddlers Only – Boats can fish the main channels here, but the countless creeks and cuts going into and through Mockhorn Island are riddled with flats, oyster bar, and uber-shallow waters. Enter these creeks and cuts on the end of the incoming through the middle of an outgoing and you can encounter excellent action on flounder, specks, puppy drum, and more.
Tip – Four- and six-inch soft plastics in white, pearl, chartreuse, and yellow, on half- to quarter-ounce jig heads, are a great choice for these waters. When you find a deeper spot (particularly at creek mouths and outside bends with feeder-creeks) let the jig sink to the bottom and bounce it along for flounder; in shallower areas and when casting to points try a rapid erratic retrieve, to tempt the speckled trout.