Anglers in Tidewater Virginia, with multiple sportfish species and hotspots galore, have a cornucopia or conundrum of choices — depending on their point of view — every time they go fishing. Where to go and what to fish for? We all sure would like to have that problem! In addition to a host of natural features, two bridge-tunnel complexes, and large bridges in productive fishing areas, there are three well-developed artificial reefs south of Back River. Locations A, B, C, and D are in close proximity to Hampton Roads and Norfolk. Location B is a very small, very early private artificial reef project. Each of the three Virginia State reefs (A, C, and D), is named after a nearby location to provide a geographic reference. Of these, Bluefish Rock Reef, near Bluefish Rock, is one of the more famous fishing spots in the Bay.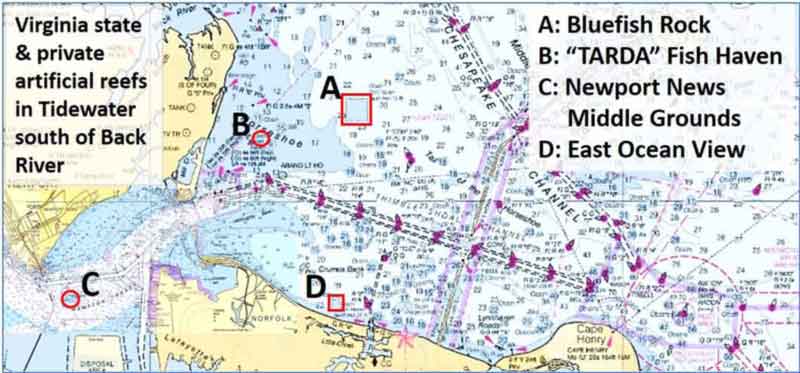 Bluefish rock isn't blue, and it isn't a rock — or at least it's not a single rock. It's an area of uneven bottom where there is a lot of rock. There are various explanations for this. Some old-timers said it was where sailing ships dropped ballast, and a 1990 report in the Newport News Daily News said it was where fishing schooners dropped their ballast. Maybe, maybe not. There is partial side-scan sonar coverage by the National Oceanographic and Atmospheric Administration (NOAA) that is accessible through their Bathymetric Data Viewer (BDV). The sonar images show some rough bottom and ragged edges, but no distinct rock piles are visible. That's not to say there aren't any, because there's less than 50-percent side-scan coverage. Most probably, the area is an outcropping. What is for sure, the area is a fishing hotspot that's often heavily pressured in season.
The Virginia Marine Resources Commission (VMRC) established Bluefish Rock Reef (A) in 2007 using 1000 tons of pipe donated by Hanson Pipe Company. A deployment picture on the VMRC reef website shows a load of pipe about 1.5 feet in diameter and a single larger pipe with small pipes in it (nested pipe). The actual configuration is not recorded. A semi-circular pattern was typical for Hanson-donated pipe at other reef sites, and potentially may be encountered here as well. More recently, McLean Contracting Company deployed concrete girders, bridge decks, pile caps, columns, footings, and piles from demolition of the Lesner Bridge. A sonar report is not available and the reef site is unfortunately outside of NOAA BDV side-scan sonar coverage. The VMRC satellite image overlay and especially the grid drawing layout should be more or less reliable for locations inasmuch as GPS technology was in full use when the reef was constructed. Note that the grid drawing predates the Lesner Bridge deployments.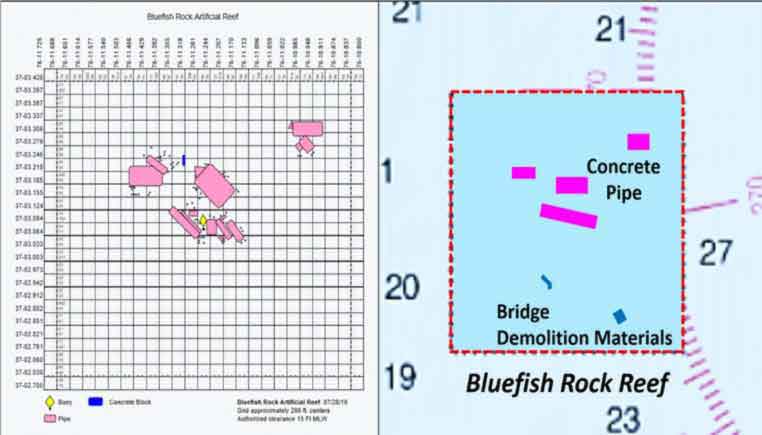 About 2.75 miles southwest of the VMRC reef is a charted fish haven at the Horseshoe north of Thimble Shoal (B). It was established in 1961 by the former Tidewater Artificial Reef Development Association (TARDA). According to a paper by Jon Lucy of the Virginia Institute of Marine Sciences in 1983, TARDA planned to place 1000 junked car bodies in the fish haven, but only eight were actually deployed. The car bodies remained in place after the Ash Wednesday Storm in 1962. That was a storm! Ocean waves broke over beachfront houses on my home barrier island along the New Jersey shore and flooded our back-bay house. Assateague Island was submerged, and many homes were lost or flooded in Ocean City, MD, and Virginia Beach as well. Now, almost 60 years later back at the fish haven, nothing is showing up in the BDV side-scan sonar image. Little if anything remains of those eight auto bodies, but the fish haven is still on the charts. However, 800 yards to the northeast is a charted wreck. NOAA's wreck data just lists the wreckage as distributed remains with no other clue as to what it was. Just outside the southeastern edge of the wreck circle is an uncharted obstruction. These objects appear to be low profile, maybe a foot or two in height. But, the wreck looks like promising ground and the obstruction might hold a few fish as well.
About 1.5 miles south-southeast of the fish haven is Thimble Shoal Light. It's another example of the "sparkplug" style caisson lighthouse sometimes built on the Bay. The light's underwater body and rugged foundation around the base offer good fishing structure. Then there is that nice edge that drops off into the Thimble Shoal Channel. Just across the channel to the southwest is Willoughby Bank. Sediment waves on top of the bank show up in a partial BDC side-scan sonar image.
If Bluefish Rock is pressured, why fight the crowd? Give Bluefish Rock Reef, the wreck and obstruction north of the "TARDA" fish haven, and the Thimble Shoal Light a look, especially if no one is there to scare the fish away.
See our Chesapeake Bay Fishing Reefs Guide to get the lowdown on other mad-made wreck and reef hotspots in the Bay, plus a few in the ocean off the DelMarVa coast.
-By Wayne Young, a former manager of the Maryland artificial reef program for Bay waters and the author of "Bridges Under Troubled Waters: Upper Chesapeake and Tidal Potomac Fishing Reefs." You can also visit his Facebook page, Chesapeake Bay Fishing Reefs.