Dirty little secret time: I hate fishing tournaments. Yup, it's true. If there's one thing I don't need to add to my fishing-time, it's stress. And I have to admit that fishing tournaments do bring out the competitive drive in me. Despite my best efforts to remain chillaxed, instead of fishing for fun I drive myself nuts by fishing to "win." There's one tournament, however, which I'm looking forward to: the Fish For A Cure, based in Annapolis and held late each fall in the Chesapeake Bay.
Click Here to Help Our Boat Fish for a Cure!

Many of you will be familiar with this event, but for those who are not: the "Fish4AC" raises funds for the Anne Arundel Medical Center. These funds don't just go into some amorphous account to build a new wing or re-pave a parking lot. They go directly to the Geaton and JoAnn DeCesaris Cancer Institute. At last year's event we heard from nurses whose jobs were directly supported by the event's funding, and from patients whose unfortunate experience was made better by those nurses.
Has your life, or that of a close friend or relative, been affected by cancer? Of course it has. This cause touches virtually all of us. And in 2017 this fishing tournament raised an eye-popping $400,000 to help battle it. So I can handle a little bit of stress to help out in this case – and you can, too.
FishTalk, along with sister-publication PropTalk, are media sponsors of the event and in future editions as the tournament draws close you'll see ads and information on how to join up. But that's the easy part. Tougher is figuring out how to succeed in the tournament's most important competition, the Captain's Challenge. Donations made in the name of a particular boat are added up, and the individual boat with the most donations wins bragging rights for the year. In 2017, Alternating Currents, captained by Brian Heller, and Just in Time, captained by Rob Schurr, were both a hairs-breath away from the $40,000 mark in a last-minute back-and-forth, with Just in Time eeking out a win while the boats were still out fishing. Wow!
Last year team FishTalk/Proptalk came very close to raising $4,000 and was boat 26 (out of 79), a position that we were happy to attain but ultimately unsatisfied with. This year we want to do better. We want everyone else to do better, too. So we spoke to a captain who experienced some unusual success in the Captain's Challenge, Gary Oster, of the Albert C fishing team. 2017 was their very first year in the tournament – yet they managed to raise dang near $17,000 and came in sixth place overall.
"We started without a following," Oster explains, "without a database or any corporate sponsors. But we had a team commitment and we were very organized."
Gary and each team member started their efforts by building a spreadsheet of contacts. Then they reached out to the contacts individually by phone, email, and face to face. To cap their efforts off they then held an event of their own, a Bourbon and Cigar fundraiser, which turned out to be quite successful.
"We didn't have any big corporate donations," he explains. "But we received personal donations from 140 individuals."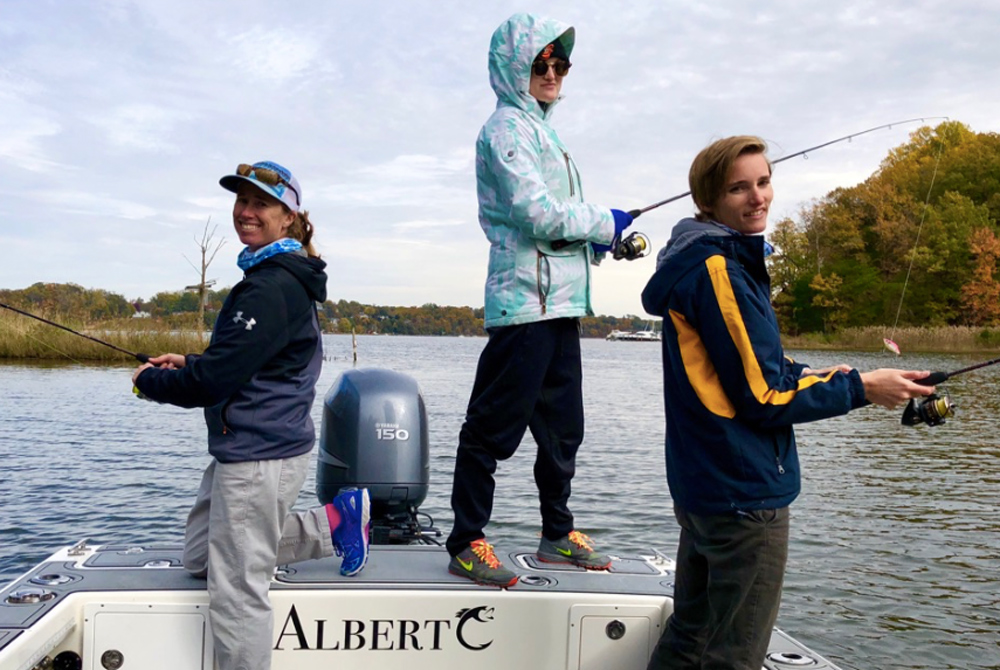 Congratulations go out to the Albert C team for a breathtakingly successful first year in the Captain's Challenge. And, thanks for the tips. Could there be a FishTalk/PropTalk Beer & Bucktail Bonanza in the future…? Stay tuned.
In the meantime, we wish each and every captain entering the Fish4AC good luck in 2018, and armed with the knowledge of how some top captains made the Challenge such a success, we're sure we can collectively smash right past that $400,000 mark set in 2017. Yes, this is one tournament I'm actually looking forward to – and we hope you are, too.
BONUS TIP from Team Alltackle captain and Fish4AC board member Keith Fraser: "Part of being successful is simply to ask a lot of people for donations, and ask each of your crewmembers to do the same," he says. "Remember – if you ask a million girls to dance with you, sooner or later one will."
Frasier also mentions that it's important to explain to potential donors that this is a 100-percent volunteer organization, and the funds that are raised go directly to the cause – not someone's salary. "There are plenty of causes to donate money to," he explains, "so people need to understand that in this case, all the money is going directly to where it can do the most good."