by Lenny Rudow
Aluminum boats don't get nearly the respect they deserve, especially models like the Tracker 1754. It's big enough to run out into the open bay on decent weather days, but it's light enough to trailer behind a mid-sized SUV. It's large enough to take three friends fishing, but it's small enough to weave into tight marshes and cuts. And while its finish isn't nearly as sweet as gleaming gel coat, you won't ever have to wax it. Is it the ideal choice for a bay angler who likes to fish when the wind's howling and run out into the Atlantic on a regular basis? Of course not. But for a small do-everything type of fishing machine, it's going to be an excellent choice for a wide swath of people.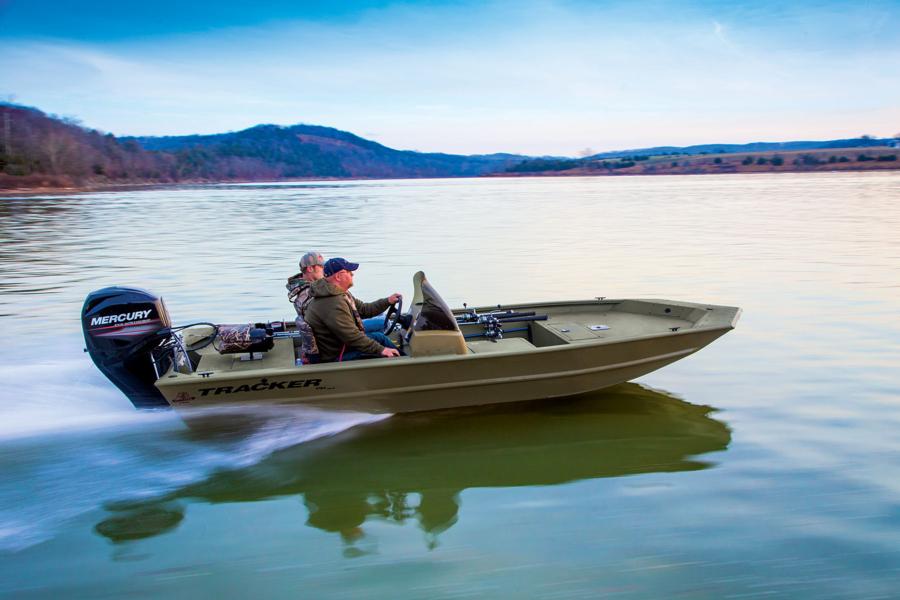 And that's not even the best part. The Tracker Grizzly 1754 MSRPs at—are you ready for this—a whopping $13,295. That price tag includes a 40 HP four-stroke Mercury outboard and trailer with an outboard support and tie-down straps. That's literally everything you need to hitch up your new rig and head directly for the ramp. (Well, okay, you might want to fill the fuel tank first). You could easily spend twice that amount on a turn-key 17-footer if you were going with fiberglass.
Also included at that price is a nine-gallon livewell in the console, a port-side rodrack, and elevated fore and aft casting decks. What it doesn't include is a fishfinder/chartplotter. That's just fine because adding one aftermarket gives you more options to suit your personal taste, but measure carefully before you buy anything. There's not a whole lot of room for electronics on the console, and it would be easy to get a unit that doesn't fit.
Another item that you'll miss is rodholders. This is often problematic with aluminum rigs, since they don't have wide gunwales and inwales for flush-mounting. Fortunately, Tracker does sell a trolling rail kit ($550) and you can always add aftermarket rodholders. Many are flimsy but check out RAM Mounts; I had them on one of my small boats for years, and these are sturdy enough to hold up to the strike of a trophy rockfish.
What about seakeeping abilities? As is true of all boat, there's both good news and bad news. The bad news first: since aluminum boats tend to be lighter than their fiberglass brethren—which is why 40 horses is plenty for a boat of this size—they do get tossed around a bit more easily. Tracker does, however, put a seven-degree deadrise into the 1754's modified-V bottom, which does help it eat through the chop significantly better than a traditional flat-bottom aluminum jon boat. And it has a 6'6" beam, which helps enhance stability.
So now you know the good, the bad, and the cost. Here's the big surprise: Tracker now offers a five year transferrable stem-to-stern warranty, plus a lifetime limited structural warranty on this boat. Check the fine print and you'll discover that most builders offer only a structural warranty, not a stem-to-stern, and those that do offer complete coverage usually only do so for one to three years. And that, my friends, is worthy of some respect.
Tracker Grizzly 1754 Specifications:
LOA – 17'1"
Beam – 6'6"
Displacement – 880 lbs
Draft – NA (Note – on a boat this small and light, load has a dramatic effect on draft).
Transom deadrise – 7 degrees
Fuel Capacity – 9.5 gal
Max HP – 75
Looking for more options? Read this Polar Kraft Sportsman 1754 review.