You say you and your kids like everything about playing in the watery world from wakeboarding, to fishing, to rafting up at the sandbar? We're not surprised, because being out on a boat is a whole lot more fun than being stuck on dry land. There's just one catch: if the wind whips up while you're out there, getting back to the dock can be bumpy, wet, and quite uncomfortable. Never fear, fellow boater — Twin Vee has the solution.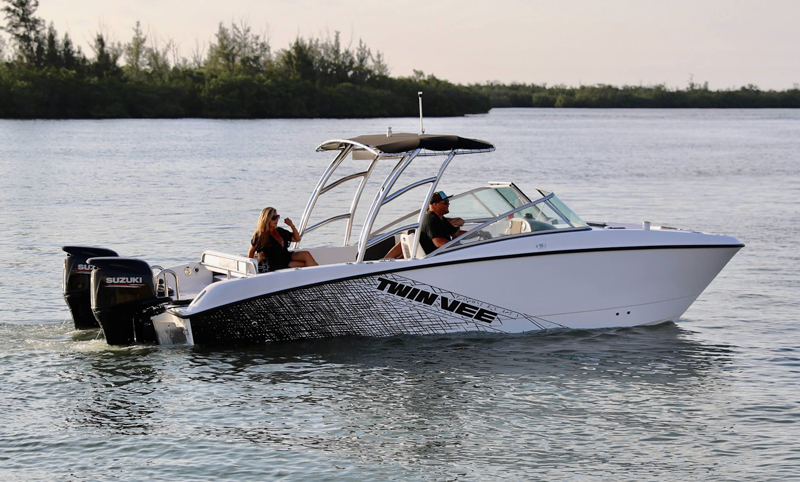 Two Hulls are Better than One
The Twin Vee 240 Dual Console SE is built and designed for family fun, but it rides atop the same wave-slicing powercat hulls as Twin Vee's offshore fishing boats. Many offshore anglers favor the powercat design since it allows you to run fast through choppy waters without taking a beating, thanks to knife-like bow entries and the cushion of impact-reducing air that builds up between the two hulls. On top of that, the spaced hulls provide far better static stability, so when the boat's sitting at anchor and someone walks from side to side it rocks a heck of a lot less than a monohull of the same size would.
Wait a sec — if powercats are so great, why doesn't every boat builder utilize the design? Each type of boat has its own plusses and minuses, but beyond all the different variables, powercats are generally tougher to design and build and take longer to go from the drawing board to the final product. But Twin Vee has been dedicated to building powercats and powercats only for over a quarter of a century, and has launched over 8,000 of them. Plus, with high-tech construction methods like the use of digital hydrodynamic software, CAD/CAM design, digital CNC sewing, thermoforming, and five-axis routers, they know how to build them right.
More Hulls = More Fun
The net result of owning a powercat is that you can take out your family on breezy days when other boaters might decide to sit at the dock, and you can run home in more comfort if you're already out there when the breeze unexpectedly picks up. But in any case, once you shove off the dock the 240 Dual Console SE is designed to maximize the fun-factor. Start with the fact that there's plenty of space to kick back and relax. The bow cockpit has wrap-around U-shaped seating, the helm seat has a flip-up bolster for standing or seated operation, and there's a passenger's side lounger across from the helm station. But the prized spot is no doubt the triple-wide daybed lounger in the stern. Added bonus: grab the center section of that lounger and swing it up, and you'll discover a huge stowage compartment with plenty of room for wakeboards and water skis.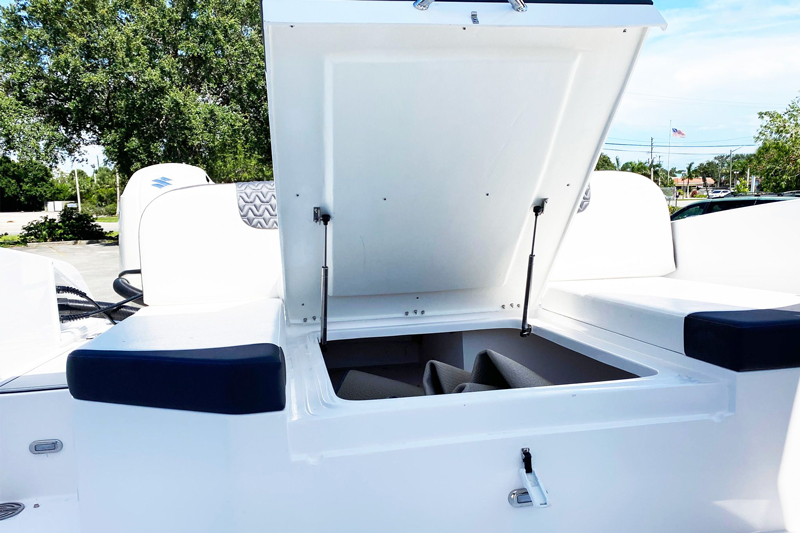 Speaking of wakeboards and water skis: if your family loves watersports, jumping wakes, and catching air, you'll want to get the optional Sport Arch top with an elevated tow bit. Anglers will love that there are flush-mount rodholders in the gunwales. And no matter what the favored activities of the day are, every family member is sure to appreciate the enclosed head compartment. When you check it out, be sure to take note of the absence of sharp edges (read: toe-stubbers) in its design, and the fact that a portion of the overhead is integrated into the door so you can step in upright instead of having to crouch and contort like on many other dual console head compartments.
Other touches adding to the family fun include USB and 12-V ports at the helm, a pull-out freshwater shower at the transom, and an optional Fusion stereo system with two 8.8-inch speakers. If yours is a musical family, we'd say opt for the Delux Entertainment package and add a sub-woofer, amplifier, and additional speakers. And if they enjoy thrill rides, you might also want to up the horsepower ante and get the maximum power, a pair of 140-horsepower outboards. They'll deliver hat-stripping acceleration, cruising speeds in the neighborhood of 30 mph, and a top-end of well over 40 mph.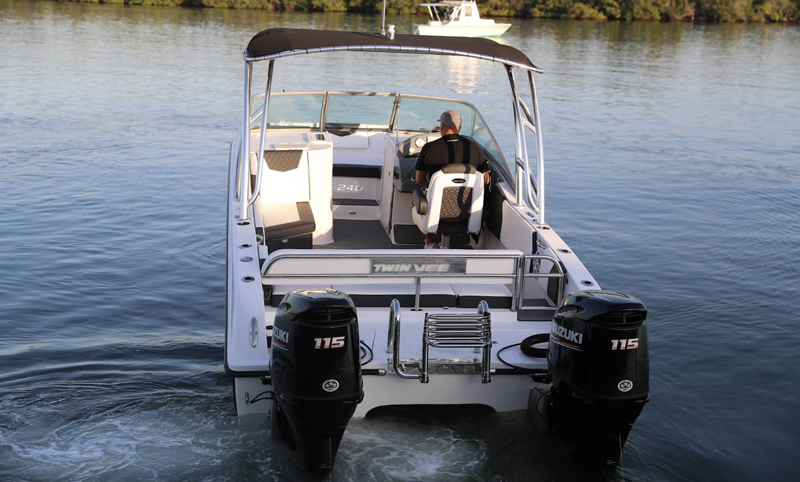 We can't mention the outboards without also mentioning that efficiency is another strong suit of powercats. You can expect that at cruising speeds you'll get between 2.5 and 3.0 mpg, which is excellent for a twin-engine boat carrying 280 total horses.
So: what will it be, one hull or two? That's a decision you and your family will have to make as you check out all the different options out there. But before making a call, we'd suggest taking a 240 Dual Console SE for a test drive. Because if the idea of cruising across a bumpy chop without all the bumps sounds appealing, you need to experience the Twin Vee's ride for yourself before making any decisions.
Twin Vee 240 Dual Console SE Specifications
LOA – 24'0"
Beam – 8'8"
Displacement – 3,400 lbs.
Draft (hull) – 1'4"
Transom Deadrise – NA
Fuel Capacity – 98 gal.
Max. Power – 180 hp