Don't take a dang thing written in this review as gospel — go ride a Twin Vee 28 for yourself, preferably when it's blowing about 20 knots. If you don't feel the phenomenon of the ride this twin-hulled compression tunnel powercat provides for yourself, you simply won't believe it. It's. That. Good.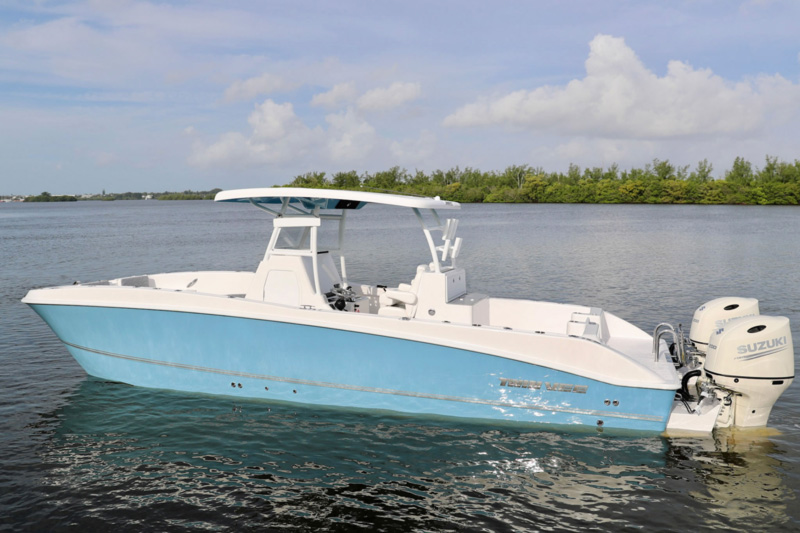 Okay, we're not going to dwell on the ability to sail across near-vertical three-footers at WOT without bashing yourself senseless, nor will we spend a bunch of time talking about how a one- to two-foot chop simply disappears once you're on plane. We know that 90 percent of the boat anglers out there are used to monohulls, and most haven't ever so much as set foot on a cat. We also know that a ride through a snotty Chesapeake on Twin Vee's latest model, the 280 CC GFX, will be necessary to get the point across. So, setting ride aside, why else might someone want to check out this boat?
The most shocking thing we can demonstrate about it is just how stable it is. When we first stepped aboard the boat barley moved. Stepping out onto the full-beam swim platform and walking all the way to starboard and then all the way to port, again, there's virtually zero motion. Wait a sec — how can we demonstrate this for you, in person? Well, we can't. But we can let you watch this Twin Vee Powercat 280 CC GFX Center Console Fishing Boat video and you'll see it happen for yourself, right in the first few seconds.
Fishing-wise the boat's rigged for serious action both inshore and, if you opt for the outriggers, offshore as well. There's a 30-gallon livewell in the back of the leaning post, right under a major-league tackle station with eight boxes and bulk stowage. Fresh and raw water washdowns, macerated fishboxes in the deck, under-gunwale rodracks, and a total of 18 rodholders are all on the standard features list. And in front of the console the lounger houses a coffin box large enough to house a month's worth of soon-to-be tuna steaks.
The best thing about fishing this boat, however, isn't how it's equipped. Deck space is the critical factor. Like most cats the 280 CC GFX carries its beam all the way forward, which means you don't lose a ton of space as the bow comes to a point. And rather than incorporating flanking bow seats, Twin Vee designed in a single forward seat running athwartships that can do double-duty as a casting deck when you pull the cushions and leave them home. Now add to this the fact that since this is a cat the helm can be located a bit further forward than on many monohulls, which expands the aft cockpit. Net result? Walking around on this boat it feels like you're on one with several more LOA.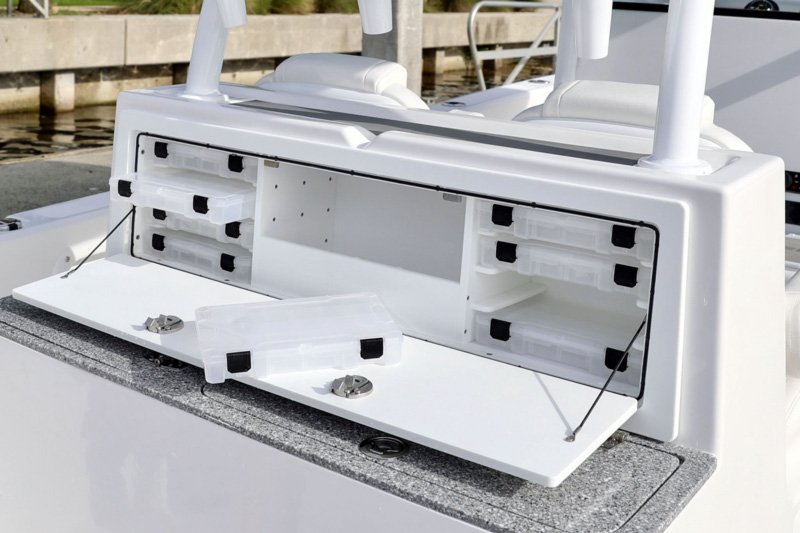 Performance is also pretty darn spiffy. With a pair of 200-hp Suzuki outboards on the transom this is a 50-mph boat and cruising speeds are right around 40 mph. And that's with 200s — the boat can handle an additional 100 horses on the transom. Yes, cats do tend to handle a bit different than monohulls and it'll take some getting used to, but chances are that after a handful of fishing trips you forget you ever noticed a change. Except, however, how much easier dockside handling is. Since the outboards are spread so far apart, opposing the engines has an effect like that of twin-screw inboards and is much more pronounced than on the average twin-outboard center console.
Well, shucks. Once again, we've made an assertion here that you really can't be expected to accept without evidence. Fortunately, however, that evidence is just one quick sea trial away.
Twin Vee 28 Specifications
LOA – 28'0"
Beam – 9'6"
Displacement – 7500 lbs.
Draft – 1'8"
Fuel Capacity – 170 gal.
Max. Power – 300 hp
Area Dealers – Total Marine, Grasonville, MD or (410) 604-6000.