Hunting for a new fishing kayak can be overwhelming, and selecting the best fishing kayak is no easy task. Dozens of kayak companies are all vying for their slice of a rapidly-growing consumer pie, and it can be a struggle to see past the flashy promos and fancy amenities. A few months into owning a 2019 Vibe Sea Ghost 130, I can confidently say that there's a good reason this kayak is one of the more popular fishing platforms out there.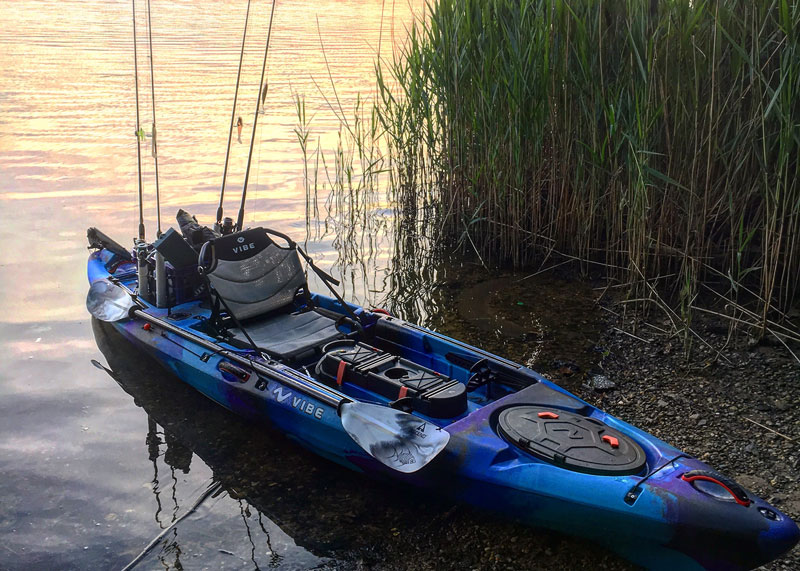 Sea Ghost 130 Basics
The Coming in at 13 feet long and 75 pounds unloaded, this power-packed fishing machine also boasts a 33-inch beam; three features which combined to birth Vibe's claim that it's a boat which should get you where you're going quickly and let you stand to fish when you get there. An easily self-installed rudder system, which is included, adds precision turning to a boat which already tracks surprisingly well for being so long. Even in wind or waves, I find the rudder to be more of a bonus addition than a necessity.
One of the most important aspects of a fishing kayak is the seat. The Vibe Hero seat is a breathable, comfortable perch from which to paddle and fish. There are two height settings, and the secondary stability of the Sea Ghost means you feel secure at either height no matter your body type. The seatback is easily adjusted using two straps, and a hook-in bungee system that also makes set-up and disassembly of the seat a breeze. My one issue is that when paddling the seat's base is tilted a bit far forward, leading to some leg discomfort during longer journeys. That said, I recently took my Sea Ghost on a 10-mile trip in the Potomac River, and found myself smiling as I noticed how comfortable and secure I felt.
Kayak of the Year
The Sea Ghost 130 won the 2017 Kayak of the Year at the Kayak Angler's Choice Awards, and the 2019 model builds on that award-winning reputation. One of the main reasons for the 130's popularity is that it boasts an incredible amount of amenities for the price. With its hull tried, true, and loved, Vibe sought to improve the 2019 model's center console. The 2019 Versa console features a lure magnet, two in-hatch waterproof stowage pods, two top-loading gear tracks, a cup holder, bungee straps for tools, and it un-clips and pops up to reveal extra stowage underneath. This below-console stowage is my catch-all: sunscreen, bug spray, water bottle, camera stick, gloves, and snacks all fit easily and keep the deck clear. I've also heard rumor that this stowage space can hold ice for a cold beverage or two. I use the waterproof pods for my phone and keys, the bungees for my lip-grippers and pliers, and the cup-holder for that much-needed caffeine boost on early morning trips.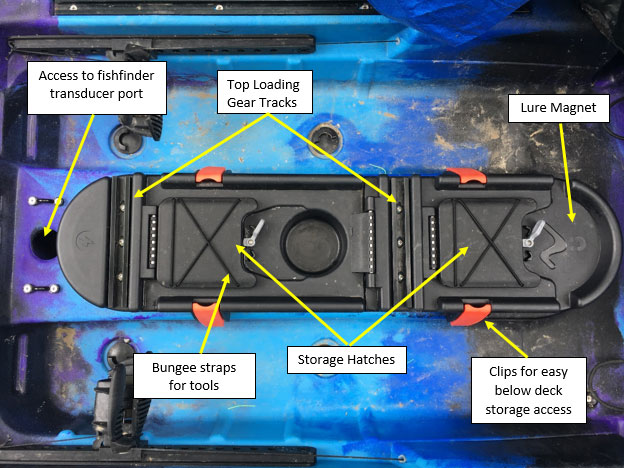 Aside from the Versa console, the Sea Ghost 130 comes stock with four top-loading gear tracks, rear cargo stowage with bungee tie-down, two tackle-tray holders, paddle-keeps on each side and on the bow, two flush-mount rod holders, waterproof bow hatch, waterproof deck hatch, and a pre-made hole for fishfinder cables. Adding a fishfinder is no problem. The Sea Ghost also comes with a transducer port in the hull and a cover to protect your transducer from hazards.
Why Not Get a Pedal Kayak?
It's easy to be skeptical about a performance fishing kayak priced under $1,000, especially when stacked up against kayaks with peddle-power. But you don't have to worry about a pedal drive whacking a submerged log or rock, or taking up deck space when you pull it out. Can you cover as much water? No – if you're a long-distance kayak fisherman, this might not be the best boat for you. However, DelMarVa's tidal creeks, lakes, rivers, and inshore saltwater shores are happy places, and the Sea Ghost 130 suits them perfectly. Vibe lives the "No Drama, Just Adventure" lifestyle, and the Sea Ghost 130 allows you to embrace it.
Specifications
LOA: 13'0"
Beam: 2'9"
Displacement: 75 lbs.
Capacity: 550 lbs.
MSRP: $999
-By Matt Stone