Welcome back FishTalk readers, and we hope you've enjoyed our 2018 editions. Somehow another year has suddenly gone by, and we're in the final weeks of what most normal people would call fishing season. But we fish-heads, we're not normal. We know that as long as there's open water and fish swimming around in it, there's some possibility of putting a bend in a fishing rod. Sure, the skin on your fingers might freeze to the reel seat. Yes, your deck may become skimmed with ice. Of course there's always a chance that the contents of your boat's Porta-Pottie will glaciate and fracture the plastic holding tank. We say none of that will stop us from fishing, and if that open water becomes locked up tight, we'll start punching holes through it to get our lures and baits in front of those fish.
Unfortunately, due to short-sightedness and a general lack of fishing fortitude, many of us grew up in households where winter meant stowing away the angling gear and winterizing the boat until spring. While we certainly don't condone such behavior, we understand that as a result, many fisherfolks aren't exactly sure how to continue their waterborne pursuits right through the winter months. So as we grow closer to what some non-fishers might think of as the "off season," we figured we'd provide those who aren't familiar with our region's wintertime options with a brief run-down of what you'll be missing, if you opt to stay indoors for the next few months.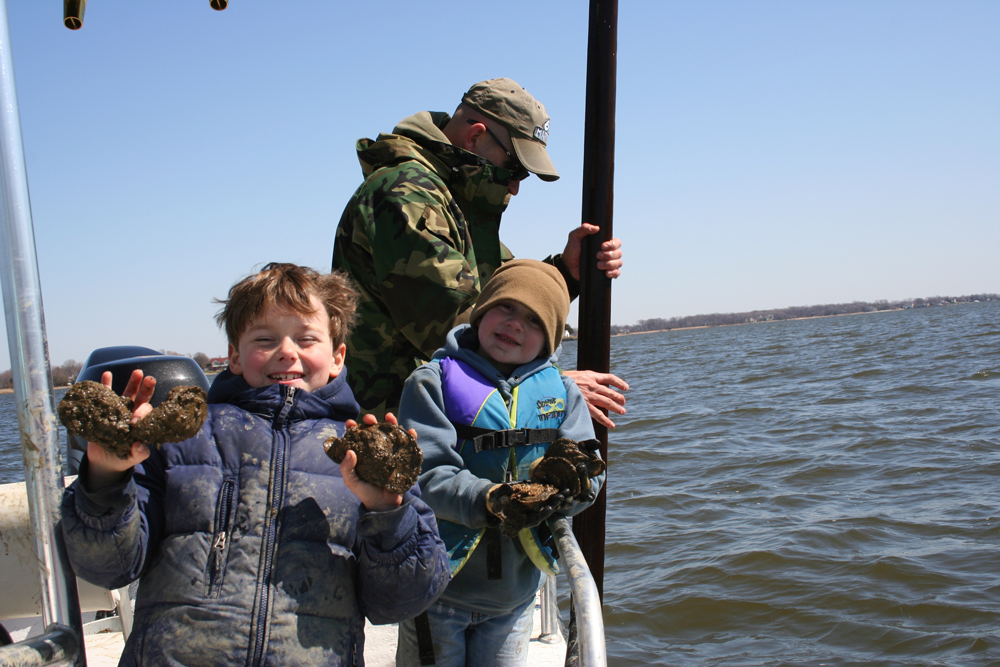 Hitting the warm-water discharges. Though limited in size and location, warm-water discharges can be found throughout our region. There's Dickerson up the Potomac, Brandon Shores near Baltimore, Calvert Cliffs in the mid-Bay region, North Anna in Virginia, and that's just a partial list. Wherever you live, there's almost certainly a warm-water discharge or two within a couple hour's drive. Check out Fishing for Trophy Rockfish in Warm Water Discharges, to get the details.
Catch-and-release fishing Chesapeake tributary stripers. I'm embarrassed to say that I didn't even realize myself how steady a bite you may enjoy on fish some winters, jigging the usual skirted plastics along the tributary channel edges. But reader and dedicated fish-head Kevin Thomas proved it's doable last winter, with a steady stream of fish photos that lasted through every month and all weather patterns. Thank you, Kevin, for proving that it can be done!
Catfish in the rivers. Those blues and channels don't ever stop feeding for more than a day or two at a time. Ever. Frontal systems and pressure changes can shut them down temporarily, but as long as you can get a cut bait into a deep hole, you have a shot at catching catfish. Read Tidal Blue Catfish Behemoths, to get the scoop.
Eastern Shore millponds. The DelMarVa Peninsula is blessed with pond fishing options which will become tougher to succeed at during the winter, but ca still be quite productive. Crappie and pickerel are the main winter fare, but a bass will surprise you now and again, too. We detail the ponds and the fisheries, in Eastern Shore Millponds: Fantastic Freshwater Fishing.
Ice fishing to the west and north. You may have to drive a bit, but lakes like Deep Creek in Western Maryland and Marburg in southern Pennsylvania make ice fishing possible even in our climate. If it gets really frigid some Bay tributaries might freeze up, too. Stay tuned, FishTalk readers – next month contributor Jim Gronaw will be bringing us a feature focused on ice fishing in this part of the world. We have a "Cheap and Easy Ice Fishing" primer and video, you'll want to see.
Yellow perch. This species often bites best when it's chilly, and you don't have to wait for the spring runs. Virtually all the creeks and rivers they spawn in have a deep hole or two down-river from spring hotspots, where the yellows ball up and spend the winter months. Our article detailing this fishery is Winter Yellow Perch Fishing at Tidal Creeks.
Tautog off the coast. This oceanic option can be very difficult to pursue due to winter weather, but when there's a window of low winds and acceptable seas, anglers leaving Indian River, Ocean City, and Virginia Beach can get in on some seriously good toggin'. Check out Tautog Fishing: These Fish Like it Cold.
Recreational oyster tonging. Yes, oyster tonging! It takes some research to ID local public bars and you may need to hunt around to find a pair of tongs, but recreational oyster tonging is an adventure (read: workout) every Chesapeake dweller should experience at least once in their life. Tip: if you don't have a pair of tongs you can duct-tape a broomstick or two to a crab net to extend its reach, squash the hoop into a more or less rectangular shape, and drag bottom with it. The Rube Golderg-ish harvesting tool certainly doesn't work as well as tongs, but you can scrape up a dozen or two oysters with it if you work at it a bit.
BONUS Winter Fishing Tip: At this time of year, it's often best to use bait – live bait, whenever possible. It may be hard if not impossible to work an artificial slowly enough to tempt the fish but still look real during the dead of winter, and some species, like yellow perch and crappie, will often hover next to your offering and stare at it before striking.