You need a new fishboat, and wonder if you should go for aluminum, or fiberglass? Let the debate rage! Sure, there are plusses and minuses for each. Aluminum boats are lighter, so they're easier to tow, launch and load. They require less power. And the maintenance factor is seriously reduced. Of course, that light weight also means they get blown around in a breeze and smacked around a bit when it's rough. So, which is better? Both, and neither. But there's one more very cool thing about aluminum boats: they tend to cost a whole lot less than fiberglass fishing machines. The Xpress XP20CC, which starts at around $25K with a Yamaha F115 sitting on the transom, is a perfect example. If you've looked at fiberglass rigs of this size you already know they can cost twice as much with this size engine and similar standard features.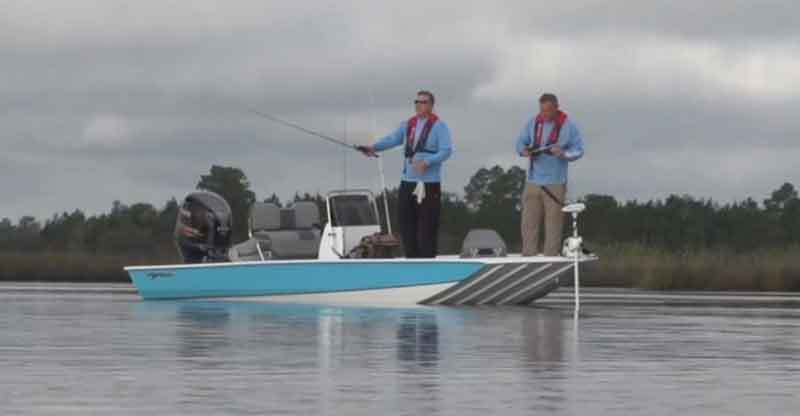 Just what sort of features does this boat come with? The console has vertical rodracks for six rigs, there are jump seats that fold out of the aft casting deck, a Minn Kota Riptide trolling motor on the bow, a livewell in the aft deck and a second one in the front of the console, and a real leaning post instead of one of those swing-back cooler seats you often see on relatively inexpensive models. And – surprise! – this rig also comes with a single-axel aluminum trailer. We have only one beef with the standards list: it also includes a Humminbird PiranhaMax 4, which is a rather low-end unit in the Humminbird line-up in this day and age; we'd strongly recommend upgrading to the optional Helix 7 CHIRP SI.
Performance-wise, that standard F115 is truly all you need on a boat of this size and nature. It gets you a cruise of close to 34 mph at 4500 rpm and a top-end of 45 mph, which is more than enough in a 20-footer. Plus, the fuel economy is rather spectacular. Remember how we said that aluminum boats require less power than glass? Good luck finding a 20-foot fiberglass center console with 115 horses that can beat the Xpress's peak efficiency of 7.4 miles to the gallon (at 20 mph and 3000 rpm) or its cruising efficiency of 6.0 mpg.
Another thing we like about the XP200CC: it's an all-welded boat, made with .100-inch-thick 5052 aluminum alloy that's auto-CAD cut. Belowdecks voids are foam-filled, and the center console is fiberglass. The whole affair gets backed up by a five-year warranty and a lifetime transom and hull seam weld warranty.
The bottom line? If you want a bay boat style fishing machine for use on a tributary or on the open Bay when conditions are right, the Xpress XP200CC provides some rather Xciting possibilities.
Xpress XP200CC Specifications
LOA – 20'3"
Beam – 7'11"
Displacement – 1261 lbs.
Draft (hull) – NA
Transom Deadrise – NA
Fuel Capacity – 18 gal.
Max HP – 150
Chesapeake Area Dealers – JF Marine Service, Prince Frederick, MD (443) 432-3121; Lingo Marine, Millsboro, DE, (302) 934-9877.