You and your family love watersports almost as much as you love Chesapeake Bay fishing? You and your family love bowriders almost as much as you love center consoles? You and your family love the uber-sporty handling of a jet boat? If you answered yes to all of the above the Yamaha 222 FSH Sport will be a boat of interest.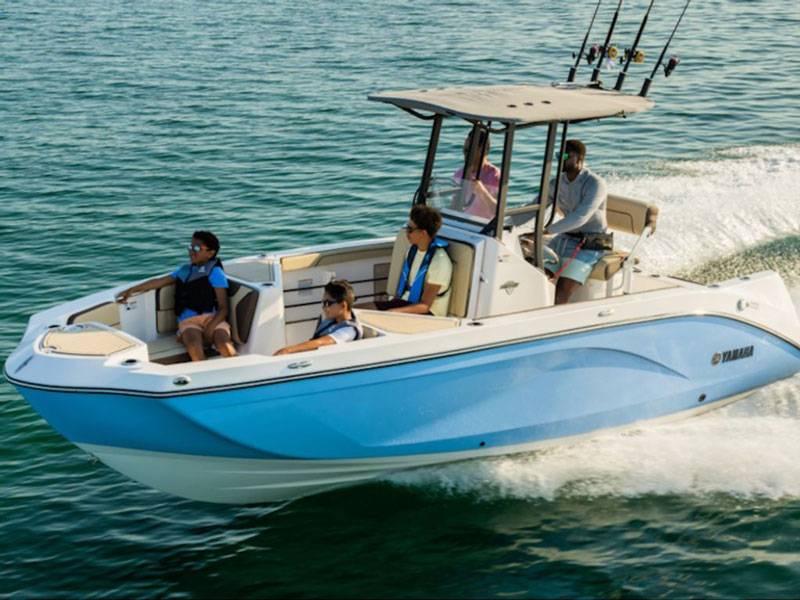 There isn't a huge selection of jet boats designed for fishing in today's marketplace, but the 222 FSH Sport is a purpose-built jet-powered fishing machine. Sitting squarely in the middle of Yamaha's 19'5" to 24'6" FSH center console lineup, the 222 is one of three 22-footers and is the midlevel trim offering (the 220 is a bit simpler, and the 222 FSH Sport E is a bit more gussied up). And considering just how well appointed the 222 Sport is, you'll probably be surprised by how affordable this model happens to be. We hesitate to print hard figures the way pricing can change in this day and age, but it's just a hair more than the average price of a new Ford F150.
Speaking of pick-up trucks: the package gets you everything you need to hit the road, pump some fuel into the tank, and start fishing, including a tandem axel trailer with disc brakes and a fold-away tongue that reduces garage storage length to 22'6". The list of standard features boasts perks like a five-inch Yamaha Connext touchscreen control, a four-speaker Jensen stereo system, a tow hook, and tilt rack-and-pinion steering with an articulating keel. And on the fishing front, you get a 26-gallon livewell, a raw water washdown, four rocket launchers on the T-top, flush-mount rodholders in the gunwales and up forward, under-gunwale racks, and vertical racks for six more rods in the console.
Despite all those goodies, the biggest attraction of the 222 FSH Sport for many families will be the transom setup. You get a full-width swim platform uninterrupted by an outboard, a telescopic boarding ladder, a tow hook for pulling water-toys, an upper level with backrests for kicking back and watching the kids swim, and cupholders all around.
What about that bowrider-like bow? Leave the cushions at home in the garage on serious fishing trips, drop in the insert, and you have an elevated casting platform. When they're in place there's room for four to sit center-facing, or two to kick back and stretch a bit while facing forward. We note that the cushy backrest bolsters make for comfortable seating whichever way you're facing. Another nifty feature is the molded-in backrest pods, which have a significant amount of stowage inside.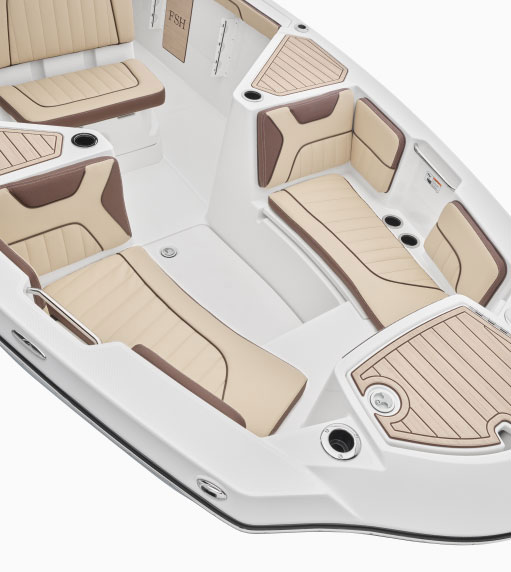 The FSH 222 Sport gets its power from a pair of Yamaha four-cylinder four-stroke 1.9L inboard engines that blast water through 155 MM high-pressure pumps with stainless-steel impellers. As is usually true of jet boats these engines are designed to spin high, with max rpm all the way up at 7500. At that mark you can expect speeds in the mid-40s while getting just under two mpg. Interestingly, the most efficient cruise tends to be near the upper end, and at 6500 rpm speeds are in the low- to mid-30s while efficiency peaks at above two mpg.
Does the Yamaha 222 FSH Sport fall into the category of hard-core fishboats? Heck no. But, does it offer up a center console design with all the critical angling features, plus the ability to serve as a general all-around jet boat bowrider fun-machine? Youbetcha.
Yamaha 222 FSH Specifications
LOA – 22'0"
Beam – 8'6"
Displacement – 3620 lbs.
Draft – 1'7"
Transom Deadrise – 20 degrees
Fuel Capacity – 75 gal.
Area Dealer – Beacon Light Marina, Middle River, MD, (410) 335-6200.