The 2017 Yamaha F90 is an all new outboard engine, and we had the chance to run one recently to find out if this motor is one you FishTalk readers need to know about. The short story? If a new four-stroke 90 horsepower outboard is in your future, you will want to check this one out. Join us for a test run, before we dig into the details.
Let's look at the specs for the Yamaha F90:
Weight - 353 pounds (362 for the long shaft); weights exclude prop and oil (Really, Yamaha? Really?)
Shaft Lengths - 20 and 25 inches
Alternator - 35 amps
Displacement - 1832 cc
Full Throttle Range - 5000 - 6300 rpm
Fuel Induction System - EFI
Compression Ratio - 10.0:1
One thing we didn't experience during our test was Yamaha's Variable Trolling RPM. We did, however, get to play with some other engines that had this optional feature. And, we love it. Variable Trolling RPM allows you to adjust rpm by tiny increments with the press of a button, so you can dial in very precise speeds. For guys who are trolling and need to get their speed just so, it can't be beat.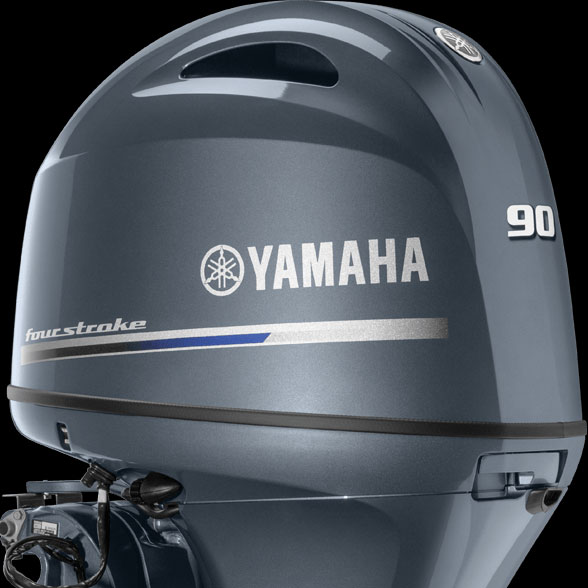 What about fuel economy? As one might expect, this 90 horsepower four-stroke outboard is thoroughly stingy. At a cruising speed in the upper 20's, while turning 4500 rpm, the F90 on our test platform was burning less than five gallons per hour and the boat was making approximately 6.2 miles to the gallon. On a heavier fiberglass bay boat this will drop a hair, but just a hair; it's safe to figure on 6.0 mpg performance. At wide-open throttle, we were burning about nine gph while running at close to 40 mph. And, we want to stress one more time - because it makes such a huge difference to the entire boating experience - the motor is practically silent at idle and is just as quiet as an outboard can be when running full-tilt.
The final factor for most folks is going to be price. Yamaha outboards are priced competitively and while you can find cheaper outboards, it'll be tough to beat the value with an MSRP of right around $10,000 and a street price in the mid-$8,000 range. To get the company line, visit Yamaha.