There are so darn many cool new fishboats we can't ever hope to fit 'em all into Fishboat Reviews. And the past few years have brought so many different developments in fishboats we already have reviewed that the job becomes tougher than ever. So this month, we're going to take an admittedly brief — but important — look at three boats that have evolved since our original reviews.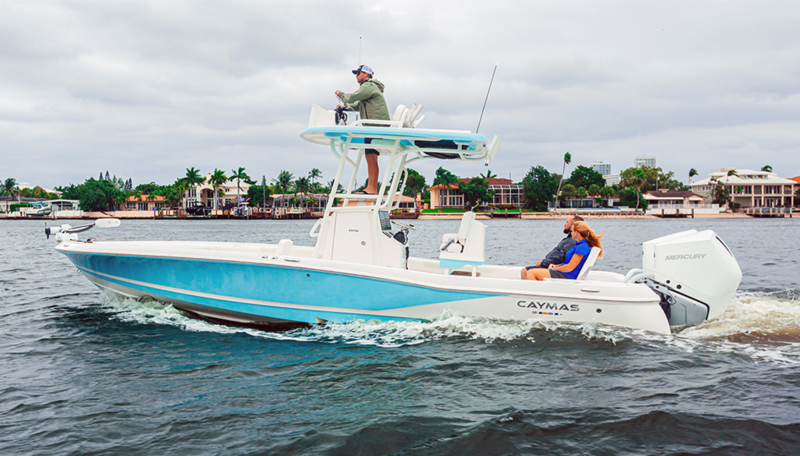 Caymas 28 HB Twin
Our original review of this model Caymas 28 HB: Boom, Baby! was of a single-engine boat, which is still available today. However, this model now also comes in the Twin version. It shares the same basic specs as the 28 HB but maximum horsepower rating jumps to 600 HP (with which you can expect speeds rivaling the cars travelling down I-95), and an optional additional 35-gallon fuel tank is available. Most importantly, this gives you more offshore flexibility with the confidence of running twins versus a single engine. Visit Caymas Boats or in the Mid-Atlantic region check in with North Point Yacht Sales (call 410/280-2038 in MD and (804) 885-4090 in VA) to learn more, and check out our video review of the boat below.
Grady-White 216 Fisherman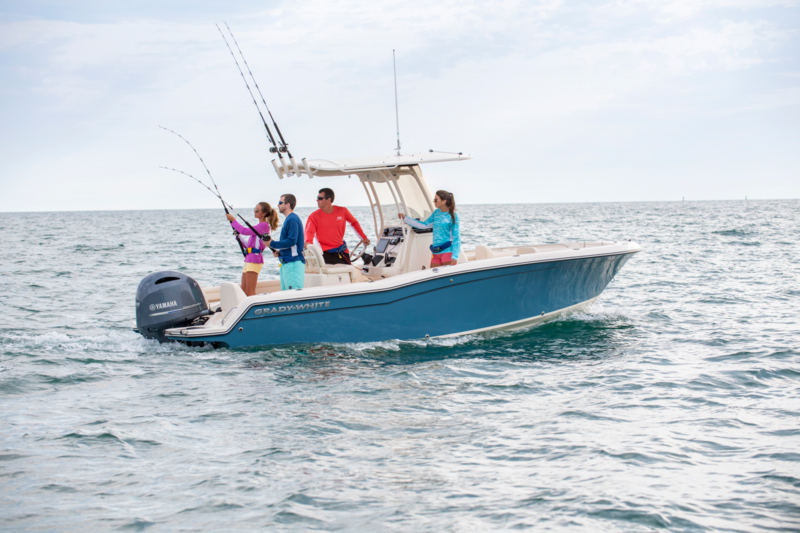 On some boats the T-top seems like an afterthought, on others the top is well integrated into the boat, and on topnotch models various features are integrated into the top itself. But as T-top tech advances, existing boat models often get left in the dust. Not so with the Grady-White 216 Fisherman, a boat we reviewed years ago but which gets some new life thanks to a T-top redesign which Grady-White undertook for the 2022 model year. This wasn't just for the 216 Fisherman and the top is also used with the 236 and 257 Fishermen models, as well as the 251 Coastal Explorer. It's been designed to integrate with the console, and features full-height windshield enclosures, four rocket launchers, and painted aluminum frames. Plus, perks include LED spreader lights, tri-colored overhead lights, a stowage net, and grab rails. Visit Grady-White, or in Maryland, you'll want to visit Tri-State Marine (which, by the way, has a monster showroom with gobs of Grady-White models to check out; call 410/867-1447) for more information.
Crevalle 26 HBW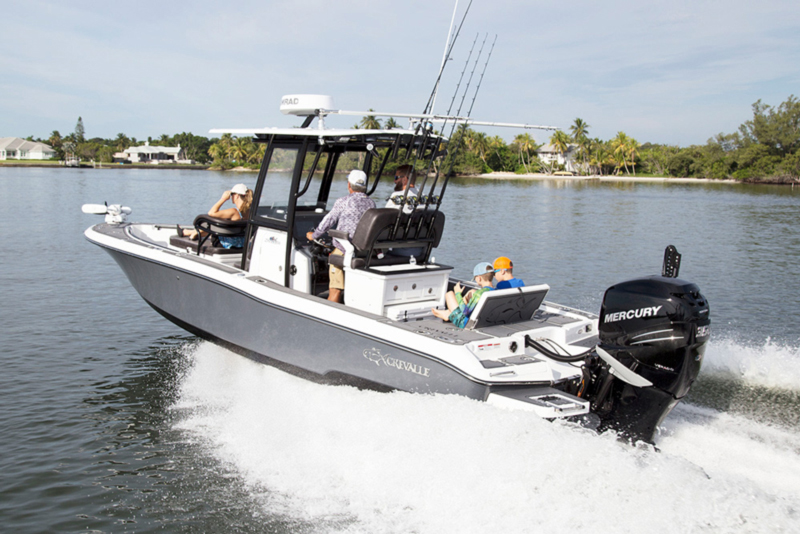 It's been four years since we spent an afternoon fishing aboard the Crevalle 26 Bay (yep, the video is on our YouTube channel), and since then the builder has created a version of the boat tilted more towards big-water action. The 26 HCO (hybrid crossover) remains more or less the same boat as the original, but now there's also an HBW (hybrid blue water). The big development is found in the bow. Rather than having an elevated casting deck with integrated forward seating as found on the HCO, the bow cockpit of the HBW is wide open. Unless, that is, you opt for the centered 170-quart coffin box. For those who plan to zip out to the Hot Dog when the chunk bite heats up, we're calling that monster fishbox a must-have — not to mention that you can also get it with a cushy forward lounger built in. This model's available with outriggers, an upper station, radar, and everything else you'd want in a bay boat that's ready for offshore action anytime you feel like pulling the trigger on a pelagic hunt. Visit Crevalle or in the Mid-Atlantic contact Tradewinds Marina (10/335-7000) for more information.