Recently I had the chance to spend some time on a Tideline 235 with twin Suzuki DF200s on a wind-chopped Albemarle Sound, and although we've reviewed the 235 in FishTalk before (see the original Tideline 235 Boat Review), I felt it would be negligent not to add to the story with some enhanced firsthand intel from our test run this winter. It also seemed like a good idea to shoot some video, so before you keep reading, join us on this Tideline 235 sea trial in person (sort of).
Note that most people who gravitate towards cats do so because of their smooth rides. We had a solid two-foot chop during our test with a few larger waves mixed in, and running into the teeth of it in the mid-20-mph range was drink-your-coffee smooth. If you think you can find a 23-foot monohull that will match it, well, good luck. Running up into the mid-30-mph range was totally doable, and again, much more comfortable than it would be in the vast majority of the "regular" boats out there. Juicing it up into the low- to mid-40s required a seriously tight grip on the handholds, because at those speeds we were launching off of the waves and spending just about as much time in the air as in the water. While it was simply too rough to firewall the throttles, there's no doubt this is a 50-mph-plus boat.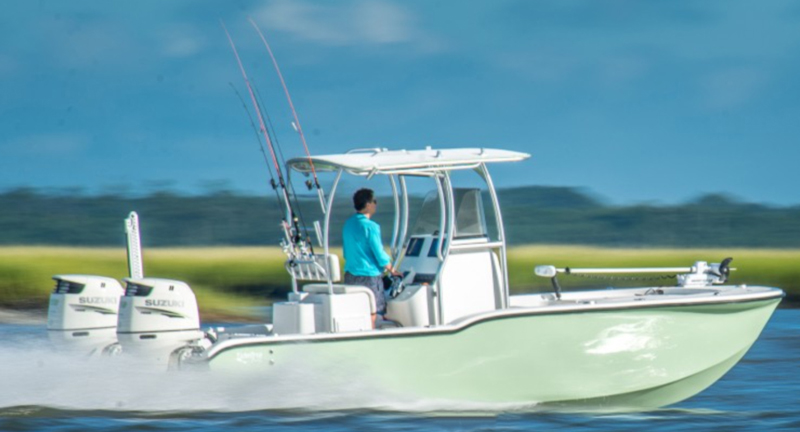 So far as all the usual cat quirks go, this boat doesn't display any of the biggies. I never saw it sneeze, it didn't bank outwards, and it didn't display any sort of snap roll at all.
What performance and/or handling downsides did I spot during the sea trial? Although the engines are widely spaced the boat didn't react to opposing the outboards with quite as much grace as some cats do. Also, this boat has so much juice that I'd hesitate before handing off the wheel to an inexperienced captain, especially in rough seas, without first establishing a no-go rpm range.
Then again, why would you want to hand off the wheel in the first place? Once you take it, you'll be grinning from ear to ear.