Chesapeake Bay fishing is best known for great light tackle striper action—there are not many places on earth where a person can get into huge slugs of predatory fish and catch them one after the other on lures. Really cool stuff, for sure! However, during the late summer/early fall for the last several years I've experienced something very exciting: a great shot at gigantic red drum.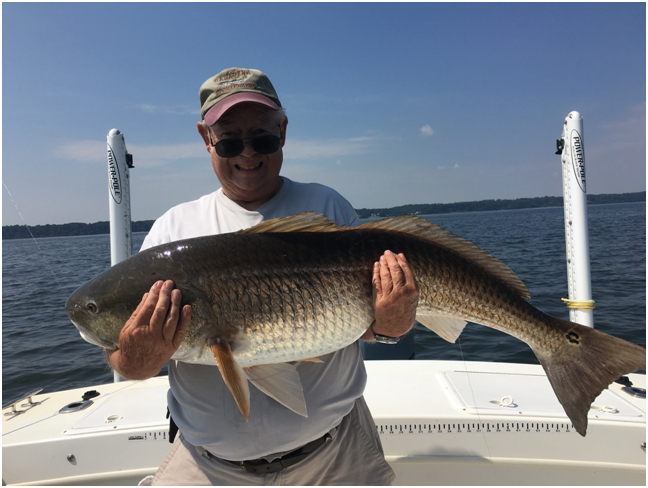 Every year I've guided, a "Fish of the Year" has been declared on my boat. Throughout the year I fish many different areas and target species such as stripers, blues, flounder, speckled sea trout and red drum. The last two years, the Fish of the Year has been a giant red drum.
Giant reds in Maryland waters were once just an "oops" on my boat. Occasionally an angler would hook one, but never in any numbers or consistency. Normally over the last couple decades we'd hook a few a year. Over the last four years, however, more and more giant reds have shown themselves. I've caught them as far up as Sharps Island and I've heard of them even further north. Starting in August and going through September, we've had good success targeting these fish.
Tackle for Tackle-busting Red Drum
I use the same equipment for the giant reds as I use for my everyday fishing. I make sure to have a full spool of 14 or 20 pound flame green Fireline on my Penn Conflict 3000 or 4000 sized reels. I'm using Back Yard Custom Rod 6'8" medium and medium-heavy jigging rods. I love using Bass Kandy Delights for reds but bluefish are present almost every time I catch reds and when blues are present, using a metal jig like a two- to three-ounce Hard Head Custom Baits Vertical Jig, or a Specialized Baits Lil' Bunker Spoon, sometimes becomes necessary. I like white/chartreuse/gold or any variation of those colors. A bluefish-proof plastic called Z-Man is a great plastic to use around blues, and reds will eat these, too. Z-Man five- or seven-inch Jerk Shads in chartreuse or white are great. Load these jigs on a three-quarter or one-ounce jig head. Holding Z-Man plastics on with super glue is a good thing, they will last a long time glued to the jig head.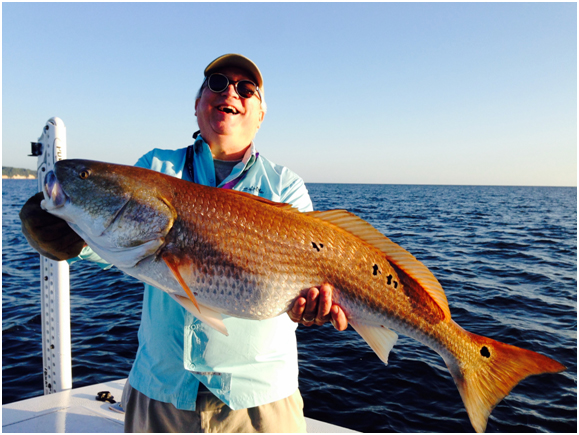 Follow Blues to Find Redfish
The number one clue which has lead me to giant bull reds is finding and catching the biggest blues in an area. Stripers, blues and Spanish mackerel are demolishing bay anchovies in the late summer, and I look for birds and working fish on the surface. All this activity is great for guiding, because we catch lots of fish in these wild outbreaks. Where the biggest blues are is typically where giant reds are lurking below. The locations I've had the best luck in include an area from Flag Harbor across the bay to Taylors Island, up to Sharps Island over to Breezy Point, and back south to Flag Harbor. Remember, this is not a structure game, it's a feeding bluefish game. I use binoculars extensively while searching for surface activity, and every day is different; fish are constantly on the move. Today is not yesterday and yesterday is not today.
Typically, breaking stripers, blues and Spanish mackerel are in water 20 feet or more in depth but on occasion they do chase bait into much shallower water. However, I didn't catch any red drum in water less than 25 feet deep last year. Once a school of fish breaking on bait is located I'll position my boat up-wind and current, cut my engine, and gently drift towards the breaking fish. If I have four people fishing I'd have two getting lures low in the water column and two fishing high in the column.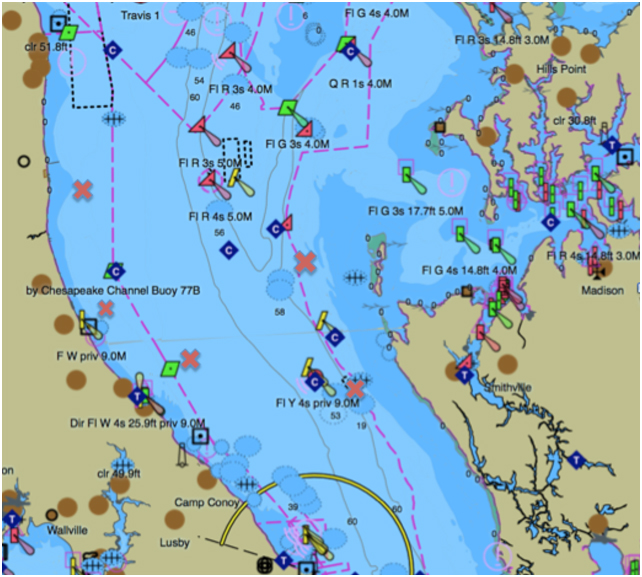 A huge key to finding and catching giant red drum in late summer and early fall in Maryland's portion of Chesapeake Bay is to continuously search. Find the largest bluefish in the region, and fish aggressively below them. But there's not always a large number of reds under the schools of blues. Working hard and moving from one school of breaking fish to another is key. Working a lure from bottom to top is also important, and we've seen several giant reds hit right at the surface as the angler was about to pull the lure out of the water, for another cast. I like to always pause as the lure is coming close to the top, in case a predator is on its heels. And with almost all jigging, metal or plastic, remember: it's all in the twitch. Always maintain a snug line, and practice makes perfect. My best secret to catching in Chesapeake Bay, however, is to cover lots of water and never give up—you have to make it happen!
- by Capt. Pete Dahlberg, Four Seasons Guide Service