Today we think of the waters off the DelMarVa Peninsula as fishing grounds for species like sea bass and flounder, but they were U-boat hunting grounds in both World Wars. Early on, it was a turkey shoot. Coastal and international shipping were sitting ducks. Known wartime legacies are today productive fishing hotspots. More are being found by modern wreck detectives using the latest generation of sonar equipment, and the Maryland coast has its share.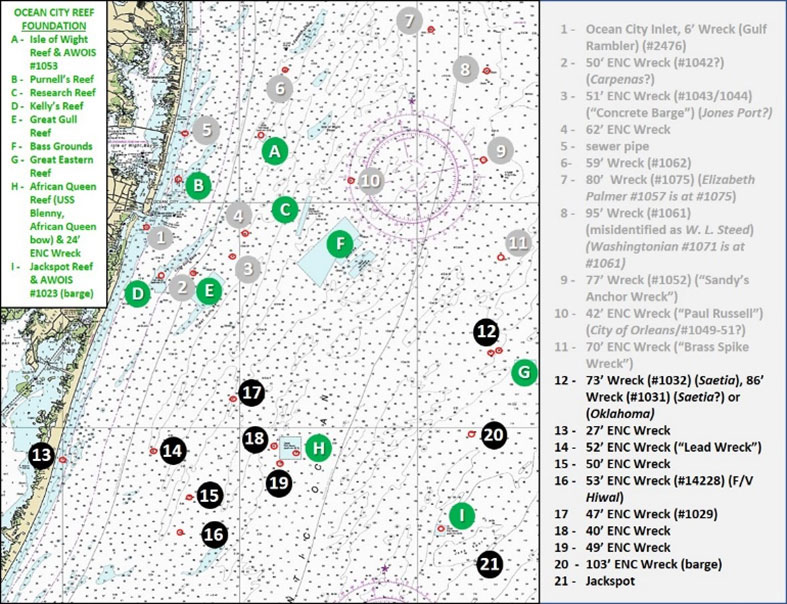 Site 12 on Chart 1 marks the so-called "Twin Wrecks," one of which is the wartime legacy wreck of the 322' by 48' steel cargo ship Saetia. The other is the upside-down bow section of the tanker Oklahoma which straddled a large wave and broke in two in 1914. They are just northwest of the Great Eastern Reef (Site G on Chart 1), one of the artificial reef sites managed by the Ocean City Reef Foundation.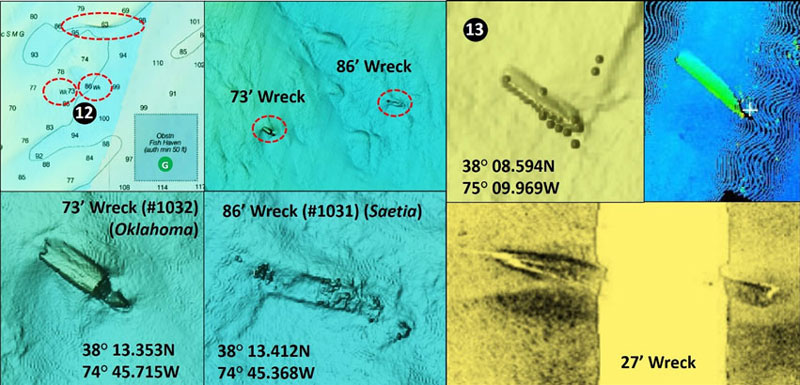 While enroute to Philadelphia in 1918 the Saetia struck a mine thought to have been laid by U-117 and sunk two days before the Armistice. Gary Gentile's "Popular Dive Guide Series: Shipwrecks of Delaware Maryland" identified the Saetia. Gentile identified the tanker Oklahoma at coordinates 38'13.353N x 74'45.715W. Vertical relief is as much as 25'. Gentile wrote that the tanker broke apart about 100 miles to the north. The stern section sank while the bow section drifted down to its present location. It was sunk there as a hazard to navigation by gunfire from the Coast Guard Cutter Seneca. Also note that imaging shows a short but abrupt drop-off to the north marked by the dashed red oval on the upper left insert on Chart 2. As charted, there's as much as a 32' drop into a narrow trench.
With respect to sonar imaging, both Twin Wrecks are shown by Bathymetric Attributed Grid (BAG) Color Shade Relief bottom left and bottom left middle inserts on Chart 2. These are modest definition side-scan sonar-like renditions of multibeam sonar field data. Both wrecks were investigated by Ben Roberts, Eastern Search & Survey (ESS), using high-definition side-scan and multibeam sonar. ESS investigated many Mid-Atlantic offshore wrecks and locations during mid-2021 where there were wrecks and "hang" reports were made by commercial fishermen. The side-scan images of these wrecks show the extent of damage and deterioration of plating with lots of missing plating, holes, nooks, and crannies. The scans can be viewed by accessing the ESS Google Map online. Search for "Eastern Search & Survey" or look for the ESS Facebook page.
Moving back inshore, Site 13 is an unidentified 27' wreck about 600 yards off of Assateague Island at coordinates 38'08.594 x 75'09.969. The site was surveyed in 2008 by Science Applications International Corporation (SAIC). The report SAIC prepared states "The wreck is lying on its side, approximately 24 meters long by four meters wide. It lies in depths of 28' to 31' and there are multiple objects scattered about the wreck." Image and sonar scans are shown by the right half of Chart 2. It's been a dozen years since that survey, the wreck is in a high energy zone, so site changes from those shown should be expected. Nevertheless, for smaller boats planning to fish close to shore, it's an option to check out.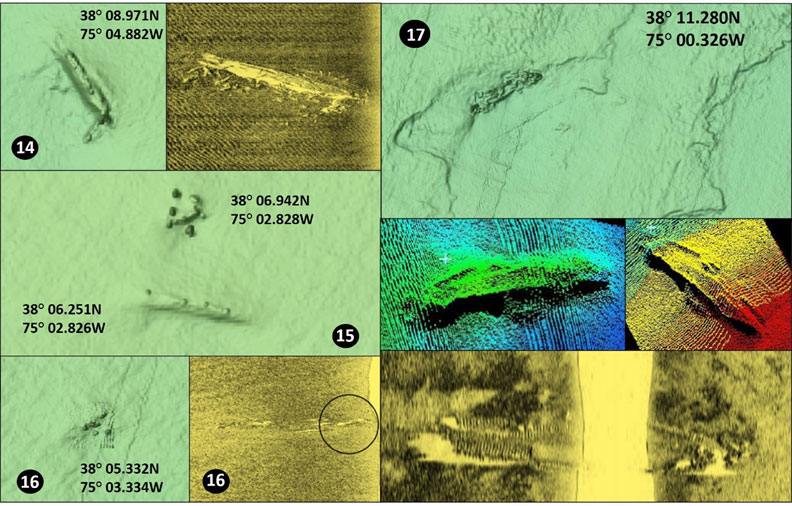 East northeast about four miles, Site 14 is the 52-foot "Lead Wreck" at coordinates 38'08.971 x 75'04.882. The broken-up wreck is lying on its side, approximately 45 meters long by eight meters wide, in depths of 57' to 60'. There are multiple objects scattered about the wreck. Image and side-scan sonar are shown by Image 1. This wreck was also investigated by ESS and high-definition sonar scans are available online.
Southeast at Site 15 is a broken-up wreck at coordinates 38'06.942N x 75'02.828W, and 38'06.251N x 75'02.826W. The screenshot included as part of Image 1 shows the site configuration. Survey description is as follows: "The broken wreck is in two parts separated by approximately 30 meters. The northern section is lying upright, approximately 13 meters long by 16 meters wide. The southern section is lying upside down, approximately 45 meters long by 11 meters wide. It lies in depths of 53' to 54'."
Site 16 is a 53' deep wreck of the fishing vessel Hiwal. According to the latest survey the wreck is lying mostly buried, approximately 28 meters long by nine meters wide. Side-scan sonar screenshots in Image 1 confirm that there isn't much showing, but that doesn't mean that it won't attract fish; it's surprising how they will sometimes pile up on small hangs and wrecks.
Northwest of the African Queen Reef (Site H), check out Site 17 at coordinates 38'11.280N x 75'00.326W. This is a 47' deep deteriorated wreck sitting upright, approximately 80 meters long by 15 meters wide. The report on this wreck also includes some striking multibeam and side-scan sonar images that are incorporated in Image 1. Of particular interest is the bottom right side-scan insert, showing exposed ribs at one end and bulwarks at the other. Also note that the surrounding area has a series of low ledges that make it look like flounder ground.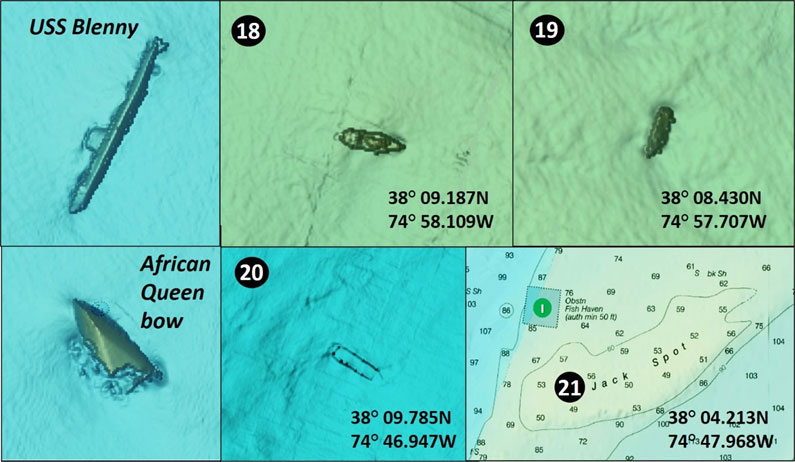 There are two wrecks of interest in close proximity to the African Queen Reef. Site 18 is a 40' deep wreck at coordinates 38'09.187 x 74'58.109. The screenshot included in Chart 3 suggests that it's a sunken fishing vessel about 90' long. Site 19 at coordinates 38'08.430N x 74'57.707W is a wreck that appears from the image insert on Chart 3 to be a fishing vessel of about 50' in length. The fish haven also contains the U.S. submarine USS Blenny and the capsized bow of the tanker African Queen after which the fish haven is named (left-side inserts on Chart 3). The tanker broke in half trying to free itself from a shoal off Ocean City.
Site 20 at coordinates 38'09.785N x 74'46.947W is a 103' deep barge wreck. Chart 3 shows the barge bulwarks with small, minimal wreckage showing and low profile, but it's amazing how many fish can stack up on such a structure. So, it's a good one to check when fishing in the area. Site 21 is The Jackspot Reef, named after the "Jack Spot," which includes another pre-existing wreck, the 253' barge Gordon S. Cook. The barge sank in 1947 as the consequence of a marine casualty.
Wherever you fish off the DelMarVa Peninsula there's a lot of structure to prospect, including just south of Ocean City. And remember, fish move around in reaction to changes in their ambient environment. So, if you don't find them on one wreck or reef, look for them on another!
Fishing Reef Details
The Ocean City Reef Foundation has detailed charts including GPS coordinates for the artificial reefs they've created, many of which are in close proximity to these different wreck sites. To get all those details, join the Foundation and get one of their chartbooks — it's the key to unlocking literally hundreds of fish-attracting hotspots.
- By Wayne Young. As well as being a regular contributor to FishTalk, Wayne Young is the author of multiple books detailing wrecks and fishing reefs in the Chesapeake Bay, Delaware Bay, and beyond. All are available at Amazon.com, and you can find his Facebook page at Chesapeake Bay Fishing Reefs.