The black sea bass is a Mid-Atlantic fish that lives around bottom structure like reefs and is known for being absolutely delicious. The flavor of their fillets is known for being very delicate due to the white flesh—and of course anglers also love to catch them for sport. Black sea bass often will be raring at the bait and once you find a patch of hard bottom covered in a gathering of them it won't be hard to find dinner. They can be particularly aggressive, so watch out! Their large numbers and willingness to take a bait make this fish ideal for beginner anglers, so they should be at the top of your list for saltwater fishing adventures this season.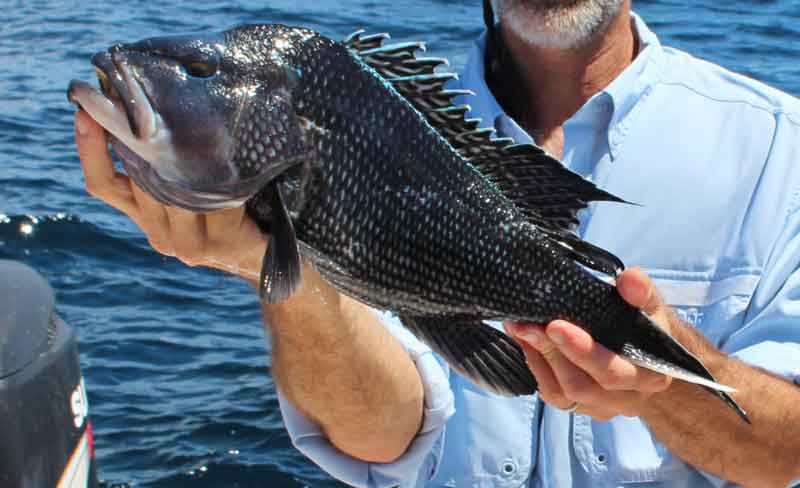 What are Black Sea Bass?
The black sea bass belongs to the Centropristis striata family, which can be found in saltwater from the Gulf of Mexico in Florida through the Mid-Atlantic, depending on the time of year. A temporal fish, black sea bass will migrate offshore and/or south during the fall, returning to their Mid-Atlantic near-shore haunts in the spring. They spawn in coastal areas from January through July, peaking in our neck of the woods in late spring and early summer. Since they are bottom feeders they eat whatever prey is available, but they especially like squid, crab, shrimp, worms, small fish, and clams. Black sea bass grow slowly but can be up to two feet and nine pounds. After spawning larger females can reverse sex and become males. The females can live up to eight years and the males can live up to 12.
Black Sea Bass Identification
To identify black sea bass, look for:
Only one long dorsal fin, round caudal and pectoral fins, and short but high anal fins.
A stout appearance, the body is three times longer than they are tall.
Black sea bass have a high back, flat-topped head, and eyes that are set up high.
They have large, bass-like mouths.
Black sea bass are bluish black in color with light spots that may form longitudinal stripes.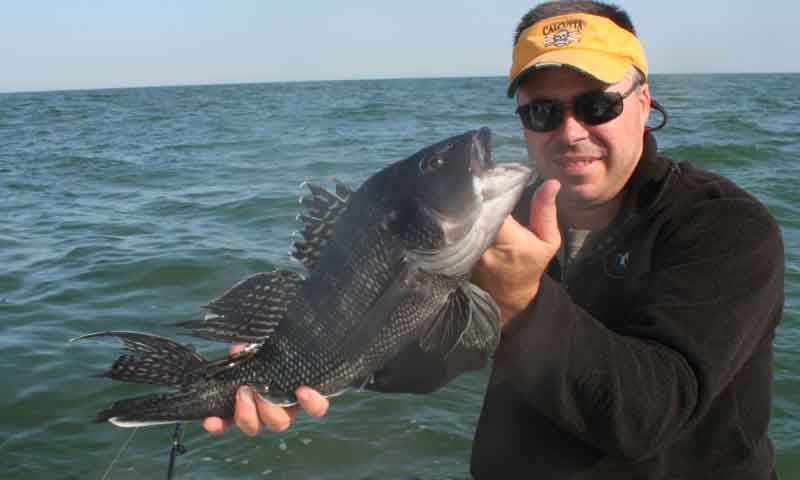 Record Sea Bass
Record black sea bass have been caught in the Mid-Atlantic and the Virginia state record is also the IGFA world record fish.
In Delaware, the record is held by Steve Samluk from 1988 with a sea bass weighing seven pounds, six ounces.
In Maryland, Hayward Madison holds the record dating all the way back to 1978 with an eight-pound sea bass caught in Atlantic Ocean at The Jackspot.
The Virginia state and world record for sea bass sits at a whopping 10 pounds, four ounces, and was set in 2000 by Allan Paschall while fishing out of Virginia Beach, VA.
Black Sea Bass Regulations
Regulations vary by state and because of this, understanding them can be a slippery matter. The black sea bass is managed under the Mid-Atlantic Fishery Management Council and the Atlantic States Marine Fisheries Commission. Their websites provide information on the recreational and commercial regulation of black sea bass based on minimum size limits, minimum mesh requirements for trawls, a moratorium on entry into the fishery, and closed seasons.
For information on sea bass regulations specific to the state you will be fishing in, visit these websites:
Where to Find Sea Bass
To fish for black sea bass, the first step (just like fishing for anything else) is to find the best spot. While black sea bass are found in the ocean, coastal bays, and in bays like the Chesapeake, most of those found in the bays are small. The majority of the keeper-sized sea bass are caught in the open Atlantic, over reefs and wrecks anywhere from a few miles off the beach to dozens of miles offshore. For this reason, many anglers who don't own a boat or have access to one get aboard a charter or party boat (they're available in all the larger Mid-Atlantic ports like Indian River, DE, Ocean City, MD, and Virginia Beach, VA) for a day or half-day of sea bass fishing.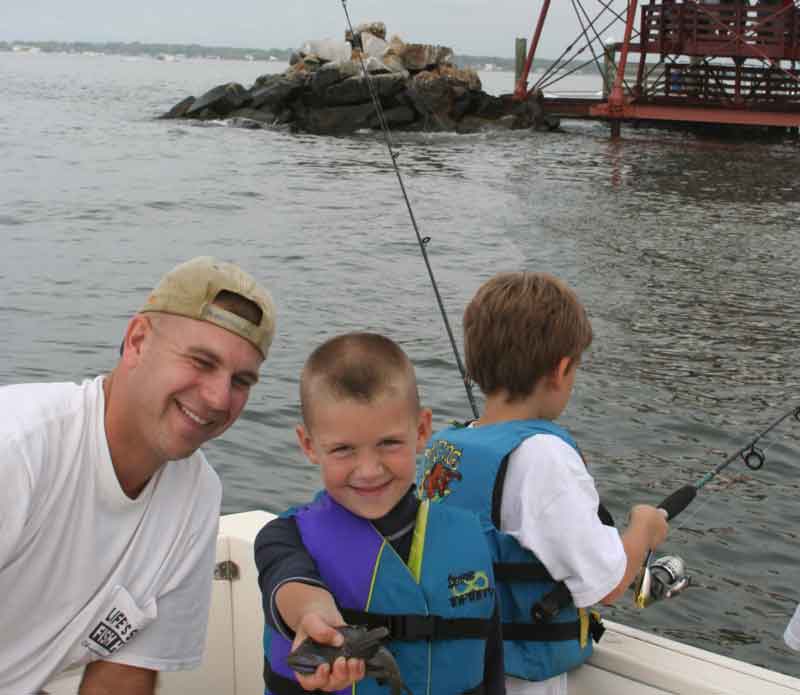 Remember that black sea bass are bottom feeders; they are most often found close to the bottom of the sea floor around reefs, wrecks, jetties, and just hard structures in general. So find the hard structure first. This factor is different depending on the area; Delaware, Maryland and Virginia all have artificial ocean reef sites, and the links to the state websites for regulations above will also help you find where the state-constructed artificial ocean reefs are. Be sure to read More Reefs Mean More Fish: Reef Building in Progress, Today! to learn more about how and where these reefs are built.
If you fish off the coast of Maryland, a key to success is joining the Ocean City Reef Foundation. When you donate to the OC Reef Foundation you get a chart book including GPS coordinates for hundreds of artificial reef hotspots the Foundation has created, up and down the coast. And yes these spots do hold sea bass, in a big way.
How to Fish for Black Sea Bass
Now that the where-to is out of the way, here's how to actually fish for black sea bass. There are multiple ways to go about this from the bait and gear to use, to the different techniques.
Best Bait for Black Sea Bass
The Black Sea Bass will eat almost anything, but these are their favorites and are often the best baits:
Squid
Mussels
Clams
Crabs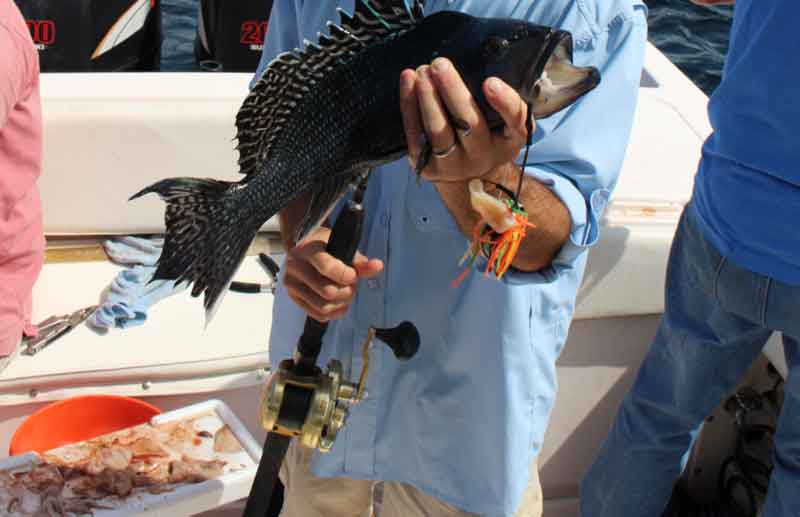 Best Fishing Gear to Catch Black Sea Bass
Every angler has their own preferred way of luring fish, and when it comes to black sea bass, there are many options at hand. Here are the types of gear that anglers most often suggest:
A medium weight rod that's seven feet long, and a reel with 20 to 30 pound-test line.
Top-and-bottom rigs with baited hooks, weighted with sinkers between four and eight ounces (depending on how strong the current is and how deep the water is).
Metal or diamond jigs (with or without bait added to the hooks).
Editor's Note: It's a smart idea to consider visiting our Charter Fishing Guide to find a good charter or party boat, and fish with the pros once or twice, to learn the ropes before trying it on your own. And before you run out to start fishing for black sea bass, check out our Bass-N-Blue article and video for some specialized and detailed tips for catching them in deeper waters, where they're often mixed in with blueline tilefish. You can also try fishing for sea bass in the Chesapeake; usually you'll only catch throwbacks, but during the 2020 season there were keepers being caught as well - here's a quick video showing how.
-By Hannah McGee