If you've seen the Crevalle 24 HCO or the 26 HCO, or at the very least checked out our reviews of these boats  and seen our Crevalle 26 video review on YouTube, you already know that these are high-end bay boats built with a serious eye on quality and detail. But, what if you want a boat that can prowl offshore waters, too? One that's still appropriate for the Bay but can also be used effectively for pelagic pursuits? Enter: the 26 HBW.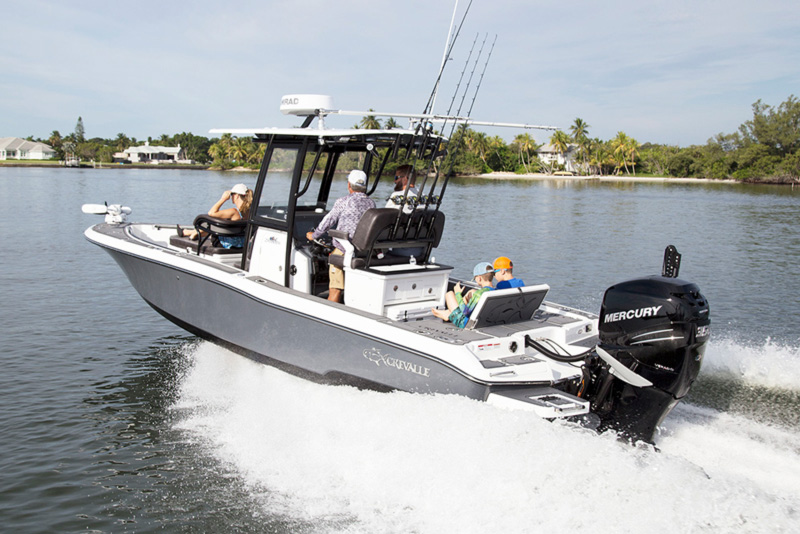 Since this model was introduced right around the same time as the pandemic hit, few people have been able to lay eyes on it to date. But you'll notice right from the start that the biggest differences between the HCO and HBW models are found in the bow. The new model eliminates the HCO's forward seating, providing a wide, open forward cockpit that will prove ideal for drifting back baits and fighting tuna 360-degrees around the boat when the chunk bite lights up at the Hot Dog. Smart touch: Crevalle adds hatches in the bow inwales which swing down to access a pair of tackleboxes.
Wait a sec — swing the gaff over the gunwale and stick a 50-pound yellowfin, and where the heck can you ice down a fish that big in a bay boat? Forget about having to haul fish bags, because another big change up forward is the ability to add a 42.5-gallon coffin box. And if you get the coffin box cushion package (which includes a backrest), the unit serves as a bow lounger to recoup some relaxation space.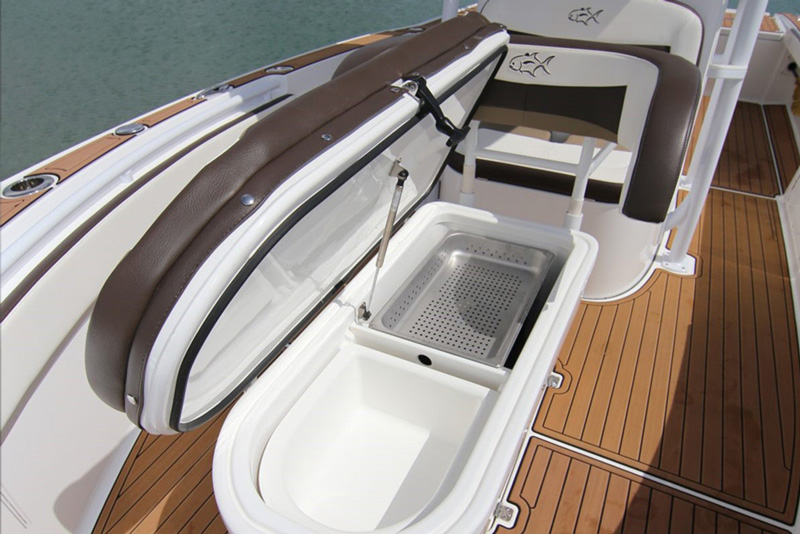 More tweaks can be found at the helm, where you can have a bolstered leaning post with swing-down arm rests that also houses a slide-out Yeti cooler and more tackle stowage. That helm, by the way, has space for not one but two flush-mounted 12-inch MFDs.
On the Bay-bound side of things the 26 HBW still has all the makings of a shallow-water fishing machine. You can have it rigged with a Minn Kota Riptide ST 112 36-volt electric trolling motor on the bow, there's an even dozen rodholders in the gunwales, and the boat sports two full-sized 28-gallon release wells plus a baitwell.
We want to point out that every Crevalle we've been on in the past has been thoroughly well-built and detailed with exceptional fit and finish. But we certainly don't want you to take our word for it — jump aboard a 26 HBW and see for yourself. And then see how your fishing horizons can expand, with newfound offshore abilities.
Crevalle 26 HBW Specifications
LOA – 25'6"
Beam – 8'6"
Displacement – 4000 lbs.
Draft – 1'0" to 1'2"
Fuel Capacity – 90 gal.
Max. Power – 400 hp
Area Dealers – Tradewinds Marina, Middle River, MD or (410) 335-7000.