A great summer of fishing along the DelMarVa coast is just a memory, once fall rolls around. Tournament results are all but forgotten. Strong winds and unpredictable weather have made offshore fishing unlikely, and fall is that time of year when fishing enthusiasm along the coast begins to dwindle—but anglers might want to hold off on hanging up those rods and reels, because fall fishing on the ocean-side of the peninsula still holds plenty of opportunity.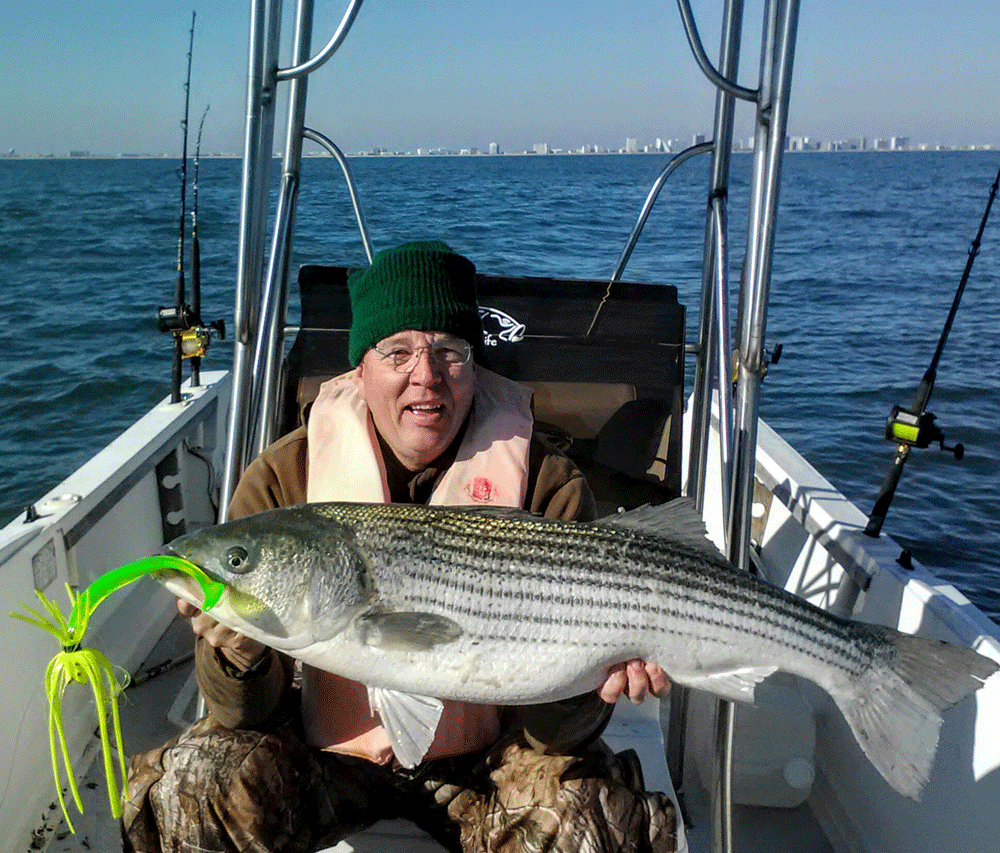 Chilly Chopper Bluefish and Late-Season Stripers
Typically these fish do not make a showing until the water cools down to around 60 degrees, as they migrate from up north. The bluefish are usually found on all the shoals and sea bass areas; Fenwick Shoals has been hot the last couple years. Trolling spoons (blues will tear your bucktails to pieces) or using run-and-gun tactics and casting to fish as they rip through migrating schools of menhaden, is standard procedure.
Last year the striped bass stayed well out past the three mile legal limit while following the menhaden (federal waters are closed for striped bass), which left anglers trolling just off the beach looking at blank sonar screens. Meanwhile, six or eight miles off the beach, anglers targeting bluefish complained about all the stripers. Hopefully this year will see the baitfish and stripers closer to shore.
Fishing for these fall bass is like trolling for trophy stripers over in the Chesapeake. Pull a spread consisting of single or double parachutes, umbrella rigs, and daisy chains. As water cools down into the upper 40s trolling speed becomes critical, as the fish become sluggish. Two knots is about right depending on wind and current, and on flat days, planer boards allow more lines to be pulled. Mix your spread up to cover the water column. While the fish are often up near the surface following menhaden, they can also be caught feeding near the bottom as well.
Fall Flounder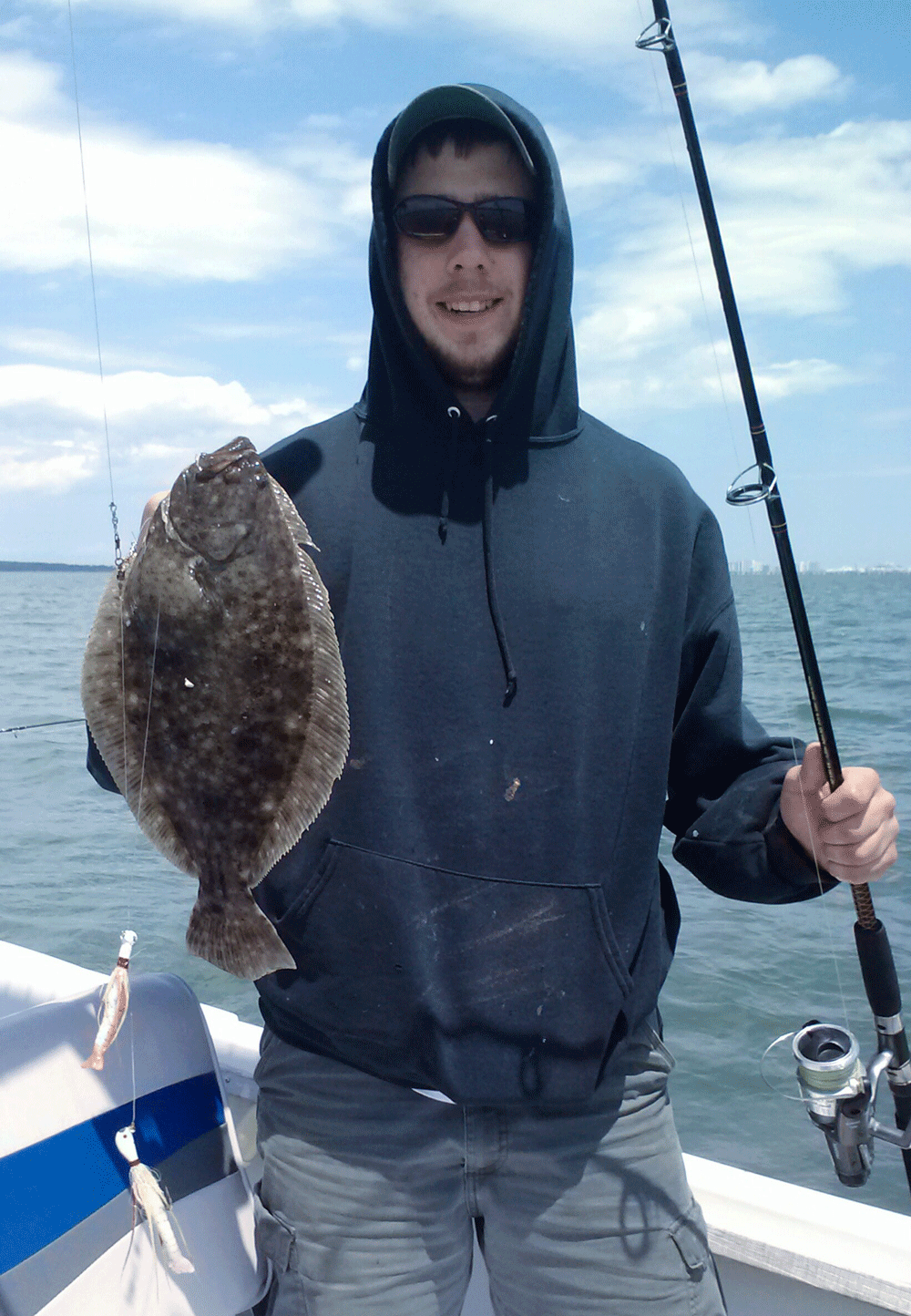 Cold chilly mornings will be the norm rather than the exception when anglers run out to inshore shoals and wrecks in October, but the stinging pain will be worth the effort because at this time of year inshore fishing is about as good as it gets just a few miles off the beach. The species that called the back bays home all summer are heading out through inlets, and into open water. Flounder gorged themselves all summer and are now full of roe, and in the process of repopulating the species in 60 to 100 feet of water. Once spawning is complete and water temperatures drop below 53 degrees, the flounder will move further offshore and take up their winter residence in 150 to 500 feet of water until the cycle begins all over next April.
But right now, flounder call the inshore reefs and wrecks home. They are lying partially buried next to structure, waiting on the next meal to swim by. These fish can be taking by drift fishing. The slower the drift the better; try to keep drift under one knot and set up drifts as close to the structure as possible. Rig a three way swivel using a 36-inch leader with some type of attractive skirt, and attach a hook in the 3/0 to 4/0 range. Use enough weight to hold bottom, typically five to eight ounces. While drifting raise and lower your rod and cause the sinker to bounce on bottom, which creates fish-attracting puffs of sand.
Strips of sea robin or just about any other fresh bait cut into a tapered strip of about five to six inches in length will get the job done. Also, double-bucktail rigs sweetened with Gulp, squid, or a minnow, and top-and-bottom rigs with a minnow/squid combination, certainly account for a fare share of the catch. If anglers can find and cast net live mullet, it gets no better when it comes to flounder bait.
Chilly Croaker and Shivering Sea Trout
Back in the 70's and early 80's these two species were extremely plentiful on the inshore shoals during their fall migration. Since that time it has been hit or miss from year to year The fish may be available in September but normally make a stronger run beginning in October; I always know when it's time to fish Little Gull Shoal out of Ocean City, MD to catch these tasty filetts, because some of our best fishing trips include listening to baseball playoff games on Saturday and Sunday afternoons.
Fishing for these two species is about as simple as it can get. A top-and-bottom rig with 1/0 hooks baited with squid does the trick. Live spot, if still around, are great for the trout; just change over to a live bait rig. A three or four pound trout is capable of swallowing a large bait along with a good size hook, however, remember that the mouth on a croaker will not accommodate this larger offering. Unless it is already known which species is available, keep hooks on the smaller size to allow for the croaker to be caught.
Falling Temperature Tautog and Brrrr Sea Bass
Fall is prime time for sea bass, but note that the season is closed during parts of September and October in some waters, including those of Maryland. (Check your local regulations, to be sure when you can legally put these tasty fish into the box). The inner shoal wrecks and reef areas, like the Bass Grounds, provided a lot of sea bass during this past summer. Unfortunately, many were under the 12.5-inch limit. With the cooling down of inshore waters, however, anglers will likely see an increase in fish size. The bass will be plentiful until the water gets too cold and they move out into the deep for winter. The bass will be hungry and are not normally picky when it comes to the offering. Typically a bottom rig with squid or clam is all that's necessary. Jigging for bass also will bend some rods. As the fall progresses anglers may have to run a little further out to wrecks in 60 to 80 feet of water to find fish, but the extra miles will be more then worth it. Go even further out,and you can get into the 200-plus depths where sea bass and blueline tilefish can be caught together.
It is important to fish structure for the bass, just remember that while drift fishing catches fish over open bottom, over wrecks, more often than not your hooks will catch the wreck than the fish. Dig out the wreck anchor, and plan on anchoring over the structure to enjoy this fishery. To get a line on wreck locations, check out the OC Reef Foundation, which will provide GPS numbers (heck, an entire chart book of the wrecks and reefs!) when you donate $50 or more.
Hiding inside these same wrecks and structure where sea bass are caught are tautog, just waiting for bait to be dropped in their vicinity. But if you don't have a boat, it's no problem. With cooling inshore water temperatures there will be an influx of tog that move inshore around our area's inlets, providing keeper-size fish for shore fishermen. Tog are not partial to squid, so change the offerings to green crab, clam, or sand fleas. These fish will usually be available until the season closes, since they actually prefer cooler water then sea bass.
Whatever species you'd like to target, just remember that as summer goes into the rear-view, there's still some excellent fishing in store for inshore anglers along the Mid-Atlantic coast.
- By John Unkart, author of Offshore Pursuit & Saltwater Tales
Sign up here to get the weekly FishTalk Chesapeake Bay and Mid-Atlantic fishing reports in your email inbox, every Friday by noon.