Catching fish can be a tough sport requiring the proper tackle, technique, and strategy, so many fishermen, including beginners and those who are more experienced, turn to guides and captains like the pros found in our Charter Guide to maximize their catch. We spoke with some of these professional fishermen to get their insights.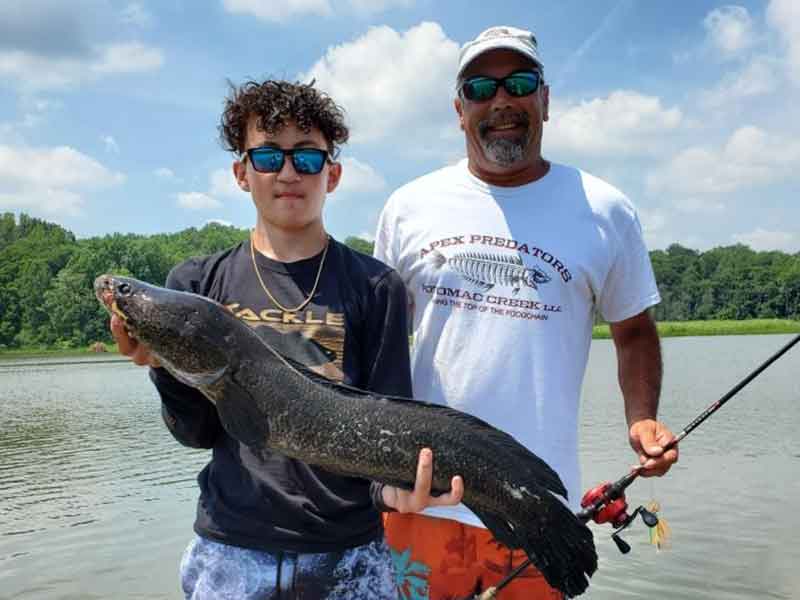 Apex Predators Potomac Creek, operated by Captain Chris Evans and Mike Sielicki, are sure to provide an experience like no other with a boat able to get into shallow grassy waters that are mostly only accessible for kayakers and other small boats. Captains Chris and Mike are both certified captains and master anglers and have fished in the area for their entire lives.
Apex's Tip:
When going for northern snakeheads, white is a good color to use and they suggest trying chatterbaits. In addition, use a rod with a moderate tip, differing from bass rods that have a fast tip (note that they make their own custom rods, for snakehead fishing).
Departing from Pasadena, Maryland, Captain George Bentz of Drizzle Bar Charters is an experienced fisherman who has many tricks up his sleeve and an abundance of experience. Captain George has been fishing along the Chesapeake Bay since he was a young kid and he targets rockfish, croakers, white perch, bluefish and some Spanish mackerel.
Capt. George's Tip:
When fishing in different or unfamiliar areas talk it up at local tackle shops to get valuable information, as the locals are knowledgeable, typically know the bodies of water well, and can help with the proper bait and tackle. If you're looking to gain even more knowledge on the area, Capt. George suggests hiring a local fishing guide. The best guides often share a strong passion for fishing and will share plenty of tips.
Captain Charlie Sisson of Backdraft Charters has been fishing for his entire life. He has owned his charter boat service for 25 years and has loved every second of it, as fishing is something that he truly enjoys. Captain Charlie enjoys family adventures and encourages fishermen to bring their children to enjoy a beautiful day out on the Chesapeake Bay. He sets sail out of Tracys Landing.
Capt. Charlie's Tip:
When asking Captain Charlie how to catch more fish, he emphasized that fishermen should have a specific type of fish in mind when planning their trip and concentrate on going for that catch – not just fishing for "whatever bites." After picking the fish that you want to target, it's then important to make sure you have the specific equipment (lures, baits, etc.) that is best for that one target. He also mentions that it can be helpful to join a fishing club, as there are many throughout the region that have monthly meetings and bring in local professionals, who can help to improve your fishing skills.
Captain Drew Payne of The Big Worm is an experienced fisherman who runs out of multiple ports depending on where the fish are and as we go to press, departs from of Edgewater, MD. Captain Drew (heck, most people simply call him "Worm"), has fished the Chesapeake Bay for the majority of his adult life and in 1999, he bought his own charter boat and began his charter fishing career. Before becoming a captain, he served on many other charter boats throughout the region as a mate. He does all kinds of fishing, from trolling or chumming rockfish to chasing fish like black drum or croaker.
Worm's Tip:
Captain Drew stressed the importance of using the depth finder when going out on the water. He said many fishermen simply rely on where other boats are. However, the depth finder may be the most important aspect of finding the fish. When prioritizing the depth finder, he emphasizes the importance of learning how to read and understand its information. "Using a depth finder is much like using a fork and knife," he says. "If you do not know how to use a fork and knife you will starve to death. If you do not know how to use a depth finder, you will fail at catching fish." He also suggested looking at charts and studying them when at home or before going on the water. If someone says that they are catching fish at a certain location or depth of water, you can look at the charts when you get home, locate where that fisherman was, and find similar areas.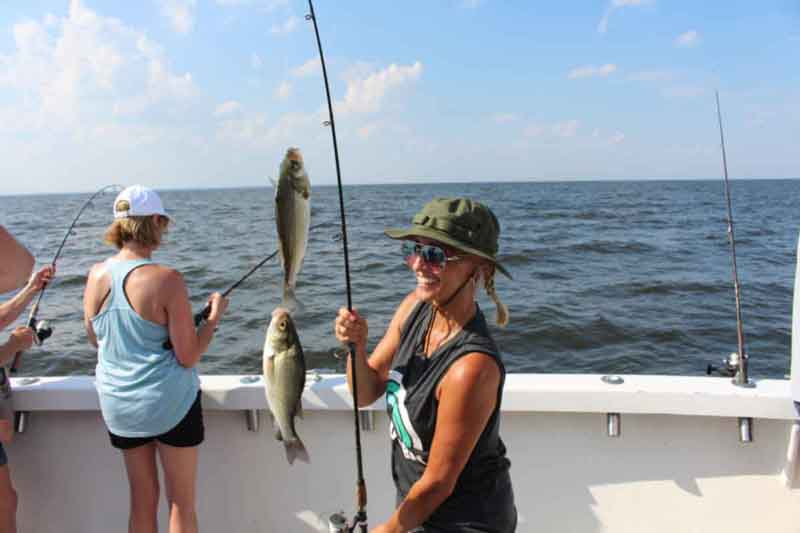 Fishing out of Annapolis, MD, Captain Michelle and Ray of Gone Fishin' have a passion for fishing and are talented charter captains. On their boat, they provide fishing experiences, cruising experiences, or just a day to go out on the water with friends. Passengers of their boat give glowing remarks about their experience and say they're perfect for beginners and experienced people — and a good time.
Capt. Michelle's Tip:
When going out on your next adventure, Captain Michelle suggests having a lot of patience, because oftentimes patience is the key to success — along with knowing the tide. Some fish bite on very particular portions of the tidal cycle so learn them and check the tides before you fish. Read "Current Events: How Tides and Currents Affect Anglers," to learn some of the specifics regarding tide, currents, and how it affects the fishing.
Captain John Whitman of Patent Pending out of Tracys Landing, MD, is a second-generation waterman who has a lot of respect for and knowledge of the Chesapeake Bay. He has experience serving in the United States Coast Guard, as well as 45 years of fishing experience which has allowed him to build an extremely strong knowledge base of the Bay.
Capt. John's Tip:
Try some spoonbrellas! Capt. John says that the rigs he makes, called spoonbrellas, have proven to help him increase his catch. Captain John explained that spoonbrella rigs work great for trolling on an edge and making a tight turn when trying to get back on the fish because the rig lays flat and then comes back up without fouling. If looking to buy one of his custom-made rigs, visit his site spoonbrellarigs.com.
Penny Sue Charters out of Edgewater, MD, is operated by Captain Mike Smolek who has over 25 years of fishing experience. He is both a licensed U.S. Coast Guard captain and charter fishing guide. If you're wanting to catch rockfish, bluefish, red or black drum, speckled trout, weakfish, spot, white perch or croaker, give Captain Mike a call and he will be sure to provide a memorable experience.
Capt. Mike's Tip:
Captain Mike suggests that when live-lining, it's important to keep as many rods in the water as possible. This is important as it will help to keep the school of rockfish near your boat and away from the competition. In addition to keeping many rods in the water, it can help to throw dead spot into the water from time to time to continue to keep the predators near the boat. When dealing with the dead spot, cut them into chunks and throw them into the water to help attract more fish.
Captain Harry Nield of the Kingfish II operates his charter boat out of Deal Island, MD. He has a tireless work ethic and is constantly on the clock studying for his next trip out on the water. Captain Harry loves the opportunity to take both inexperienced and experienced fishermen out on his trips and will share his strong passion and enthusiasm for fishing with his crew.
Capt. Harry's Tip:
Captain Harry emphasizes the importance of listening to the crew members on the charter boat, and staying calm when reeling in the fish. He says he's seen fishermen become too excited when reeling in fish and to combat this, he urges anglers to learn how to use the rod correctly and then to take a deep breath and have patience when reeling the catch aboard.
- By Devin Garner 
Whether you're setting out along the Chesapeake Bay or one of its tributaries, keep these tips in mind to help ensure that you catch more, bigger fish.