Whether you've flown here from Fort Lauderdale, driven from Detroit, taken a train from Tucson, or if you call Hamden home sweet home (hon), if you're in the state of Maryland, you're in for some uber-awesome fishing. However you may have come to find yourself here, one of the cool angling adventures this territory has to offer is excellent river walk-in and wade fishing. Check out these three waterways that offer outrageously good options, with great accommodations and amenities close by.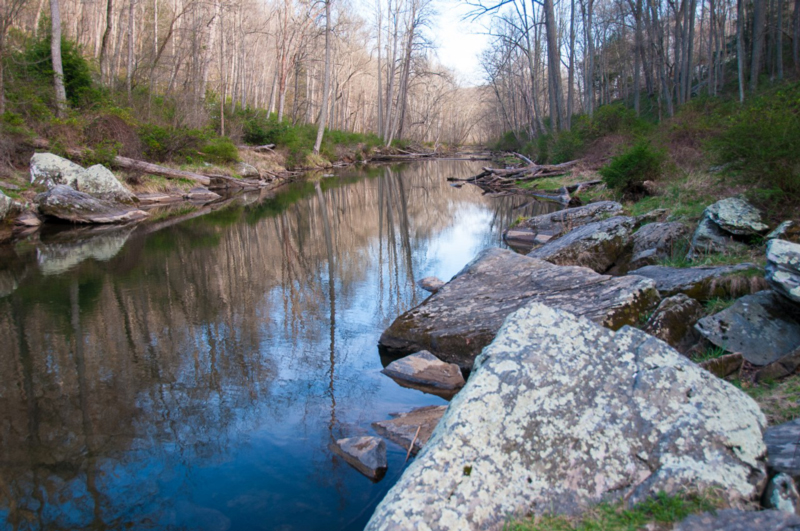 Fishing Big Gunpowder Falls
The Gunpowder goes through several incarnations as it winds through Baltimore County, feeds into Pretty Boy and then Loch Raven Reservoirs, comes out below the dam, and rushes east to become a tributary of the upper Chesapeake Bay. The most famous is probably the Gunpowder's tailwater trout fishery, which consists mostly of wild brown trout with a few rainbow and brook trout mixed in before transitioning into a mostly hatchery-reared rainbow trout fishery farther downstream. Different sections of the tailwater fishery are regulated differently than others and some, such as the 7.2-mile stretch between Prettyboy Dam and Blue Mount Road, are restricted to catch-and-release fishing with artificial lures, only. Others, such as the section from Corbett Road to a mile below Phoenix Road, are put-and-take areas where using bait is allowed and you can take home up to five fish a day.
Access
Although much of the land along the Gunpowder is private, there are several public access points. There's parking at Gunpowder Falls State Park at Masemore Road, a popular area to begin a hike along the shoreline for catch and release artificial lure and fly fishing. This is also the spot to access the Lefty Kreh Fishing Trail, running from Prettyboy Reservoir to Big Falls Road. Farther downstream there's a parking lot off Sparks Road, where put-and-take areas can be accessed (with Closure Period 1 restrictions which, at the time of this printing, closes fishing from 10 p.m. March 7 through 5:30 a.m. March 27; see the DNR's trout fishing webpage for up-to-date details).
Downstream of Loch Raven Reservoir there's another access point with parking where Harford Road crosses the river, and yet farther down also one at the Belair Road crossing. In both of these areas more put-and-take trout fishing, also under Closure Period 1 regulations, is available.
Fishing Tips
Tailwater trout enjoy life in waters with temperatures that are more consistent than usual, which often leads to regular hatches and relatively well-fed fish. As a result they tend to be selective, so choosing long, light leaders is a good move. These fish also see plenty of boots and waders, so they tend to be spooky. Stealth is a must, as are drag-free drifts with flies that match the current hatch. Midges are present throughout the year so be sure to keep some on hand, and look for blue wing olives and tan caddis to appear in April. In May through July expect sulphur hatches, and during the summer months terrestrials are also a good bet.
Accommodations and Amenities
All of these access points are rustic in nature with no amenities, which fortunately is how many trout anglers prefer things. Still, one should remember to bring food, drinks, and everything you need for a day of fishing with you. Areas north of Loch Raven Reservoir are close to Hunt Valley, where there are several hotels and plenty of restaurants just off Route 83 and York Road. The sections of the river below the reservoir are closer to amenities in Towson and White Marsh.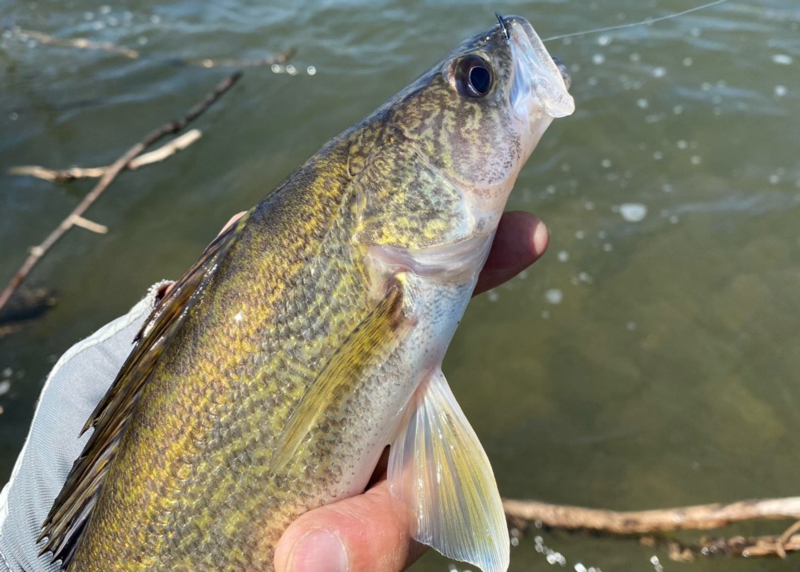 Fishing the Upper Potomac
The Potomac is a long and powerful river, in some places separating Maryland from Virginia and in others separating Maryland from West Virginia. In many areas it defines the contours of the state itself. If you've ever wondered why Maryland has that wiggly south-western border and the odd-looking peak way out west, just look at the path of the Potomac. To an angler, however, that wiggling line makes perfect sense. Who wouldn't want to follow the lead of a river chock-full of fish like smallmouth bass, walleye, catfish, sunfish, and even muskie?
Access
There are virtually countless access points along the Potomac, so finding the one closest to your path of travel means visiting the Maryland DNR's Angler Access Map (see sidebar). That said, let's hit on a few of the highlights.
Seneca Creek Park, located in Montgomery County off Rileys Lock Road, offers plenty of shoreline for anglers to probe. The C&O Canal Towpath, once used to transport barges of coal from western Maryland to Washington, DC, makes for an easy hike to find stretches of shoreline where an angler can enjoy solitude just a few miles outside of the nation's capital. The park area also offers restrooms and picnic areas; note that this section of the river is catch and release only for bass and that largemouth are in the mix here as well.
Point of Rocks, upriver where Route 15 crosses over the Potomac in Frederick County, may be best known for its historic role as a flashpoint in the Civil War (swing by Lander Lockhouse 29, open as a living history museum on summer weekends, to get a dose of the past). But to an angler, the rock-strewn terrain packed with riffles, pockets, and holes is ideal (with care taken to avoid spills) for wade fishing for feisty smallmouth bass. Very strong numbers of one- and two-pound fish can be found here and at times a larger fish will surprise you; find a deep hole or shelf and you may well hook into some walleye, too.
Head farther west to Dam #4 and Big Slackwater, just outside of Hagerstown, MD, off Dam Number Four Road, and you can access a slightly different scene on the Potomac. Here the river is more like a flowing reservoir of sorts above the dam, providing a slightly different sort of habitat. From the dam up to the Big Slackwater access (which has restrooms and picnic areas near the boat ramp) you'll find mostly largemouth and smallmouth bass. Note, however, that this area can get crowded on sunny summer weekends. Depending on water levels it may or may not be possible to wade or walk out below the dam and fish the pool, which is packed with channel cats and also has a few flatheads. Farther below the dam smallmouth fishing is good and walleye appear from the deeper holes.
Fishing Tips
Weather and water levels will have a big impact on the bite in all of these areas, and can play an important role in what lures will prove effective. Most important, remember that when the water is off-color following rain events, dark colors like brown, purple, and black are often in order. When the water is running clear, whites and silvers do better. That said, crayfish patterns can prove hot any day of the year. Small crayfish-imitating plugs often prove irresistible to the smallmouth in particular. Flukes and paddle-tails are also great offerings in upriver areas and will draw strikes from both smallmouth and walleye.
Accommodations and Amenities
When visiting sections like Seneca Creek Park you'll be closest to the communities of Germantown and Gaithersburg. Both have hotels and restaurants aplenty, mostly oriented along Route 270. Point of Rocks puts you closer to Frederick, MD, which is connected to Germantown and Gaithersburg via that same route and also offers numerous options (again mostly clustered along 270) for travelers. History buffs may want to consider booking a stay in one of the historic lockhouses along the C&O via the C&O Canal Trust.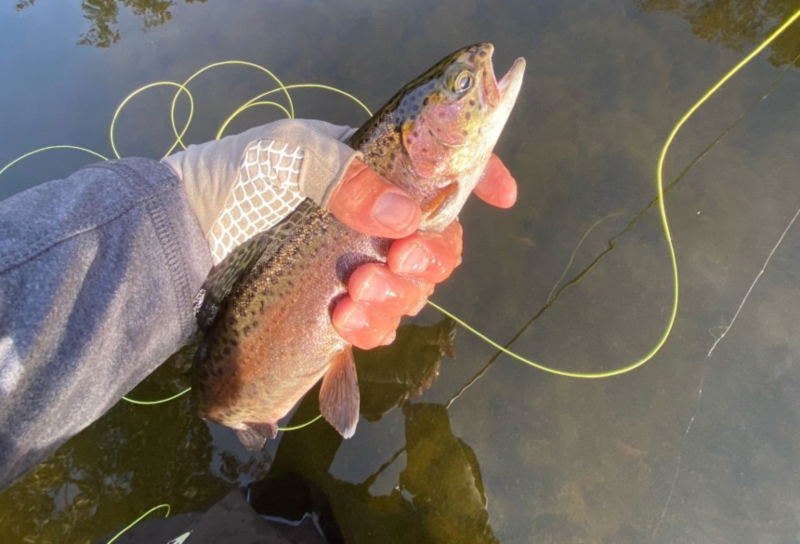 Fishing the Savage River
The Savage River runs from the Frostburg area into the Savage River Reservoir and then creates another Maryland tailwater fishery below the dam, before feeding into the Potomac River in Bloominton, MD. As such, the complete river system is located entirely within the state of Maryland. It's also remote, undeveloped, and represents some of the most beautiful areas of the East Coast unaffected by modern civilization. Note that the Savage earns a spot in Trout Unlimited's "Top 100 Trout Rivers" and in 2014 was named by Trout Unlimited in its "10 Special Places" report due to its high-density brook trout population, and providing an experience like "the sanctity of a great cathedral."
Above the reservoir the river is more of a creek, and will be visited by anglers looking to have an encounter with those native brook trout. Though small in stature these are some of the most gorgeous wild fish found in Maryland's freshwater streams and rivers and are often sought after by solitary fishermen attracted to the challenge of tempting truly wild fish into biting. Note that in all waters east of Interstate 81 brook trout are catch-and-release only.
Access
There are several brook trout access points which are no more than roadside pull-overs along Savage River Road. These offer no amenities, so come prepared for rugged terrain and bring everything you'll need for a day of fishing.
Fishing Tips
Many anglers choose to fish tandem rigs with a floating midge pupa serving as a strike indicator, with a midge large underneath of it. Size 14 to 16 Elk Wing Caddis and bead head emergers prove effective during the winter months, Sulphurs are a good bet spring through mid-summer, and terrestrials are a solid bet in the late summer and fall.
Accommodations and Amenities
Frostburg will be your closest bet for hotels and restaurants, although there are also a couple of lodges, inns, and VRBO options outside of town. Slightly farther east Cumberland has even more amenities including a regional airport.
Get your hiking boots, waders, and fishing rods ready, people, because these walk-in waterways offer up some of the most awesome angling in America. Welcome to Maryland!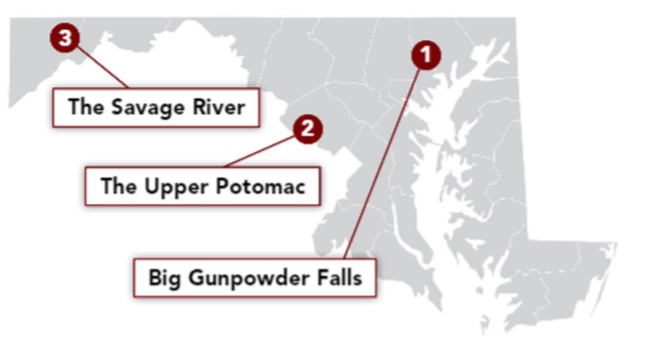 Visit the Maryland DNR Public Fishing Access Map to scout out public access areas throughout the state.
See Part II: Fishing Maryland By Car
Sign up here to get the weekly FishTalk Chesapeake Bay and Mid-Atlantic fishing reports in your email inbox, every Friday by noon.