Are you a lifelong Marylander, have you moved here from afar, or are you just in the state for a visit? No matter why you find yourself in a Maryland state of mind, if you're an angler, you're in luck. This is one of the few states in the union to offer fishing opportunities so diverse that you can be fly casting in a clear mountain brook one day and trolling for yellowfin tuna at the ocean canyons the next. This month, we're going to take a peek at some rod-bending hotspots you can drive right up to from wherever your home-base may be. Our three hotspot include: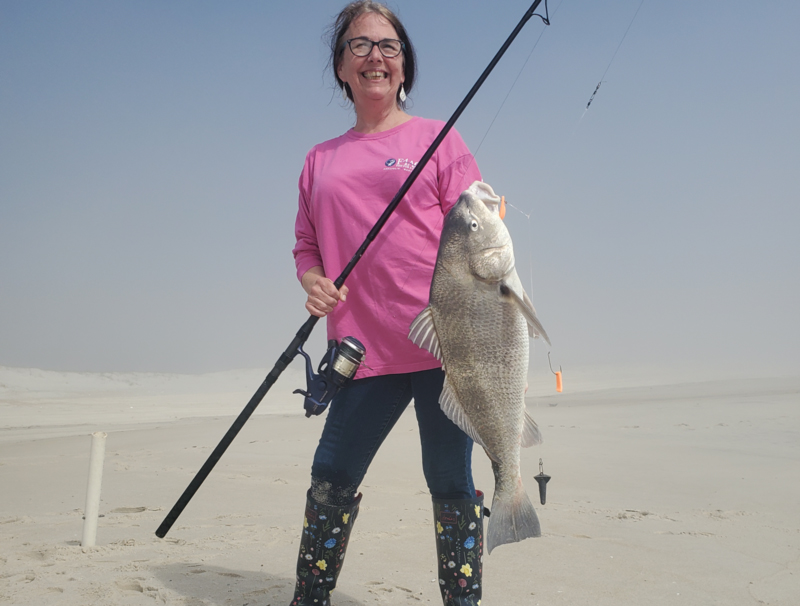 Assateague Island
DRIVE down Route 50 until you hit 113, take a quick hop south to 376 east, then hang a right onto 611 south and you'll soon reach Assateague Island. Sure, this barrier island is best known for the wild ponies romping across the sand, but there are also some utterly spectacular surf fishing opportunities. The beach sees runs of black and red drum, bluefish, and striped bass in the spring and fall. Species like kingfish, spot, croaker, flounder, sharks, and snapper blues can be caught all season long. And in the fall even pompano and speckled sea trout sometimes show up. There are both state and national parks, day-use and camping areas, and if you have four-wheel drive there's a stretch of beach you can drive down and quite literally fish from your vehicle.
If surf fishing isn't your speed there's also a public launch and marina on the bay-side where fishing is permitted. You're not likely to hook into the oceanic monsters on this side of the bridge but panfish like spot and croaker can be plentiful, and flounder are always a possibility in the bay.
Fishing Tips
Surf anglers need to hone their methods to match the specific season and what's biting; the rigs and baits you'll catch black drum with are very different than those used for kingfish, for example. Check the fishing reports at for the latest intel on what's biting and when. Savvy surf anglers, however, will almost always hit the beach with some bloodworms or, in the warmer months of the year, Fishbites artificial bloodworms. Fished on a small "doodlebug" rig (a top-and-bottom rig with floats to help keep your baits away from the pesky crabs), these baits will attract hits from a wide variety of panfish. This can be helpful even when catching larger quarry is your goal since you can catch spot, slice them up, and offer a fresh meal to the predators out there.
One more surf fishing tip everyone needs to know: while hurling your bait as far out into the ocean as possible is effective for some species at some times, don't neglect to try fishing right behind the breakers, too. Quite often fish will feed just beyond the surf line where mole crabs and other tiny critters are being dislodged from the sand and washed around.
Accommodations and Amenities
Camping at the parks (which have bath houses with showers, fire rings, and picnic tables) is incredibly popular, so make your reservations early. Visit the National Park Service, and to find information for the state park look on the Maryland DNR website. You'll also find a full listing of the regulations and permits you need to know about on these websites. Note that the Over Sand Vehicle (OSV) area is limited to 145 vehicles at a time, and on summer weekends a line (sometimes a very long one) can form as vehicles headed for the beach have to wait for others to leave.
Travelers looking for overnight accommodations will find plenty of places to stay and to eat just a few miles north of Assateague in West Ocean City and Ocean City, MD. Note that if you want to charter a boat for fishing in the ocean, rent a boat for fishing in the bay, or jump on a party boat, all of these options are also available in Ocean City. When it comes to hotels, however, again remember to make your reservations early because these places fill up during the summer months. Salisbury is also a quick drive (about 30 minutes) from Assateague, and you'll find plenty of hotels and restaurants there as well.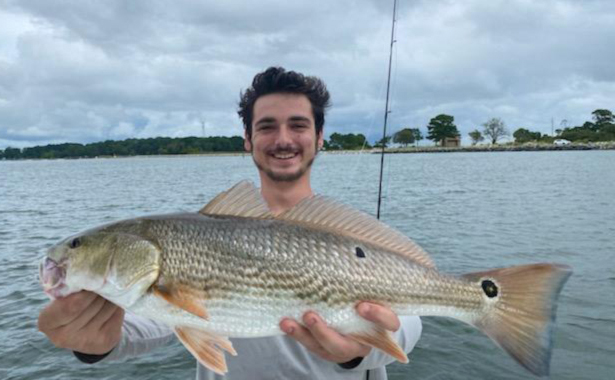 Fishing at Point Lookout
DRIVE down the Western Shore of Maryland to its southernmost point, and you'll hit Point Lookout State Park. This is a fantastic place to wet a line because you'll have a number of options all in this one place, which is bordered by the Potomac on the west side and the Chesapeake Bay on the east side.
You can pull your car over on the wide shoulder along the causeway, and lean back against it as you cast baits into the Bay right from the shoulder of the road or from the rocks lining it. This spot can produce panfish, bluefish, rockfish, and even a speckled trout or red drum here and there. Or you can pull down a bit farther, park your vehicle, and stroll down the 710-foot public fishing pier. Anglers can also try their luck fishing from the shoreline by the lighthouse (which proved to be a hotspot for puppy drum last summer) or from the jetty at the mouth of Lake Conoy (which held speckled trout and rockfish for much of the season last year). Added bonus: the piers just north of the boat ramps in Lake Conoy are reserved for crabbing, and dropping down chicken necks here is a sure-fire way to put some jimmies into your bucket.
Fishing Tips
As a rule of thumb, when fishing from the causeway or the pier the best method is to cast out a top-and-bottom rig with cut bait. Many anglers will fish with surf rods here, so they can make long casts and reach deeper waters. Those searching for puppy drum or sea trout will often use lighter spinning gear and cast four- and five-inch paddle or grub tail soft plastic jigs on half-ounce heads, then bounce them along bottom. Bait anglers focusing on these species will want to toss out chunks of soft or peeler crab or shrimp.
If you want to try your hand at crabbing at the piers, simply tie a chicken neck to a piece of kite string long enough to hit bottom. When a crab yanks it taut, slowly pull the chicken neck up until it's within scooping distance of your net. The crabs will move into shallow water so don't worry about staking out a spot at the very end of one of the piers, but instead, spread your baits out as far as the room that's available allows, then walk back and forth to monitor the action.
Accommodations and Amenities
The state park has camp sites, restrooms, swimming beaches, and a small store with snacks, ice, and a limited selection of bait and basic supplies. Canoe rentals are also available in Lake Conoy. More information is available on the Maryland DNR website. UPDATE: Point Loookout has had to close the campsites for the 2022 season due to water leaks. The rest of the park and all day-use facilities remain open for use. If you want to camp, however, you'll have to head for one of the alternative nearby campgrounds. Here's a link to other campgrounds in St. Mary's County.
Point Lookout is relatively isolated, and there aren't many amenities available in the immediate area other than a couple of nearby inns. Most travelers will be heading up to Lexington Park, about 20 minutes up the road. Once in Lexington Park, you'll find hotels and restaurants of all types. History buffs will want to stop at historic St. Mary's City along the way, where you can check out several museum exhibits, historic recreations, a reproduction of the Dove (one of the ships that brought the first settlers to Maryland in 1634), and a visitor center. Several charter boats also run out of the area and fishermen interested in booking a charter on the Chesapeake Bay can find listings at visitstmarysmd.com.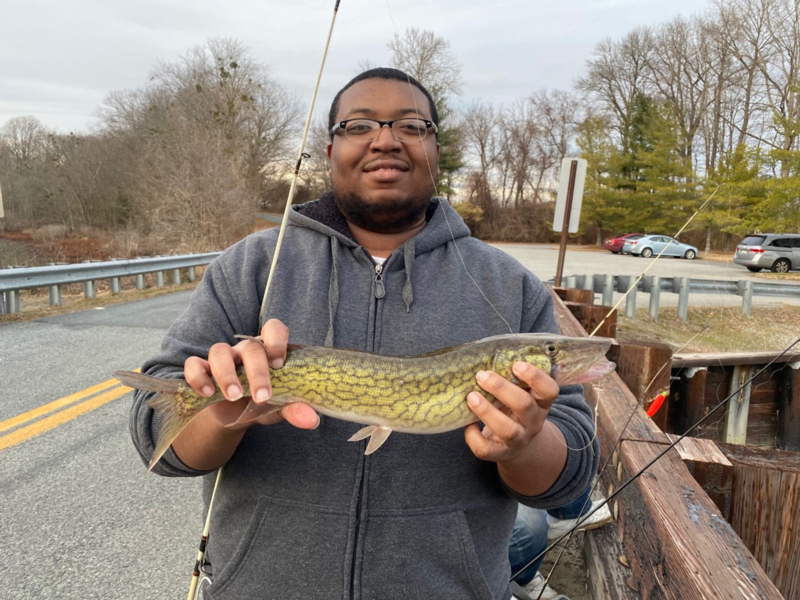 Dorchester County Bridge Fishing
DRIVE over a bridge and non-anglers might think driving is what the bridges are for, but we anglers know better. The traditional angling endeavor of "bridge hopping," to cast from multiple bridges in a day until locating a good bite, can be incredibly effective. And in Dorchester County between Cambridge and Hebron there are a number of small bridges with pull-offs including a few where you can sit in the driver's seat as you fish, if you so choose. Added bonus: many of these small bridges pass over rivers and creeks utterly riddled with snakeheads.
The bridge at Key Wallace Drive over the Little Blackwater is the king of them all, although due to recent changes in the parking restrictions, at this spot you'll have to leave your car at the lot and walk out to the causeway. Still, to get a line wet in some of the best snakehead waters in the nation it's well worth the stroll. Next, head east to Bestpitch where Bestpitch Ferry Road crosses the Transquaking River. The water's a bit deeper here and along with the snakes you'll encounter bass, crappie, catfish, and perch. If you get no bites it's no problem — jump right back in that car and drive north to Drawbridge Road where it crosses the Transquaking farther upriver. If the fish are still playing hard to get you can head for the Chickamacomico River, crossed at New Bridge Road where there's a parking lot and boat ramp, or at Drawbridge Road where there are several pull-offs and the remnants of an old bridge you can walk out and fish from.
Fishing Tips
During the warmer months of the year plenty of anglers will be casting lures from these bridges, but in the spring and the fall a minnow suspended under a bobber is a better bet. If you're focused on snakeheads use the biggest bull minnow you can get. For other species, smaller minnow can be a better pick. In all cases, don't just cast way out from the middle of the bridge. Quite often you'll catch the most fish by dropping your offering straight down or casting it parallel to the bridge and retrieving it back along the pilings. Several of these bridges also have points or shorelines within casting distance. Note: most of these bridges also have overhead power lines. Look up at them, and you'll commonly see a splendid assortment of lures, rigs, and line. Unless you want to donate your tackle to the power company, be sure to ID where the power lines are before you let anything fly.
What about the biggest fishing bridge of them all in these parts: the huge Bill Burton Fishing Pier? The retired Rt. 50 bridge over the Choptank River has long been a favorite of many anglers hoping to catch spot, croaker, stripers, and more. Unfortunately, the bridge was closed this past winter due to structural issues. We're waiting to hear when and if it will be reopened, and will update you asap the moment we learn more.
Accommodations and Amenities
This area of Dorchester County is remote, to say the least, so you'll want to arrive with everything you need for the day already packed in your car. And, of course, remember to pack up everything you came with, trash included, and haul it back out at the end of the day. Cambridge, about half an hour up the road from most of these locations, represents the closest area where you'll find numerous restaurants plus some hotels.
Okay: are you ready to fill up the fuel tank, load the trunk, and hit the road? We certainly hope so. Because no matter where you may be coming from nor what your eventual destination may be, if you've got rods packed into that car and you're driving in Maryland, those rods are about to get bent.
See Part I: Fishing Maryland on Foot
Sign up here to get the weekly FishTalk Chesapeake Bay and Mid-Atlantic fishing reports in your email inbox, every Friday by noon.