In the Chesapeake's waters, black sea bass can be both a blessing and a curse. We love to see 'em, but most of the time they're bait-stealing juvenile delinquents, pecking away at your offerings while providing little hope of hooking into a keeper. But these fish grow fast. And as the end of the season nears we finally have a shot at finding black sea bass inside the Bay's confines that are big enough for the cooler. You say you'd like to put a few of those former juveniles on ice in your own personal fish-jail? Here's how to make it happen.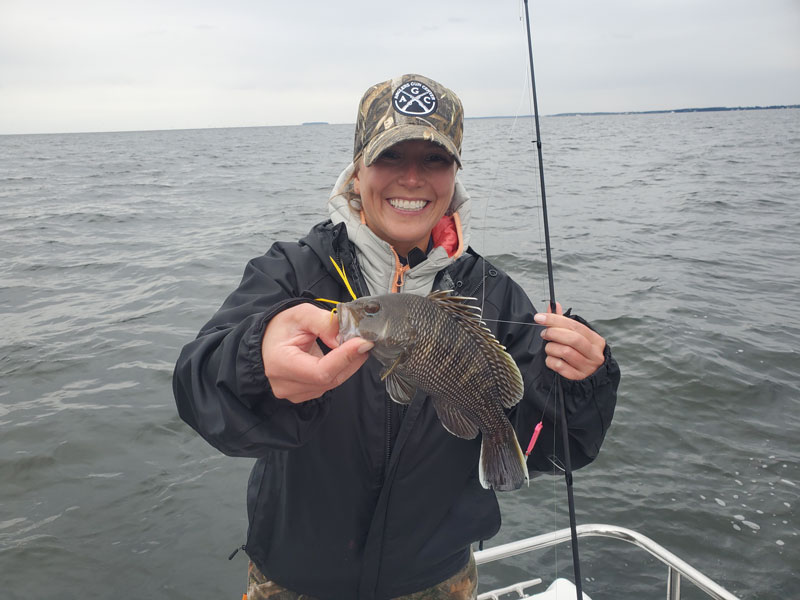 Sea Bass Structure
Sea bass like structure, period. You could drift along through the Chesapeake for weeks on end with the most tempting baits in the sea, but if you don't present them within a few feet of the structure they like, you'll have no prayer of catching sea bass. And it can't be any old structure. You need to find wrecks and reefs with crags, snags, and maximum relief. Some of the Bay's artificial reef site will hold these fish, as will the (few and far between) deepwater oyster rocks still in existence.
Black sea bass also like a bit of water over their heads, and by the time late fall rolls around, will often have shifted to 20-plus depths. Wrecks in 40 or so feet of water like the barges off Sharps Island Flats, which were barren a month or two ago, may now have fish on them. Reefs like The Cell which sit over 30' down in some areas become a good bet. Smaller, uncharted and/or little-known wrecks are an even better bet. Depending on water temperature and just how late in the fall it is, where you'll find 'em changes. But as a rule of thumb hunting in the 20' to 40' zone is a good starting point, and any of the Maryland or Virginia state artificial reef sites hold serious potential.
Baits and Lures
Sea bass will hit plenty of different offerings, and purists will send down a top-and-bottom rig with squid strips on the hooks, but tandem rigs tied with a jigging spoon on the bottom and a teaser or streamer on the top are a prime offering in this fishery. You can tie your own but one of my personal faves is the hot pink or Chartreuse Ice G-Eye Rain Minnow/top teaser combo. But don't just send these things to the bottom and start jigging — sea bass like some flavor, and both hooks should be sweetened up with a squid strip or a slice of Fishbites. In the fall of 2023, Fishbites crab and blue crab flavors have been red-hot. In fact, we shot a short video comparing squid versus Fishbites head to head and the results were illuminating to say the least!
In deep water when there's a strong current (or wind if you're on the drift) more weight may become necessary. In this case, shifting to a two-plus-ounce Butterfly-style jig will do the trick. Again, add the bait, but also note that when fishing around structure you're best served by rigging the spoon with a single top hook, only. If you're presenting that spoon close enough to the structure to catch fish, multiple hooks and trebles on the bottom will lead to snag after snag.
Once you get these rigs down to depth shy away from the vigorous snap-jigging motion that those stripers love so much. Sea bass aren't as interested in chasing after a fast-moving target, and prefer a slightly lazier motion. Often a few slow jigs followed by pausing to allow your baited spoon to hover just above bottom will generate strikes.
Keeper Size Sea Bass
Note that even late in the year, you're apt to catch far more throwbacks than keepers. How do you sort through all those shorts to find fish that hit the mark? Often it's simply a numbers game. Catch 10 or 12, and one goes into the box. And the specific spot doesn't seem to matter too much. Unlike some other scenarios, it's not always a great idea to move away from the little guys to find a school of bigger fish, because you're likely to experience the very same thing. Stick with it, however, and you've got a shot at finding black sea bass that are fit for the cooler — even inside the confines of Chesapeake Bay.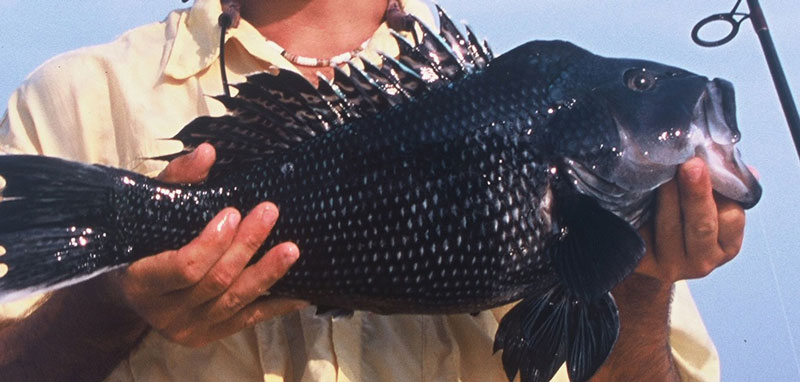 Hunting Humpback Bass
If you want to find those really fat "humpback" sea bass, it's time to travel — they generally don't pop up in the Bay, and heading for the ocean should be your move. Remember that significantly upsizing weight will be necessary, but beyond that the offerings and techniques we discuss here work just as well in the ocean as they do in the Bay. Note that there are several head boats running out of Ocean City and Virginia Beach which offer a convenient and economical way to get out to those oceanic wrecks if you don't have a boat or aren't used to running through the inlet.
Cooking the Catch: Blackened Bass
Many anglers would argue that black sea bass are among the best tasting fish in our region. While that's a debatable point, try this recipe and you'll find it hard to argue against.
Fillet and skin your sea bass.
Mix ¼ cup melted butter with a heaping tablespoon of Zatarains Blackened Season.
Lay the chilled fillets on a piece of wax paper and slather the butter on one side. Allow the butter to firm up, then flip the fillets and slather the other side.
Heat a skillet to high temperature, so when you drip on a drop of melted butter, it sizzles vigorously and turns brown.
Drop in the fillets and allow them to cook until blackened on the down-side (just a minute or two if the pan's fully heated). Flip and repeat; thicker fillets may take an additional minute or two to cook all the way through.
Enjoy!