There are plenty of winter fishing options in Chesapeake Country, but often it's so cold out that your five-star-rated thermos bottle can't keep the coffee warm past 9 a.m. Every 10 to 15 minutes you have to clear ice off your rod guides, your fleece gloves are freezing to the rod handle, and if you don't put the hook through your squirming minnow and get it back underwater in 30 second flat, it turns into a rigid bait-cicle. Ah, the joys of winter yellow perch fishing.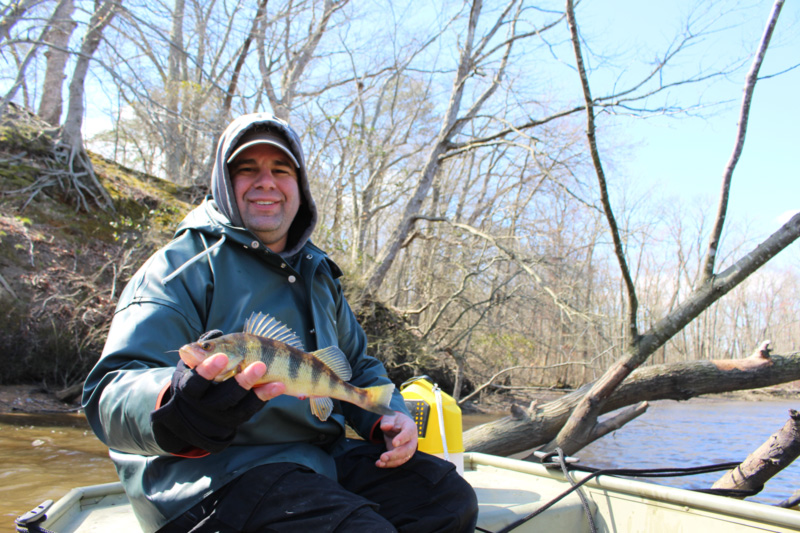 While it's true that fishing for yellow neds in the depths of winter can at times become a rather miserable endeavor, it can also lead to fantastic catches and fabulous February fish fries. Sometimes, both on the same day. And while there are many different ways of fishing for yellow perch at this time of year, ranging from ice fishing to boat fishing to bank fishing, there are some interesting constants that hold true no matter where, when, or how you fish. So if you decide to put this species into your crosshairs, remember:
Yellow perch like big minnow, the bigger the better. Huge, in fact, during the middle of the winter. Anyone who's scooped a frost-covered dip net into the minnow bucket in search of a bait that wasn't "too big," but eventually ran out of options and used the three-inch monster minnow, can tell you that a shockingly small yellow perch can (and will) eat a shockingly large bull minnow. There truly isn't such a thing as a minnow that's too big, when you're targeting this species. The same goes for shiners in freshwater, and more than one walleye angler has complained when a perch barely larger than the minnow triggered a tip-up and forced re-baiting. It's a well-known fact that when water temps are very cold, most predators prefer not to chase small prey. They risk burning off more caloric energy than their meal will provide, especially if they have to go chasing it down. When fishing for stripers in the winter this means offering up a 10-inch bait, and when fishing for yellow perch at this time of year it means fishing with the biggest minnow in the bucket from start to finish.
Fish deep. Just how deep is deep? That depends on where you are, but as a general rule of thumb yellow perch will seek out some serious depth during the winter months. In a reservoir that can mean 30- or 40-plus feet will prove to be the best bet. In a tidal creek, they'll often congregate in bends with holes twice the depth of the surrounding waters. And in rivers the main channel will usually be a go-to hotspot.
When the fish get finicky, use the eyeball trick. WARNING: this one's sort of gross, so prepare yourself. Yellow perch like eating eyeballs. This is particularly true when ice fishing, but also proves effective in other circumstances when the fish get a bit finicky. Pop the eyeballs out of a dead minnow, bluegill, or another perch, thread one or two or three onto your hook or jig, drop it down, and jiggle. The results can be astounding. Unfortunately, putting a fish eye onto a hook can be a lot harder than it sounds. First, you have to squish it out of the fish's head without popping it. Once it's out maintaining a grip is impossible, so instead pinch all your fingertips together to make a sort of a cup with their tips, with the eyeball sitting lens-down in the middle. But don't spear that eyeball any old way. Get too aggressive and it'll pop, leaving you with goo-covered fingers and a skin-like sheath drooping from the hook. You need to rotate it so the back of the eyeball is exposed, where you'll see a little black dot with a little wiggly sinew (it's called an optic chiasm according to Google) that used to attach the eyeball to the fish's brain. Insert your hook point into that dot, slide it out through the side of the eyeball, and you can usually bait up without an unintended deflation. And as for the gross factor, don't say we didn't warn you.
Fish static, or with a very slow creep. When the water temps are at or near freezing, the fish won't go chasing after a bait moving along at jogging speed no matter how enticing it may be. Quite often, placing it close to the fish and letting it sit will be the most effective way of fishing. When the fish are slowly milling around or you don't know exactly where they're sitting, you may catch more by slowly moving the bait along at or near the bottom to cover some ground. But make it painfully slow. You need to present the bait to the fish at a snail's pace, if you want to entice an attack.
Use J-hooks, and hook-sets. Circle hooks simply don't work well with mid-winter yellow perch, because the fish tend to grab a bait, hold on tight, and sit more or less still. Sometimes they'll go wandering off, but usually at a very mellow pace. As a result, whether you're fishing tip-ups in a frozen lake or bottom rigs in a tidal creek you need to feel or see the strike and use a manual hook-set.
Okay: ready to layer up, and go chase those winter neds? If you're wondering why you'd ever want to leave your climate-controlled house to torture yourself with such an adventure, trust us on this: the couch that looks so warm and cozy right now will look 1000 times better, after a day of February yellow perch fishing.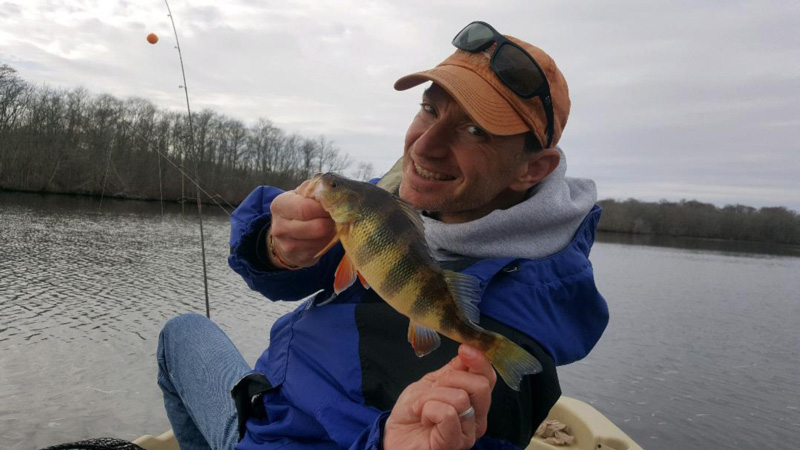 When winter turns into spring, be sure to check out our How to Fish For Yellow Perch During the Spring Run video.
And whenever you catch those yellow neds, you're in for a serious mealtime treat.
Yellow Perch February Fish Fry
Ingredients:
Olive oil
1 egg
4 Saltine crackers
1 cup panko crumbs
2 tablespoons corn meal
1 tablespoon Old Bay
1 tablespoon garlic powder
Crush the Saltines, and mix them with all the ingredients thereafter. Then scramble the egg. Dredge the perch fillets through the scrambled egg, coat them with the breading/spice mix, and sit them on a strip of wax paper or tin foil. Put a layer of olive oil into a pan, and put it on medium heat. When the oil's hot drop in the fish chunks and fry for two to three minutes per side, until the breading begins to brown. Drain, and serve with tartar sauce.