Presented by Fish & Hunt Maryland
Pop quiz: what single species represents the most reliable angling target in the entire state of Maryland, day after day after day, regardless of the season? It's debatable, but catfish certainly belongs in the running. We're not just talking about those monster blue cats that we examined in detail last month in our "Tank Battle" feature, but a range of whiskered species including blue, channel, flathead, white, brown bullhead, and yellow bullhead cats. There are hordes of those catfish out there, and they're willing to bite virtually all the time. Added bonus: as long as you limit your harvest to fish under 30 inches, catfish are also excellent table fare.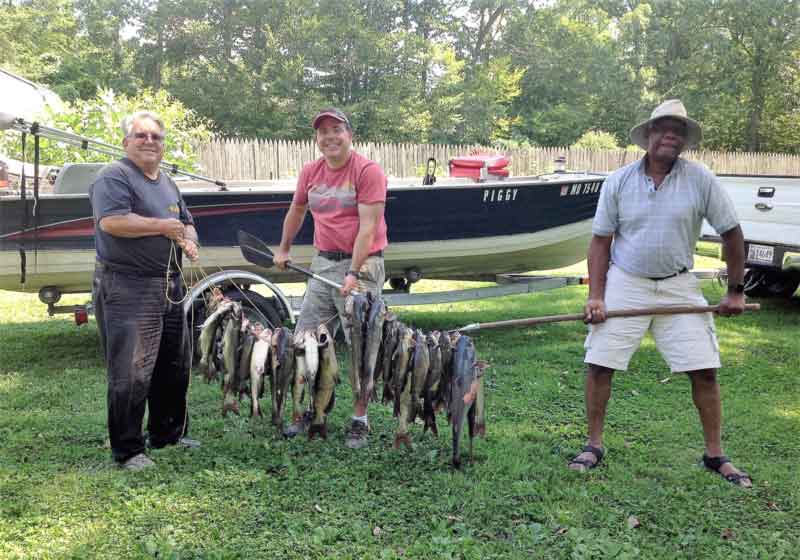 Catfish in Maryland
While some other states may be able to boast a larger specimen here and there, few can compare with Maryland for the diversity of the waterways you'll find 'em in. And there's more good news on keeping them for dinner—in many areas the vast majority of the eating-sized catfish are going to be invasive species. No one is happy to have invasives, so you can feel guilt-free about harvesting blues, channels, and flatheads. Plus, all of these invasives grow to be significantly larger than Maryland's native species, which top out at around eight pounds for whites and three pounds for bullhead.
Where do all these catfish live? We'll get into some specifics in a moment, but as a rule of thumb they live in much of the state's portion of the Chesapeake (depending on salinity levels at any given time), all the Bay's tributary rivers, and most lakes and ponds. So employing basic tactics you can catch 'em virtually anywhere.
Catfish Gear and Rigs
As with most fisheries, the gear you choose is in large part personal preference. That said, most catfishing aficionados like to use rods and reels in the 20-pound class when in areas where smaller catfish are the target, and in the 30- to 50-pound class where the big boys live. Both conventional and spinning gear can be used but those employing spinning gear usually opt for baitrunner-style reels, which allow the fish to take the bait without feeling the full pressure of the drag. And when it comes to line, while either braid or mono can be used, this is a fishery where the real sharpies often opt for monofilament. The reduced sensitivity and increased stretch means the catfish are less likely to feel something funny when they take a bait, and also assists with the slow application of tension that's most effective when fishing with circle hooks.
Circle hooks? Yes, circle hooks. You can catch catfish on many different rigs but when targeting them in specific you'll want to rig up with three to four feet of 40- to 60-pound test leader, tied off to an 8/0 to 10/0 circle hook. As you may guess you'll want to keep your baits tight to bottom, in most cases adding weight with either an egg sinker or "fishfinder" rig, both of which allow the mainline to pass through the weight so a fish can swim without feeling the lead tugging at the line. Catfish anglers focused on rivers with both snags and current usually go with the fishfinders and clip on flat-sided sinkers, to reduce the chance of rolling along bottom in the current and becoming snagged.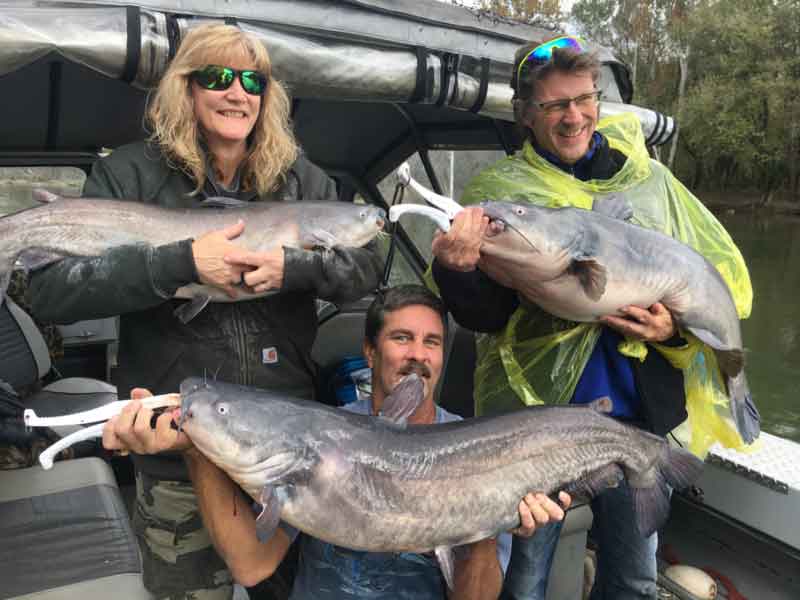 Catfish Baits
To state the obvious: catfish will eat just about anything. That said, using certain baits in certain situations does unquestionably increase your chances of success. Cut fish is a go-to offering, and bloody or smelly fish are tops. However, fish that are firm are superior to those that are mushy and can easily be pulled off the hook. So baitfish like mud shad or sunfish are usually considered superior to ones like menhaden.
Many perch anglers have discovered by accident that live bull minnow also make a good catfish bait, and when you're hunting for larger catfish, using different types of live baits can be a good move. Many anglers who target big blues up rivers like the Potomac go fishing for sunfish to fill the livewell before they ever drop a catfish rig to the bottom.
Interestingly, catfish also seem to favor fowl. Chicken livers are an old stand-by and they certainly do attract a lot of bites, though they fall off the hook easily and you need to plan on losing a lot of baits. For this reason, they're not a great pick for shoreline anglers who need to use lots of weight and make long casts to reach deep water. Chicken breast meat is also effective and stays on the hook a bit better, but still not quite as well as firm fresh-cut fish.
Finding the Fishing Hole
As a general rule of thumb, in tributary rivers the best catfish spots usually have three features: deep water, moving current, and snags or structure like sunken trees or boulders. In lakes and ponds you can strike current off the list. And in the Bay proper catfish are often found in the same types of areas you'd expect to find other bottom fish, like on humps or oyster bars.
When you locate a likely area, you'll want to position your boat (or yourself, if you're fishing from shore) up-current of the spot and cast or drift your baits back towards it. Let's say, for example, that you're fishing a hole in a tidal creek which has a big tree laying on the bottom. The best move is to put that bait dead on bottom in deep water, five or 10 feet up-current of the tree. That way the scent of the bait is swept back to the catfish laying in its hidey-hole. When it's lured out and eats your bait, you can let it run for several feet before coming tight on the line. Then apply maximum pressure to prevent it from getting back to the snags, and fight the fish up to the boat.
You want to be as sure as possible of angling success? You have kids who are excited to feel a tug on the end of the line and you don't want to let them down? There's breading in the cabinet, oil in the fryer, and your fishing buddies are coming over for dinner? Then it's time to cast your lines into the waters of the Old Line State for some fast-paced catfish action.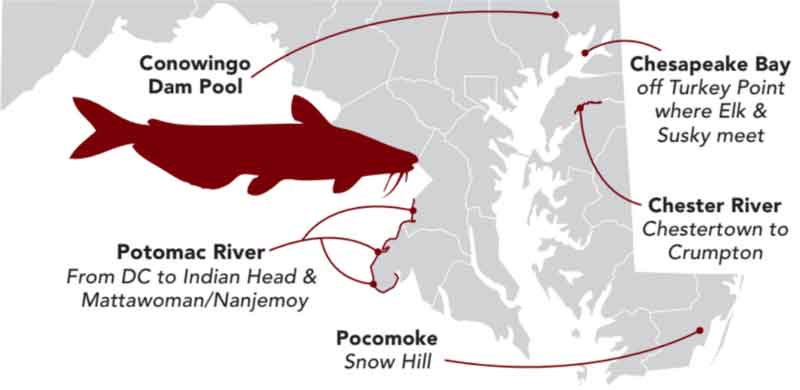 Five Fabulous Catfishing Spots
For more information on fishing and hunting in the great state of Maryland, visit Fish & Hunt Maryland.
Sign up here to get the weekly FishTalk Chesapeake Bay and Mid-Atlantic fishing reports in your email inbox, every Friday by noon.