Anyone who regularly visits our weekly fishing reports has certainly noticed that there's a lot of interest these days in fishing for snakeheads, and an exceptionally cool place to target this species is Mallows Bay off the Potomac River. Located on the Maryland side in Charles County, Mallows Bay is proclaimed to be the largest ship graveyard in North America. The remains of over 200 wooden ships can be found in this aquatic salvage yard, and any seasoned angler will immediately equate submerged wreckage to fish-attracting structure. In fact, there's so much wildlife in this area that in 2015, NOAA nominated Mallows Bay to become a National Marine Sanctuary. In this undeveloped environment, it is not uncommon to encounter a variety of creatures of land and air – but what we're after is lurking beneath the water's surface. There is a vast abundance of fish species here and you will likely catch at least a few different ones on your visit, including the storied Frankenfish. Let's take a look at how to catch them, along with the other residents of this watery wonder.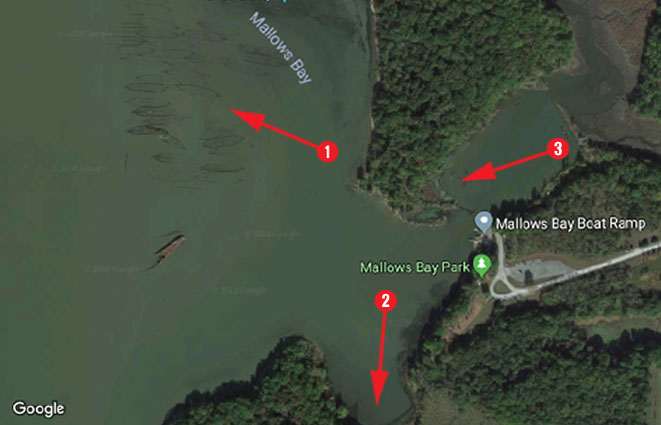 Northern Snakehead
This notorious fish is what first drew me to this secluded destination. This area becomes chock full of SAV from spring to fall, so the most successful tactics are to use topwater lures such as frogs, mice, and soft plastics, rigged weedless with keeper hooks. Fishing at dawn or dusk during a high tide ebbing or flowing in will increase your odds. Aim for holes and edges in the hydrilla near shore in three feet of water or less. I've recently started using live minnows to fish for snakeheads and although I have not used them here yet, they have proved fruitful for snakeheads elsewhere. Finding a tackle shop with minnows in stock prior to a trip here may be a good plan.
Largemouth Bass
Chances are you'll have a good shot at hooking up with a nice slob while tossing the same type of lures for snakehead. Again, weedless rigs are key. Try throwing spinnerbaits, chatterbaits, or crankbaits in areas with lesser vegetation. If you're fishing near the wreckage, try bouncing a natural-colored Senko off the bottom.
Panfish
This place is loaded with bluegills and white perch. Casting Johnson Beetle Spins or Bill Lewis Lures Tiny Traps near structure and drop-offs should provide you with endless pullage. Mean green nightcrawlers under a bobber are also a good method, and will usually put some catfish in your boat as well.
Jugging for Catfish
I got curious when came across the regulations for jug fishing in the Maryland DNR Fishing Guide. It is allowed July 1 to February 28, but you may not target or take bass species. Up to 10 jugs are allowed per person and you must label with your DNR Id.
You will need to rig up your jugs (windshield washer fluid bottles work great) with six to eight feet of thick mono, 20 pound test or more since you'll be hand-lining. Tie on a 6/0 size circle hook and rig it with some cut bait like chicken liver or bunker chunks. Drop your bait and wait. Remember the yellow barrels in Jaws? Yeah...it's a lot like that. Chase 'em down, wind 'em up, and get ready to grip and grin!
Alligator Gar
These prehistoric gators seem to be everywhere, but I have yet to catch one. Somebody once told me to use a scented piece of rope as a lure.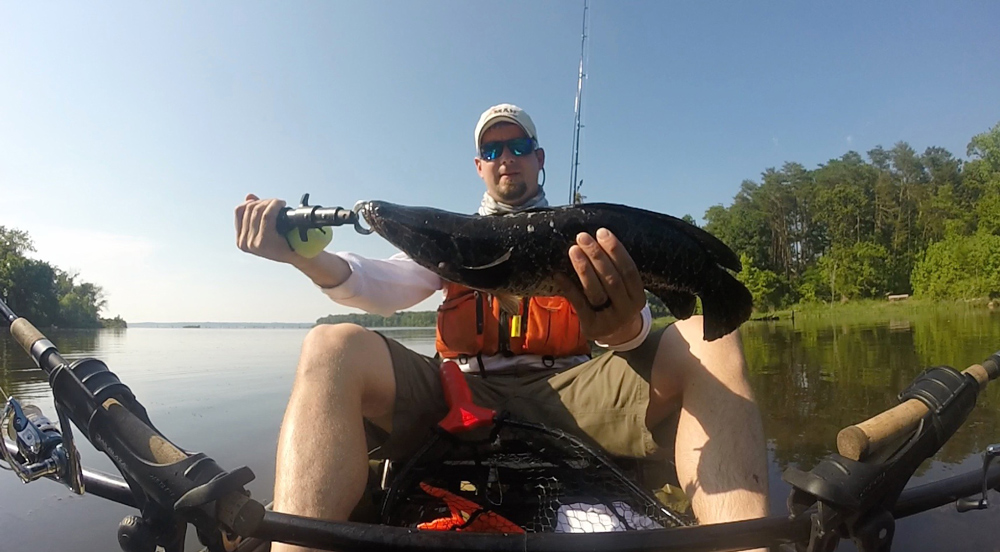 Mallows Bay Park
What makes this place really great for kayaks is the short distance to the fishing spots and minimal boat traffic. You can head right out of the ramp up the creek, straight out to the graveyard, or off to the left to a nice hole. While the park is rudimentary, it offers several amenities: plenty of parking for vehicles and trailers, port-o-johns, and both boat and kayak launch ramps.
For more information and park hours, visit the Charles County web page on Mallows Bay Park.
Plan B
Another great thing about this location is that if the bite is slow, you are already in close proximity to several other spots worth trying out. Within 30 minutes of the Mallows Bay boat ramp, there are four public access points to Mattawoman Creek: Smallwood Park, Mattawoman Creek Road, a launch at the 225 bridge (note: this was under construction last fall), and Mattingly Park in Indian Head.
Local's Tip: On your way home, be sure to grab a bite of your own at B&J Carry-Out in Accokeek for some amazingly delicious (and very messy) cheesesteaks.
- By Zach Ditmars