For timely, up-to-date fishing intel, visit our Fishing Reports pages. Current reports will be published every Friday by noon — just in time for your weekend fishing adventures. For the long view this month, however, here's what's likely on the horizon.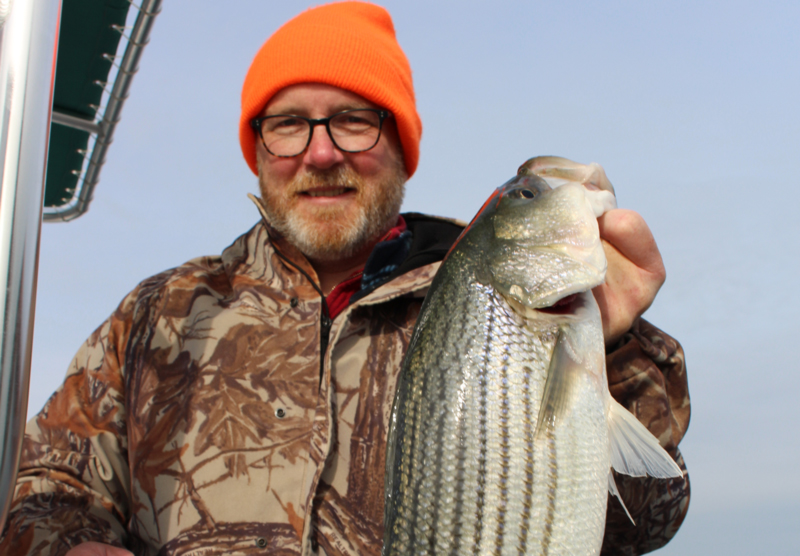 Coastal
While warm weather species may have hit the road by the time November rolls around, many offshore anglers will be on the lookout for a weather window allowing them to tap into the daytime sword fishery. This is the month for peak action, people! Back inshore expect the bass bite to pick up a bit as the waters cool, and let's remember that last November the wreck/reef bite out of Virginia Beach included a surprising number of both red and black drum in the mix.
What about the beaches and inlets? Expect that this month the jetties, rocks, and structure will see increasing numbers of (hopefully keeper sized) tautog on fleas. The northern inlets may well produce keeper-sized stripers for eelers, jiggers, and especially night anglers, while the VA inlets should still be holding pups and hopefully some specks as well.
Freshwater
Yes, it's time to layer up and yes it's well worth it — as the days grow shorter the best bite-window grows longer, and until it gets seriously frigid out there we can expect the reservoirs to produce good numbers of bass and panfish all day long. By the time this issue hits the streets one can plan to find crappie over relatively deep structure; bridge pilings are always a good bet. On the flip side of the coin the snakehead bite is almost certainly tapering off by now. That doesn't mean you can't catch 'em, but the days of racking up big numbers are probably past. Note that at this time of year lures take a back seat to live bull minnow, the bigger the better.
Most areas in this region saw some level of fall trout stocking through last month, and there should still be plenty of fish in the water as November begins. But these fish do tend to get caught out rather rapidly so if you enjoy targeting them, plan a trip sooner rather than later. Here are links to the stocking schedules for Maryland, Pennsylvania, and Virginia. Wild fish should bite good this month and right into the winter. Speaking of biting right into the winter: fishing the rivers for blue and channel cats should provide as close to a sure thing as is possible in the world of fishing, so if you feel the need for positive pullage grab some cut bait and send it to the bottom.
Way North
As we go to press water conditions at the Bay's headwaters had been steadily improving and the dam pool, lower Susquehanna, and the Flats were all producing some stripers on topwater and jigs. Sharpies intent on filling the cooler, however, will remember that live-lining small white perch is highly effective right about now. If you want a sure thing head for the Rt. 95 bridge, the Elk River, and/or Turkey Point, and sink cut bait or chicken livers to the bottom. You will catch catfish.
Upper Bay
Will relatively big fall stripers pound on live eels at the Pooles Island lumps? It's too early to say as we go to press, but note that the highest percentage of 30-plus-inchers are commonly produced there as cold weather sets in. The lower Chester is another good bet, and with pods of fish chasing roving peanut bunker, commonly provides excellent opportunities for light tackle jiggers in November. The bridges are likely producing right about now, too, though we must point out that in the last few years the Key Bridge has rivaled its bigger siblings at times.
Middle Bay
Is E-Bay on fire? We certainly hope so, and historically speaking it should be in November, though last season was a bit of a let-down in that neck of the woods. Fortunately, there are plenty of options at this time of year and while we're likely to see the rockfish that set up camp around the tributary mouths begin pushing to deeper water as the month progresses, trollers working the channel edges and jiggers spotting birds should have plenty to work with. With a little luck the Power Plant will provide some action from alternative species like specks and reds. Just be prepared for a crowd, remember to use good fishing/boating etiquette, try to keep the noise-making minimal, and note that these fish often bite only during a select portion of the tide so it may take some persistence to enjoy success.
Lower Bay
No doubt that throughout the Lower Bay stripers will be in the sights of most anglers. And by now, trolling with a few spring-style offerings and sizes in the mix may begin to produce a few jumbo-sized fish along with the schoolies. Expect the month to begin with most of the fish clustered around the river mouths and the epicenter of the action to be in the Potomac/Rappahannock zone, with the fish then shuffling deeper as the temperatures drop and the bunker move out. But if this year's anything like last year there's a good chance that anglers slightly farther down the Bay will have a decent shot at reds for a while yet, and running to the Way South region will also provide specks. On the flip side of the coin, heading up the rivers to fresher areas should hold plenty of success for those targeting catfish.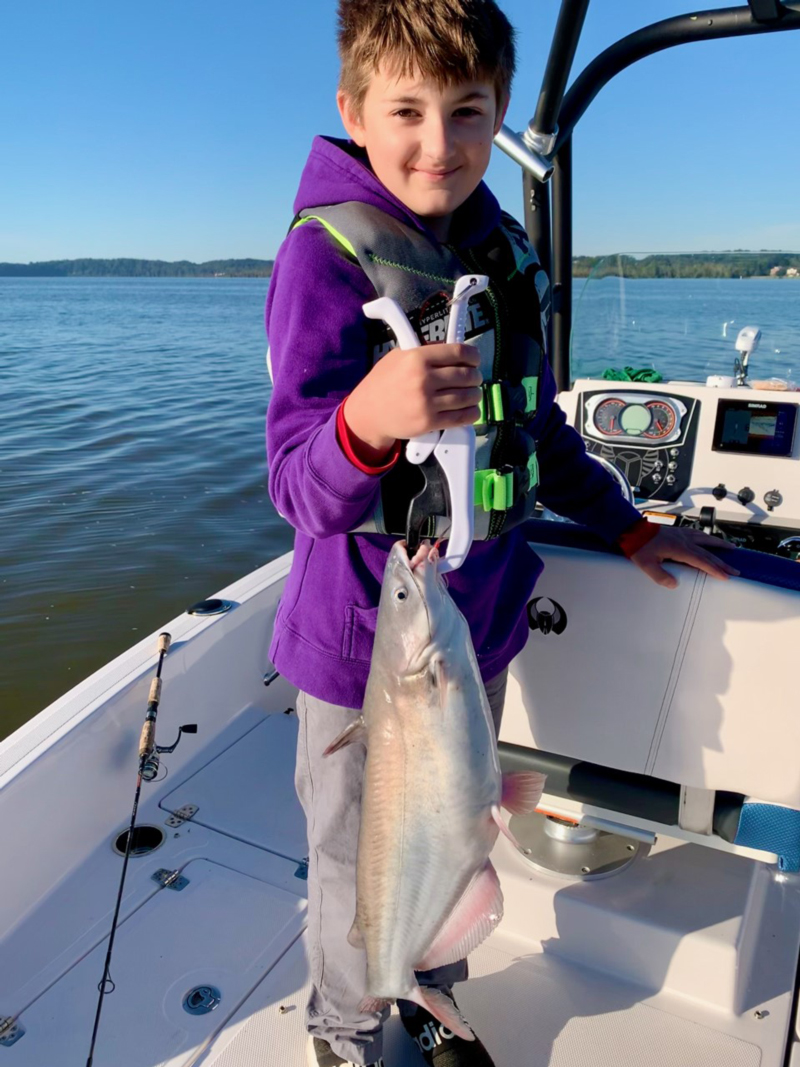 Tangier, Pocomoke, and Lower Shore
Anglers should expect this month to bring changes — big changes — as November commonly starts off hot for specks, but the action then tapers off as the waters grow chillier. Last year they kept up a good show (along with some reds) until mid-month and then by the end of November had fled to coop. Stripers, however, should continue to stick around the sounds until December hits.
Way South
What is the weather doing out there? Keep your fingers crossed, people, that it's similar to last year and remains warm enough for the specks and reds to keep hitting right through the month. That said, this month will almost certainly start off strong and in 2020 we saw a nice push of larger specks as November set in. Note that as it gets cooler and cooler, soft plastics generally give way to shrimp and minnow. As the seasons change we can also expect an up-tick in the striper action and tog to begin providing steady action on fleas drowned at the CBBT.