Okay, this may be one of the more boring aspects of kayak fishing, but don't discount a good tackle storage crate for your kayak. Yes, you may have a bow hatch on your rig, under-seat storage, or built-in tackle storage areas, but please, still consider getting a good crate to expand your storage options.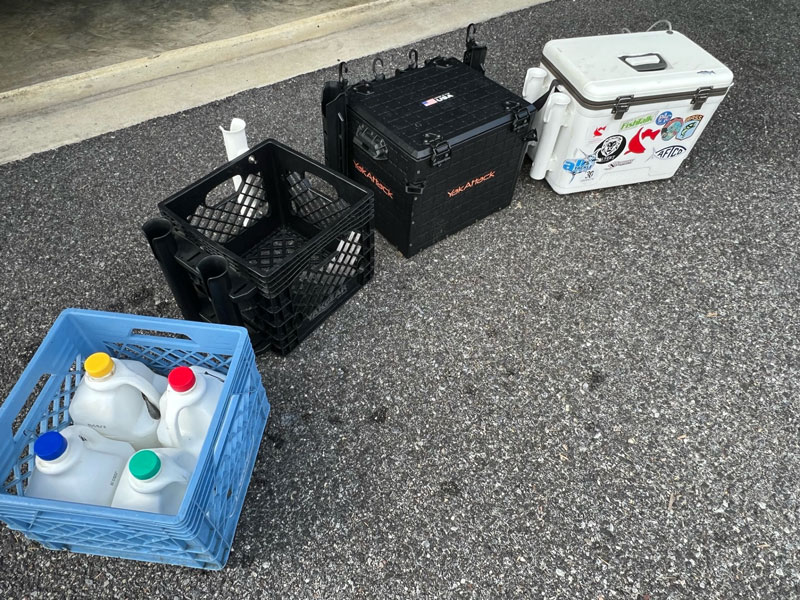 I own three type of crates and one dry storage box. The first is a simple milk crate. Yes, a real milk crate. I used it on one of my first fishing kayaks. It has no lid or rod holders attached. It is a simple crate that holds gear in a single location behind the seat. I place pliers, scissors, tackle storage boxes, bags of soft plastic baits, and whatever else I carry in there. Today I use that crate when I go jug fishing for blue catfish. And yes, it holds what it was built to hold perfectly: four milk jugs. If you like fishing for blue catfish and want to learn more about jug fishing for them check out "Kayak Jug Fishing for Catfish." It's a fun way to target these fish.
I later upgraded to a similar crate made by YakGear. The difference is that it has two rod holders attached and an accessory pouch mounted to the outside of the crate. I upgraded to the YakGear crate so that I could haul additional fishing rods. It holds the same items as the old milk crate and in the accessory pouch I place my soft plastic baits I use most. I modified the crate by adding an additional rod holder so that I could carry five rods on my kayak. We can always use more fishing rods, right? A word of caution here: these are rod storage holders. You don't want to troll rods that are stored in the rod holders attached to your crate unless you want to lose a rod, or worse, all your tackle. For further reading about adding rod holders to your kayak see "Adding Rodholders to Your Kayak."
The third upgrade I made was to a YakAttack BlackPac Pro crate. It has four rod holders so now I can haul eight rods. What? Yeah, I bought a new kayak, too. The new kayak has space to store four rods, but heck, and as I said already, who doesn't need to haul more fishing rods, right? The BlackPac also has a lid that closes and latches shut, and is easily accessible to retrieve any needed tackle or gear. With the lid it has added protection from the weather or spray. If there is rain in the forecast, I use it to stow my raingear or any other gear I want kept dry and readily accessible, since access is easier than in the bow hatch.
The fourth box I use is actually an Engle Bait Cooler Box, and yes, it has rod holders, too. The box comes with an external aerator to carry live bait. It can serve as a cooler if you need to place a fish or two on ice, and also as a dry box if you want to keep tackle and other gear dry on rainy or wet days.
There are a lot of crates for all different needs on the market. Pick one that fits your requirements. And heck, who doesn't need an extra rod holder or four!?
-By Eric Packard