Every fall is different and it's impossible to predict from one to the next where the hottest bite will be, but if you had to pick one location on the entire Chesapeake Bay as the most consistent year after year for late season striped bass, the Point Lookout area would be tough to argue with. Not that the fish are right up against the point itself; what we're really talking about here is the broad swath of the lower Potomac River from PLO up to Piney Point on the Maryland side and Smith Point to Sandy Point on the Virginia side, extending out into the Bay itself maybe halfway out to the shipping channel. Fish gather in this zone in rather epic numbers most seasons, with many pushing up into the 30-plus inch range and some real trophy-sized fish usually popping up as well.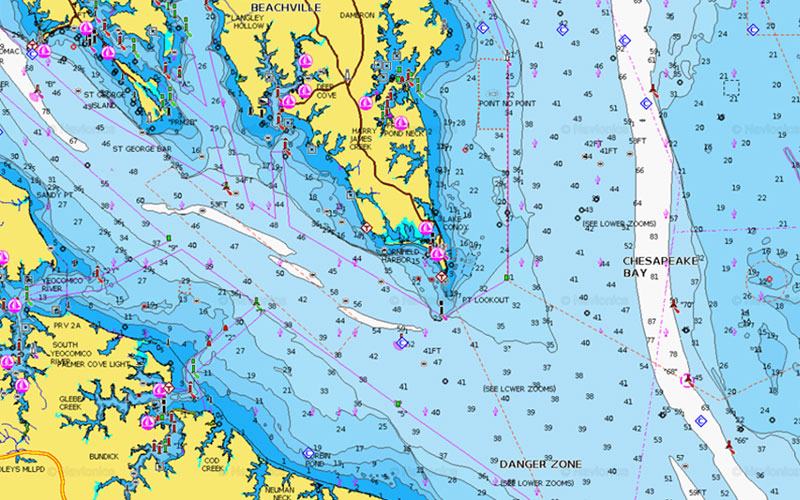 Prospecting Near Point Lookout
Whether you're launching at Point Lookout State Park, running out of the Yeocomico, or cruising down from upriver, the most effective way of prospecting in this area generally consists of scanning the horizon with binoculars. As anyone who's ever fished with me during bird season can attest, I'm a big proponent of using gyroscopic-stabilization binocs with at least 12X magnification. With good eyes you might see a cluster of five to 10 birds from a half-mile to a mile, depending on conditions. With a pair of 7X marine binoculars you may be able to triple that range, but if it's rough, you might not be able to so much as focus. With a pair of 12X gyro-binocs you can lock in on the birds at three to five miles or so in just about any conditions, and with 14X gyros I've spotted them from seven miles out. I must sound like a broken record on this topic, but it's a fact: I think I find just as many fish with the gyro-binocs as I do with my fishfinder… maybe even more.
Regardless of how you do your looking, stay on the move until you locate fish. Cruise for a mile or two at a time between stopping and scanning, until you've covered the entire zone. The birds aren't cooperating? Then it's time to use that sounder. Look for the contours and bumps in the 30- to 45-foot range all throughout this zone, because when there's zero action up top you'll often be able to spot pods of fish holding down deep near bottom around these depth changes.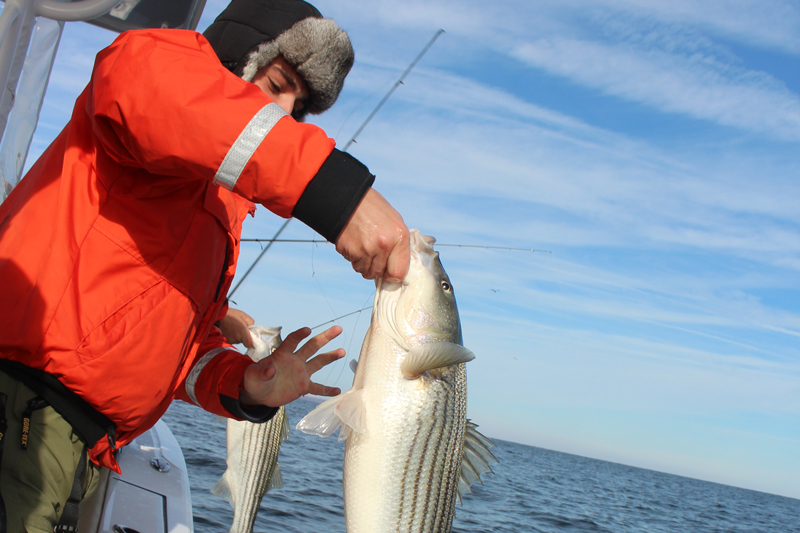 If you're not familiar with these waters, it would be a good move to pull up NOAA's new Electronic Navigation Charts (ENC) on their online viewer. The all-digital vector charts viewer went live about a year ago, and this is a government product that — brace yourselves, folks — actually works really, really well. You can zoom in, pan around, and see all the charted contours, humps, and channel edges, not just here but all up and down the entire Bay. 
When there's no surface action and you're looking for fish down deep, don't get too sucked into staring at the meter nonstop. Unless you're too busy catching fish, every 15 minutes or so force yourself to look up and look around with those binoculars. The fish could decide to go into frenzy mode at any moment, and if the birds gather and start diving, you don't want to miss it.
One additional note about the birds: give gulls (the larger birds with white or gray heads) priority over terns (the smaller birds with black heads). Any self-respecting rockfish over 20 inches is going to be churning water on bunker, not anchovies, and at this point in the fall many of the bunker are a bit large for the terns to handle. So, while all of the above will mix at times, as a general rule you'll find bigger baits and bigger fish under gulls as opposed to terns. If there are 10 gulls clustered off to port and 25 terns to starboard, I'm turning my wheel left, not right. Gannets (larger still, with black wingtips) are the best fish-indicators of all and get bonus points.
Hooking Late Fall Potomac Rockfish 
When the fish are in frenzy mode, truth be told you could probably cast a banana into the fray and hook up. But you'll probably hook up a lot more if you tie on a leadhead dressed with a five- to seven-inch plastic. BKDs, Z-Mans, and similar offerings will all do the trick. White and chartreuse are normally top color picks, along with purple or other darks colors in low-light conditions. Adding on a skirt to help bulk up the profile is also a good move at this time of year.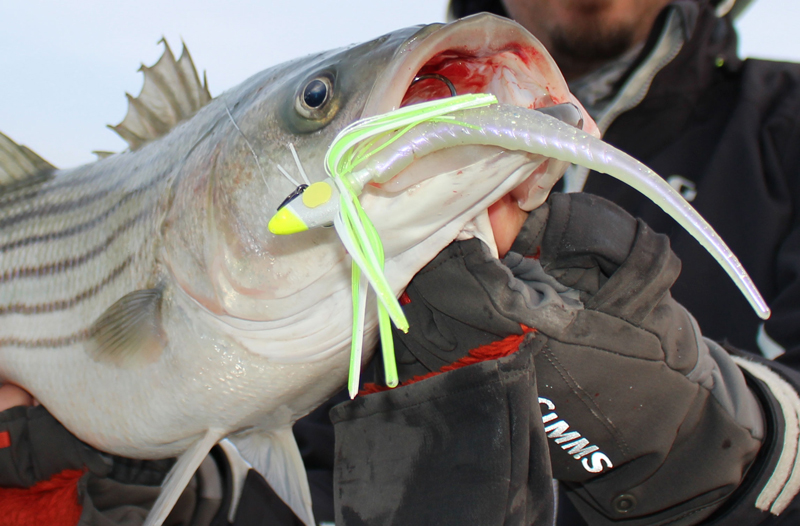 If you want to target larger fish, use a head of at least an ounce and let it sink down beneath the breaking fish before beginning a snap-jig-style retrieve. Quite often the largest fish in the school will mill around lazily below the smaller ones, picking off bunker that got smashed but managed to wiggle loose, which then become easy pickings. This is also a scenario where heavy metal can be very effective, since jigging spoons allow you to get down deep fast and stay there. If you're releasing fish, however, remember to swap out any treble hooks for singles.
When the fish don't come up top to make it easy and you have to hunt for them, you may want to switch to an ounce-and-a-half jighead or opt for one of those spoons. Jigs will commonly work best when they're cast away from the boat, allowed to sink all the way down, then bounced back right along the bottom. Spoons tend to be more effective when jigged vertically.
Although this is a scene that's ideal for jigging, trollers can certainly do well here too, particularly when the fish come up top. The usual tandems, un-weighted umbrellas, and also lipped plugs like Stretch 15s or Yo-Zuris, will get smashed. When the fish hold deep, however, trollers are at a bit of a disadvantage. Add enough weight and you can get to 'em, but as you pass up and down the contours be sure to adjust the lines constantly or you stand a good chance of snagging bottom.
Is heading for PLO in November and December a surefire thing? Aw, heck no — there's no such thing as a surefire thing, in the world of fishing. But prowl the waters of the Chesapeake from Havre de Grace to Hampton for season after season, and we'd bet you'll agree: for late fall rockfish action, PLO is the most consistent destination in all of Chesapeake country.