The Pursuit C 280 is one of those fishing boats that your eyes can't help but linger on. Glance at this center console as it floats next to the dock, and the unbroken sheerline, flared bow, and through-hull anchoring system work together to draw your stare. Then get a little closer, and notice detail work like the powder-coated pipework framing the vacuum-infused hard-top, the flip-up bolster seats at the helm, and the flush hinges and hardware. Is it really a work of art? We're getting there - but not just yet. To make that assertion, we need to look at the C 280 even more closely.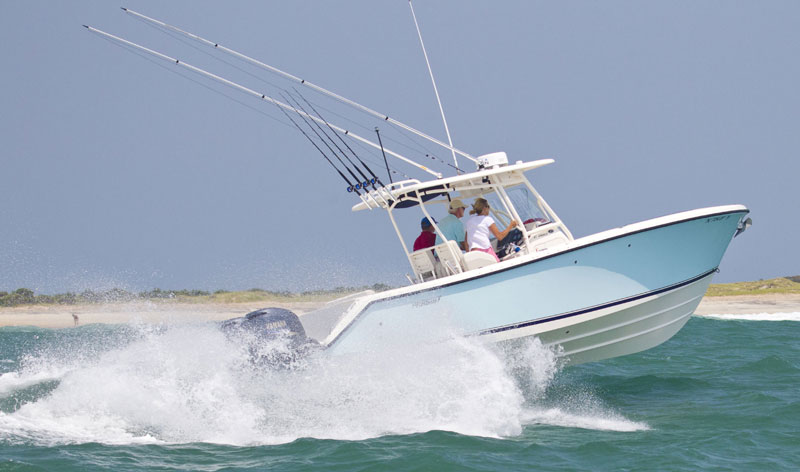 Step on board, and swing up a hatch. Here's where the real attention to detail shines. On some boats, the undersides of the hatches are rough fiberglass. On the Pursuit, they're glossy gel coat. The hatches are sealed by a gasket that hits a raised lip, they dog down tightly on compression latches, and they're supported by gas-assist struts. But you'll realize just how artfully they're crafted when you drop one closed. Instead of the loud bang most boat's hatches make, these close with a hushed "woosh" of escaping air. That's how close the tolerances are, and how well the hatches are fitted. There's utility in this artwork, too. Any angler worth his salt knows that a slammed hatch is loud enough to spook every fish within casting distance. That worry is eliminated, on the C 280.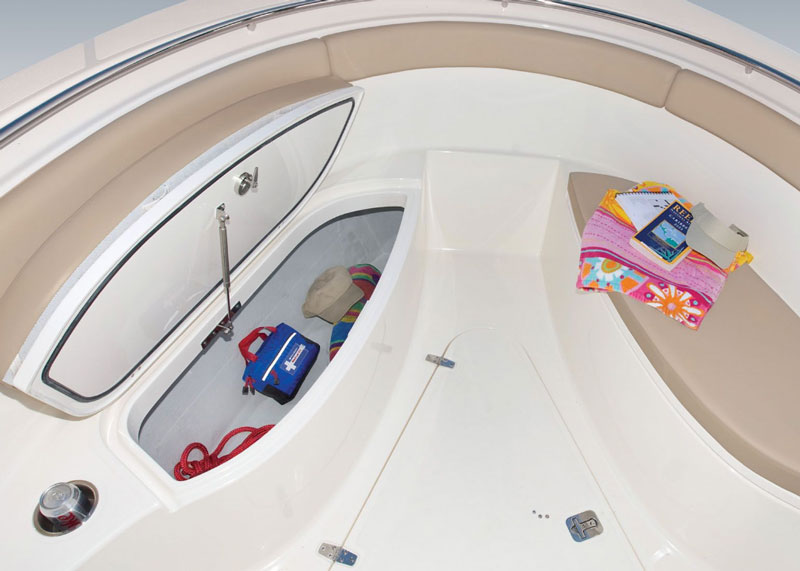 When it comes to fishboats art is, of course, in more than physical appearance. It lies in performance, as well. And with a pair of Yamaha V-6 F250 four-stroke outboards, you won't be disappointed when you go for a sea trial. Cruising speed at 4500 RPM is an eye-opening 43 MPH. Top end is an eye-watering 55 MPH. And throughout this range the boat maintains better than one MPG, with efficiency peaking at 3000 RPM, 26 MPH, and right around two MPG.
What about fishing features? The livewell is practically a swimming pool, with 52 gallons of capacity. And remember that Pursuit pioneered cutting-edge livewells, working with Mote Marine Laboratories to determine that painting the interior baby-blue kept baitfish calmer. Yes, they started that trend. They also design their wells to eliminate "dead spots" where there's insufficient water flow, prevent sloshing (which beats up the baits), and maintain enough water flow to keep every spot, bunker, or mullet you drop in happy and healthy. Along with that spectacular livewell the leaning post houses a tackle station with removable trays. 
Turn those baitfish into big fish, and you'll make good use of the twin 29-gallon integrated, insulated fishboxes. We wish these boxes had diaphragm Gulper pumps instead of macerators, since they tend to last longer when you start pumping scales and bones. There's a third fishbox in the transom, and this one has a whopping 45-gallon capacity. If you must waste precious fish-stowage space by keeping the food and drinks separate (wimp), use the 140-quart cooler built in under the forward console seat.
The C 280 center console also has a slew of creature comforts. There's a Polk Audio Bluetooth stereo system with four speakers, an enclosed head compartment in the console, 12-v receptacles at the helm, a fold-out transom bench seat, and cockpit coaming bolsters along the inwales. Does all of this truly add up to art, in a fishboat? We'll leave that to you to decide. But one thing is for sure: take a glance at the Pursuit C 280 center console, and your eyes will linger.
- By Lenny Rudow
LOA: 28'0"
Beam: 9'6"
Draft: 1'7"
Displacement: 7,510 lbs.
Fuel Capacity: 220 gal.
Max HP: 600
Price: $184,270 (advertised 2017)
Visit Pursuit Boats for more information.