Yes, we know that neither Yamaha Offshore outboards nor Mercury Verado models are fishing boats. So, why have we dropped this article into the Fishboat Reviews section? Because a huge percentage of you anglers are going to end up with one or more of these models as options when you go shopping for a new fishing boat. And when that happens, you ought to know the ins and outs of each.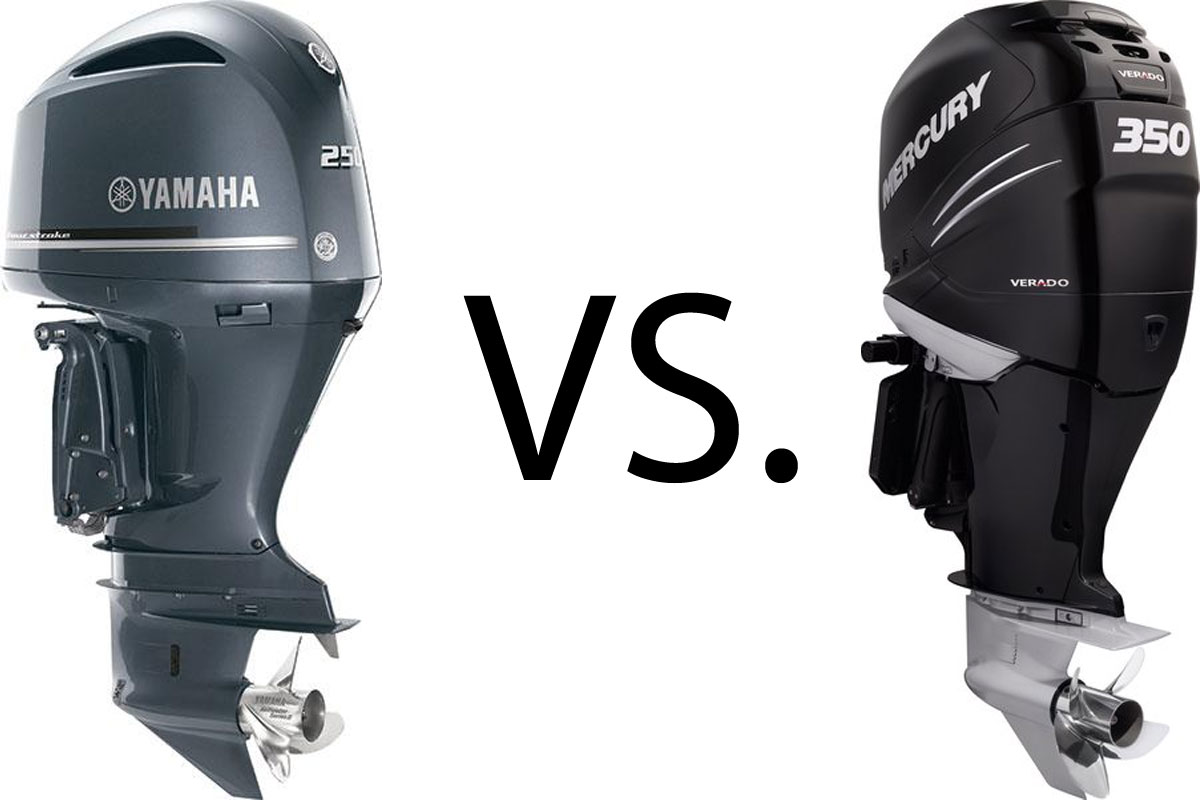 First, let's cover the details: all of the Yamaha V-6 saltwater models displace 4.2 liters, have a 3.78" x 3.78" bore and stroke, single throttle valve intake, a 70 amp alternator, a 1.75:1 gear ratio, and a three-star CARB rating. All of these models also have a WOT recommended RPM range of 5000 to 6000. Shaft lengths of 25" and 30" are available, and weight is either 562-lbs or 571-lbs, depending on that length.
The Mercury Verado series, on the other hand, is an inline-six that displaces 2.6 liters. All the offerings in this line have a 70 amp alternator, a 1.75:1 or 1.85:1 gear ratio, and a two-star CARB rating. They also come with electro-hydraulic power steering, and SmartCraft digital controls. Recommended WOT throttle range is 5800 to 6400. Shaft lengths include 20", 25" and 30" and weight ranges from 668-lbs to 635-lbs.
Both companies offer a three year warranty on these models, and both also quite regularly run promotions and specials offering an additional two years of coverage (which can also be purchased).
The most basic points of comparison? The Yamahas win when it comes to weight, but Verados get bigger (if you move to 350 horses in Yamaha-land you'll have to go to their 804-lb V-8 F350C). Just in case you're wondering how the motor with more displacement can possibly be lighter, note that the Yamaha has managed to shave down weight quite a bit through the years, with touches like sleeveless plasma-fused cylinders and a polymer composite lower engine pan. All of these engines are extremely competitive when it comes to fuel economy, as well as noise levels and vibrations while running. That does, however, bring us to another important point: the Verados tend to have a somewhat annoying whining noise you'll hear at lower RPM levels (when there isn't much wind noise) that's created by their electro-hydraulic power steering system. While at first glance this may seem like a point against Verados, at the same time it's a serious bonus—because the Yamahas don't come with an electro-hydraulic power steering system. And, we can tell you from experience, the Verado steering system is a joy to run with silky-smooth lock-to-lock turns made in seconds.
Another item the Verado comes with standard is their SmartCraft digital control system. Yamaha includes Command Link digital controls with the 300, and the 250 and 225 are available in both digital and mechanical versions (note: mechanical versions have a 50 amp alternator). For you old-timers who still insist on mechanical controls: you're missing out, big-time. The reliability of both SmartCraft and Command Link is excellent, shifts and acceleration are smoother, and the days of wandering throttles that need constant baby-sitting are long-gone.
What about pricing? We're not going to get into specifics because there are too many variables: the dealership you're working with, options, promotions offered by one company or the other, and so on. Let's just say that when it comes to cost, these engines are pretty darn competitive across the board.
Reliability is another big factor you'll want to consider. We don't have access to Yamaha's and Mercury's warranty records, so unfortunately we can't take a solid stance on this matter, either. Thankfully, however, due to the modern wonder known as Google it's pretty easy to do some quick research and find out what the scuttlebutt is. Just remember that no one source on the internet should ever be taken as gospel. Consider a wide variety of sources before you form any opinions, and also talk to your friends and slip-neighbors who own these engines. All of that said, in both cases we do feel comfortable making one blanket statement: reliability is light-years ahead of where it was a couple decades ago, when you always had to wonder if the outboard was going to start.
So, what's left to think about? Consider the fact that the Yamahas make their outboard power with displacement, while the Verados utilize a supercharger. The addition of a supercharger certainly makes things more complex, but it also makes for neck-snapping acceleration. There's also an additional octane rating for the Verados when 10% ethanol fuel is used, bumping up to 91 octane for most models and 95 for the 300 and 350 HP models for "premium performance"; the Yamahas require 89 octane, across the board.
For more information, visit Yamaha, or visit Mercury Marine.