Couch-potato scouting for fishing structure seemed like a worthwhile diversion during the pandemic shelter-in-place and scanning my computer screen for wrecks and obstructions started well; then the Bathymetric Data Viewer (BDV) went on the fritz and its "BAG" color shaded relief image disappeared during close-in zooms. Responding to my discrepancy report, the National Oceanographic and Atmospheric Administration (NOAA) technical team not only fixed the zoom capability, but also improved BAG image clarity in the process. The resulting enhancement of screen definition enabled detection of previously missed natural bottom structure.
BAG imaging in the Bay main-stem south of Cove Point runs all the way down to, and out of, the Bay entrance. Coverage is partial, but is sufficient to reveal many details not shown on NOAA's nautical charts. Such features might otherwise go unnoticed. Watermen working specific areas and dedicated recreational fishermen may have chanced upon them and gained close-held local knowledge. Modern recreational sonar technology has given the rest of us the tools to find and improve our understanding of bottom structure we most likely would never have known was there. But determining where to hunt is the initial challenge, and exploitation of NOAA data enables us to do that.
BAG imaging coverage above Cove Point is spotty. Areas with some coverage include in the upper tidal Potomac River, Cook Point Oyster Sanctuary, the Choptank seaplane wreck, Harris Creek, lower portions of the Severn River, and Baltimore's Inner Harbor. Elsewhere, available online resources result in a lesser level of structure revelations except in certain cases where side-scan sonar and other imaging are available from other sources. The White Rocks formation in the outer Patapsco River can be effectively scouted using Google Earth. Recreational side-scan sonar imaging illustrated the Magothy River's Rock Point in "Chesapeake Bay Fishing Reefs: Voyages of Rediscovery" (Young, 2020). Also included in the book are other stills of natural rock deposits on the Sharps Island Flats taken from underwater videos. The geologic derivation of the natural rocks on the flats is presented in "Bridges Under Troubled Waters" (Young, 2018). These few areas aside, what can be found using the improved "BAG" imaging capability? Let's take a look.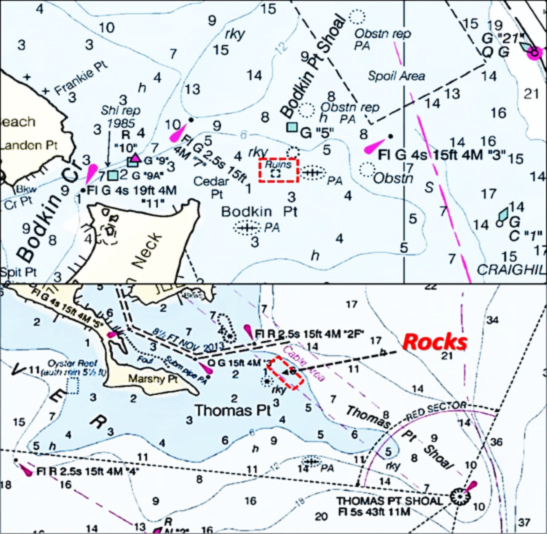 There are a few locations in the Upper and Middle Bay where rocks are charted, including those at Bodkin and Thomas Points. (See Thomas Point Rocks for a feature on how to fish this spot in specific). A rock symbol or notation is a general indicator that rocks are there, but not necessarily their full extent. Careful approach and use of onboard electronics are prudent for such locations. My practice is to stand off and use side-scan sonar to assess where formations are, and then work in closer. I also learn new areas where local knowledge is critical by taking trips with professional guides.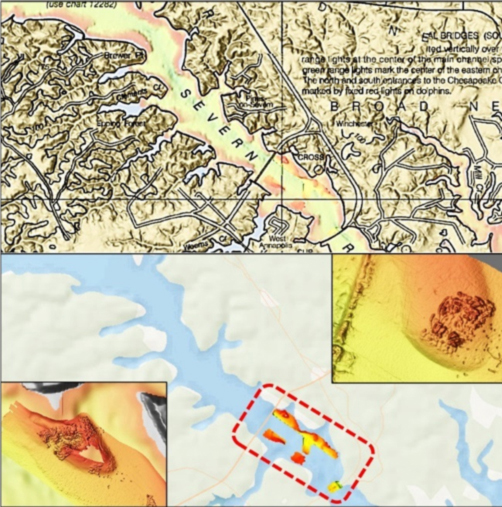 Color shaded relief images are helpful for the Severn River where they show steep drop offs and underwater points and shelfs. The river floor is relatively smooth except for bridge ruins, an artificial reef, and constructed oyster reefs. BAG image coverage is limited to a small section between the Route 50/301 Bridge and Route 450 Bridge. Ruins from the old railroad bridge and old Route 450 bridge are partially within coverage. The BAG image shows some underwater points and shelfs. Although rock outcroppings aren't visible, the firm bottom provides solid foundations for substrate and shell placement supporting oyster restoration. The artificial oyster reefs, a reef ball deposit on Winchester Lump, Severn River Fish Haven (charted as an oyster reef), and road and railroad bridge ruins provide good fishing structure for panfish. Also look for schoolie stripers foraging at any of this structure.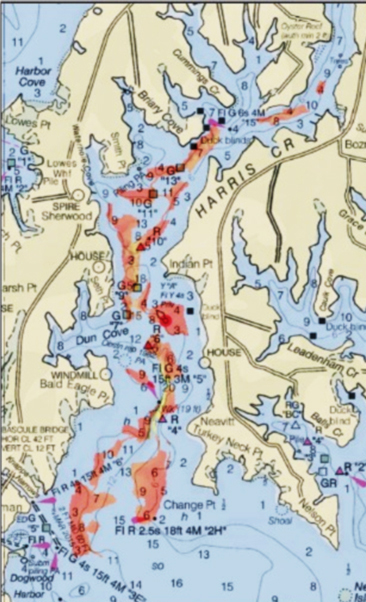 Across the Bay to the southeast east of Tilghman Island is the Harris Creek tributary of the Choptank River, which is home to a substantial oyster restoration project. BAG images show extensive natural hard structure with steep drop-offs around points throughout the creek's length. Artificial oyster reefs have been constructed in multiple locations. There is also a charted wreck and what has the appearance of an uncharted wreck on a shallow flat.
James Island at the mouth of the Little Choptank River, north of Taylors Island, is another place to look for scattered rock. The James Island stone piles are in the general area off the north end of the mostly eroded and submerged island historic landmass. It's uncertain whether or not the stone is naturally occurring, shoreline protection remnants, ballast rock, or a combination of the above. Much of this area is planned for inclusion in the mid-Bay island restoration project (see "Growing Poplars" in "Chesapeake Bay Fishing Reefs"). There are rock reefs off of Taylors Island (one is charted). These are thought to be remnants of shore protection measures and possibly an old shore structure used in the fishing industry. BAG imaging is not available and "DEM" imaging is unrevealing, so finding these structures is hunt and find using recreational side-scan sonar electronics, by investing in a fishing guide trip, or by accompanying someone with local knowledge. (Specific locations of uncharted structures learned from fishing guides are not identified as a professional and fisherman's courtesy.)
-By Wayne Young, the author of "Bridges Under Troubled Waters: Upper Chesapeake and Tidal Potomac Fishing Reefs," "Chesapeake Bay Fishing Reefs, Voyage of Discovery," "Phantoms of the Lower Bay," and "Hook, Line, and Slinker." All are available at Amazon.com, and you can find his Facebook page at Chesapeake Bay Fishing Reefs.
Sign up here to get the weekly FishTalk Chesapeake Bay and Mid-Atlantic fishing reports in your email inbox, every Friday by noon.