Just how much can you learn with modern electronics, like a Furuno NavNet system with DFF3D capabilities? The scans tell the story. Off the middle of Assateague Island about 4.1 miles out, look for a bottom feature known as the "Lead Wreck" at coordinates 38'08.971 x 75'04.881. The wreckage jumps off the screen when using the Coast Survey's Bathymetric Data Viewer (BDV) to view Bathymetric Attributed Grid (BAG) Color Shaded Relief imaging (Chart 1). Field research during 2021 by Ben Roberts, Eastern Search & Survey (ESS), investigated 191 sites from southern New England to North Carolina and confirmed and imaged 161 (see The Wreck Detectives). Ben's assessment from his research and diver inspections at this particular wreck is: "Unidentified sailing vessel. As of 2021, the site primarily consists of a 150-foot-long pile of cargo, including railroad tracks and lead ingots. The ship is believed to have sunk in the mid-late 1800s." The ESS project was funded by donations from generous community sponsors who were provided with confirmed coordinates. General locations are shown on a free Google Maps chart which contains pop-up boxes with wreck scans and details including the Lead Wreck. Map excerpts, sonar scans, and wreck histories are posted on the ESS Facebook page. Visit Ben's online materials to call up the images illustrating this article for a larger view.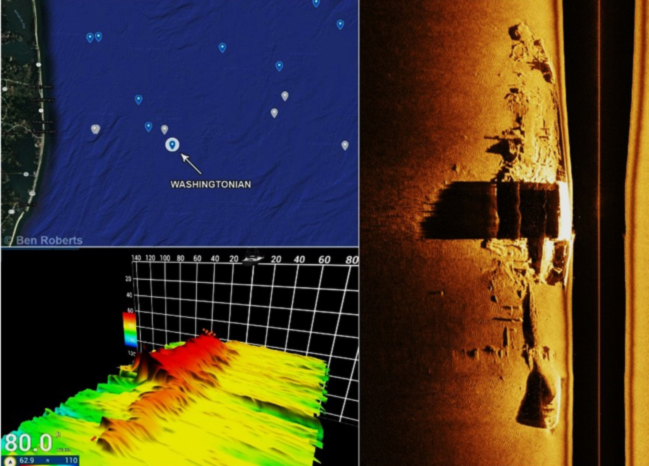 The above is a composite sample from Ben's postings. This is the 74-foot least depth wreck of the well-known Washingtonian at coordinates 38'27.434 x 74'47.101, a popular wreck fishing hotspot. The small cluster of red dots at the upper end of the wreck in the bottom left 3D sonar scan insert, a screen shot view taken via Furuno DFF3D multibeam sonar imaging on the NavNet TZ2 system, is fish. This hotspot only had a few fish when the scans were taken. It serves as a reminder that the location, depth, size, vertical relief, and configuration are factors that affect the attractiveness to and distribution of fish species about wrecks and obstructions.
Scouting fishing structure in specific wasn't an ESS project objective, yet the following observations correlate reef fishing insights and can all be made with modern recreational fishfinder imaging, as seen in the Furuno DFF3D screen shots:
Fish presence varies by site and changes as conditions change.
The distribution of fish ranges from on the feature, alongside close to the wreckage, suspended above or around the wreckage, or nearby off of the wreck.
Some features have sweet spots about which fish congregate.
Small, low-profile features often attract huge numbers of fish.
This reminds us that any given spot can be hot or cold on any given day, and that planning a trip around a single wreck can lead to a disappointing fishing trip. So, having multiple wreck sites within general proximity of each other increases the probability that one or more will produce catches.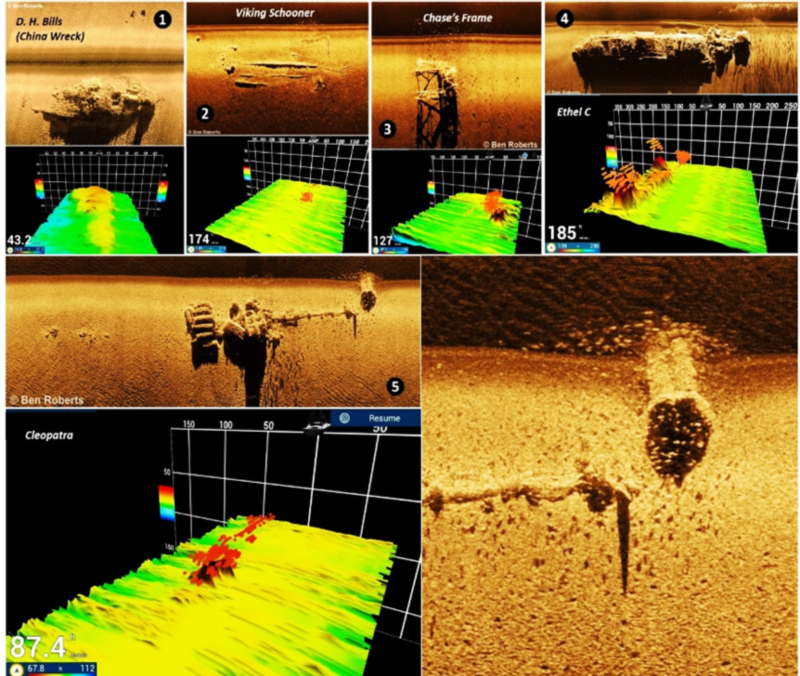 On the above chart, wreck 1 is the so-called China Wreck, a hotspot in the seaward approach to the Delaware Bay Entrance, at coordinates 38'49.239 x 74'54.973. This is thought to be the D. H. Bills, but the local name derives from a cargo that included dishware found by recreational divers.
ESS refers to Wreck 2 as the Viking Schooner. This uncharted, approximately 150-foot long, low profile, old wooden wreck is located in 175-foot waters well off Assateague Island. Wreck 3 named Chase's Frame by ESS appears to be a trawler frame off the back deck of a fishing vessel. This high-profile feature, while obviously a potential hook-snagger, had attracted a huge number of fish when it was scanned. So, here we have two wrecks with entirely different low and high profiles, each attracting a lot of suspended fish.
Wreck 4 is the Ethel C, a 328-foot steel freighter that sank in 1960 at coordinates 37'26.176 x 74'40.993. It has a high bow and a center and aft deckhouse. The sweet spots on the day it was scanned were the prominent superstructure highpoints at either end of the wreck site. There was a huge school of fish off the stern, as shown in the Furuno 3D imaging. Take note that some features have consistent sweet spots where fish congregate when present, especially at large-scale sites with prominent components such as this one. Although fish congregations can be found by searching with traditional fishfinders, 3D and side-scan sonars greatly facilitate the hunt and enable us to also see schools of fish suspended off of, but in proximity to, a feature. Note the multiple schools of fish visible with their orientation to the multiple structures clearly evident in the 3D scans. So, when approaching a feature, make sure to keep a watchful eye on the 3D and side-scan sonar.
Wreck 5 is the remains of a vessel thought to be the Cleopatra at the east end of Delaware-Five Fathom Bank Traffic Separation Scheme. According to a New York Times article reprinted in H. Richard Moale's "Notebook on Shipwrecks: Maryland Delaware Coast" (2007), the 295-foot-long Cleopatra sank in 1899 after colliding bow on bow with the steam excursion sidewheeler Crystal Wave. Gary Gentile's "Popular Dive Guide Series: Shipwrecks of Delaware Maryland" (2002) lists coordinates for Cleopatra at 38'46.644 x 74'29.920. New Jersey Maritime Museum data puts Cleopatra southwest closer to the Delaware shoreline. As for the fish, they are clearly visible in both 3D and side-scan imaging.
Another wreck imaged during the ESS project is one known as Brass and Bones. This wreck is somewhat broken up at one end, but there is still a lot of structure and cargo. It had a modest number of fish over it when scanned. Captain Rusty Cassway of the R/V Explorer dove the site in 2019. The top right photo is a windlass with chain dogfish, a type of small shark (the broken whitish lines), all over it. A number of brass pipes are shown at bottom left, and contributed to its place name. At lower right are some railroad car wheels with a school of bass and some chain dogfish checking it out.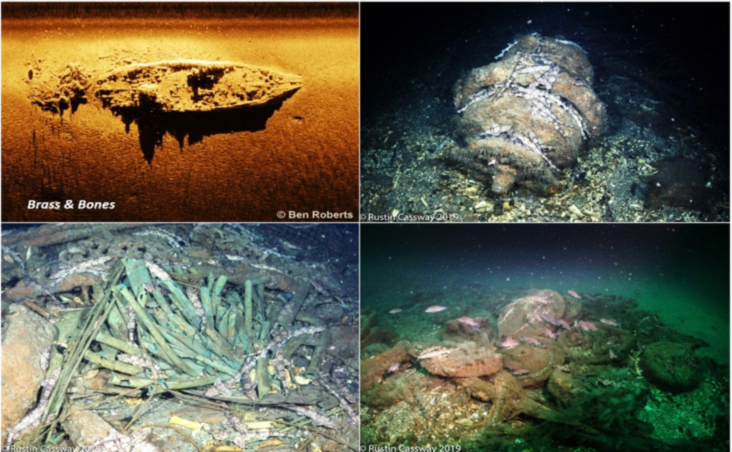 Shipwrecks such as those discussed here are of interest for archeology, history, commercial salvage, diving, treasure hunting, artifact retrieval, or just plain curiosity — and of course, for fishing. Regardless of the source of interest, commercial and recreational fishing and diving have the potential to disturb or damage wrecks with historical and archeological value. Older wooden wrecks are especially vulnerable to damage, so if anchoring at a wreck site, always remember to anchor off of the structure itself and slack anchor line to float back over the structure.
-By Wayne Young. Wayne is the author of "Bridges Under Troubled Waters: Upper Chesapeake and Tidal Potomac Fishing Reefs," "Chesapeake Bay Fishing Reefs, Voyage of Discovery," "Phantoms of the Lower Bay," and "Hook, Line, and Slinker." All are available at Amazon.com, and you can find his Facebook page at Chesapeake Bay Fishing Reefs.
Sign up here to get the weekly FishTalk Chesapeake Bay and Mid-Atlantic fishing reports in your email inbox, every Friday by noon.