White perch are a semi-anadromous fish, meaning they migrate into tidal fresh and slightly brackish waters each spring to spawn. White perch spawn from April through June and are found along the Atlantic Coast in both tidal and nontidal waters. They follow the yellow perch spawn, which runs from February and up into April in some areas. They will be found staging up in tidal ponds and in deep holes in the rivers feeding the Bay and larger tributary creeks when the water temperature gets to between 50 and 60 degrees. There they will be feeding in large numbers as they're staging up to spawn. That makes them a prime target for kayak anglers, especially on breezy April days when fishing larger open bodies of water may not be advisable.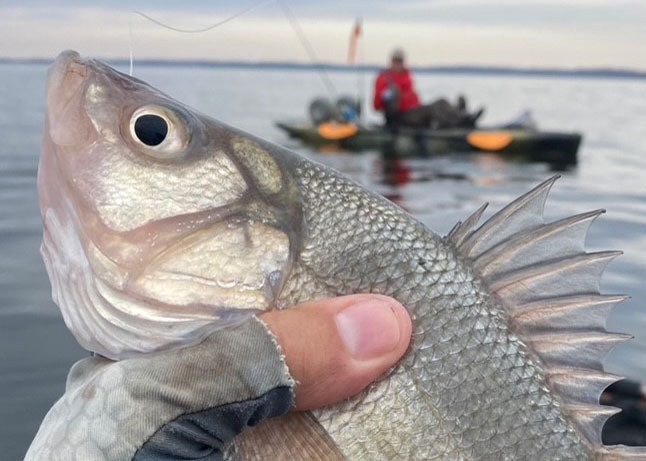 White perch can be caught on small in-line spinners, small spinner baits, grass shrimp, bloodworms, and red worms. Light and ultra-light rods are all you'll need to catch perch. Fishing bait under a bobber on a small jig will work best. Find out more in Early Spring White Perch.
As for kayak anglers, where you find white perch will depend on the individual fishery. You can find them staging in holes waiting to move up to spawn, and the depth of a "hole" can be simply a difference of a few feet, or it can be a dozen or more feet.
A good example is the run on the Patuxent River. The perch will move up the river as far as Wootons Landing and further to spawn, but they will start staging and gathering downriver before the run in deep water near Jug Bay. There, look for them in depressions on the river bottom and in river bends where the river has washed out deeper holes and channels. Fishing minnows on a small shad dart under a bobber is a great method to catch them early in the season on Jug Bay. Don't discount the river between Jug Bay and Wootons Landing. When the fish start to move you can catch them out of Wayson's Landing. There is a soft launch there that you can utilize and seek out holes holding fish. Don't be surprised if you catch largemouth bass and a lot of blue catfish too.
Another area where you may find fish is the Choptank River out of Greensboro. Again, as on the Patuxent River, look for deeper holes or depressions that may hold fish. There is a public launch at Greensboro Boat Ramp and you can head downstream on an easy paddle looking for white perch staging areas.
Tuckahoe Creek is another site to launch from to hunt fish. There you may find holdover yellow perch, and you'll find pickerel, bluegill, and largemouth bass. You can launch at the small boat ramp that is located in Hillsboro and work your way downstream looking for holes that hold staging fish.
Tidal ponds such as Big Pond at Beverly Triton Park also hold big white perch. Check out "Tidal Pond White Perch" at the website for more information about tidal pond white perch fishing.
After their spawn, you can catch fish in these same areas as they head back downriver and eventually, back in the open waters around docks and piers, rip rap, and shaded areas where they thrive all summer. Oyster bars hold them, too. Target docks, piers, bridge pilings, and channels. And don't overlook casting a Beetle Spin over grassbeds. The feeder creeks of the rivers feeding the Bay will hold these fish well into the fall.
-By Eric Packard