What's the worst thing about getting a boat that's sized for fishing the shallows for speckled trout one day and cruising into the open Atlantic to try trolling for yellowfin tuna the next? Taking a serious beating when the ocean kicks up. And, what's the worst thing about getting a dual console fishing boat in the hopes that the entire family loves the layout? Many DCs make a prima facie attempt at providing a decent fishing platform, but fall down flat when you start digging into the details. Twin Vee has the cure for both of these ills: the 240 Dual Console GFX.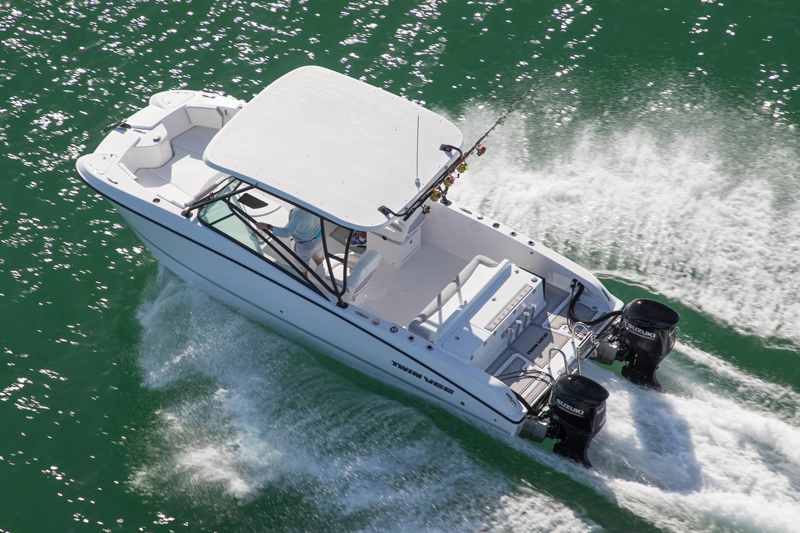 First, let's take a look at the inshore vs. offshore thing. This boat will float in a mere 1'4" of water, so getting into skinny environs is not a problem. Yet when the offshore waters are calling your name you'll be pointing the bow east and cruising in comfort, because the powercat hull can smooth out the seas in a way monohulls just can't match on a foot-for-foot basis. Two phenomenon work in the Twin Vee's favor. First off, a pair of razor-sharp entries slice and dice the waves a heck of a lot better than one fat one. Think of the cat's bow as a pair of knives, while the monohull's bow is more like a spoon. Secondly, as the boat accelerates forward it packs air in-between the hulls. The compressed air then acts as a cushion, softening the impacts as the boat meets waves.
You say we must be biased? Fine — we dare you to take one for a test ride. Or in this case, we suppose it's a double-dare (snicker, snicker). We'll be the first to admit that all boat designs have plusses and minuses, but those who attempt to argue that a well-designed powercat doesn't run smoother than a monohull of an equivalent size are invariably people who haven't spent time aboard a well-designed powercat. So we don't say take our word for it, we say take one for a sea trial. Preferably on a breezy, rough day, and see for yourself.
As for the 240's fishability, a close inspection of this model proves that Twin Vee didn't just build a family dayboat then sink a pair of rodholders in the gunwales and call it a fishing machine. They thought things through. For starters, you get a full complement of six flush-mount gunwale rodholders, a rack of four more holders across the transom, plus five rocket launchers if you opt for the hard top. There's a 40-gallon livewell in the transom that's fed by an 800-GPH Shurflow pump. Flip down the doors in the seat bases and you'll discover tackle stowage compartments. Yank those cushions off the forward lounge and remove the backrests, and you have a forward casting platform larger than those found on most bay boats with two more feet of LOA. Under-gunwale racks, a raw water washdown, and integrated fishboxes are all in the mix. Capping off the long list of angling accouterments is an ability few 24-footers can offer: 200-plus miles of range at cruise (in the low- to mid-30s), thanks to a hefty 90-gallon fuel capacity.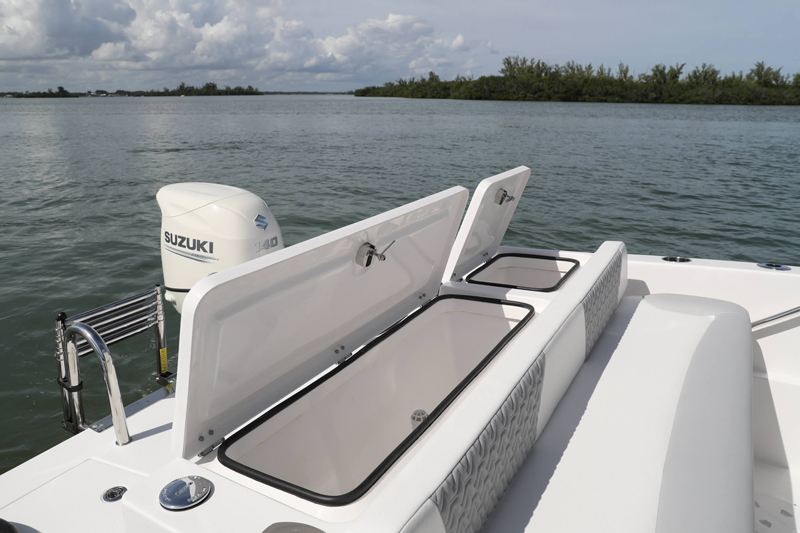 What about those ever-important comfort features that make a dual console perfect for the entire family? The head inside the passenger's side console is a critical one, but again, it's just one among many. That foredeck lounger we mentioned earlier has about twice the padded relaxing space as your average monohull DC bow cockpit, thanks to the fact that cats like the Twin Vee carry their beam all the way forward. There's an integrated dry box with two USB and a 12V outlet. The swim platform and helm are both foam-padded. A six-gallon freshwater system with a pull-out sprayer is in the transom, where there's also a 65-inch Birdsall folding bench seat with backrest.
Inshore fishing? Check. Offshore fishing? Check. Smiles all around for the spouse and kids? Check. A ride so smooth it'll shock the heck out of you. Check for yourself — we double dare you.
Twin Vee 240 DC GFX Specifications
LOA – 24'0"
Beam – 8'8"
Displacement – 3,400 lbs.
Draft (hull) – 1'4"
Transom Deadrise – NA
Fuel Capacity – 90 gal.
Max. Power – 180 hp
Area Dealers – Total Marine, Grasonville, MD, (410) 604-6000.