The number-one trait many anglers look for in a fishing boat is versatility, because we want to fish for yellowfin tuna at the offshore grounds one day, go striper fishing in the bay the next, and look for speckled trout and redfish in the shallows the day after that. But, is it realistic to be able to hit so many various types of fisheries with just one boat? On the Twin Vee 280 GFX, the answer is an unequivocal "yes."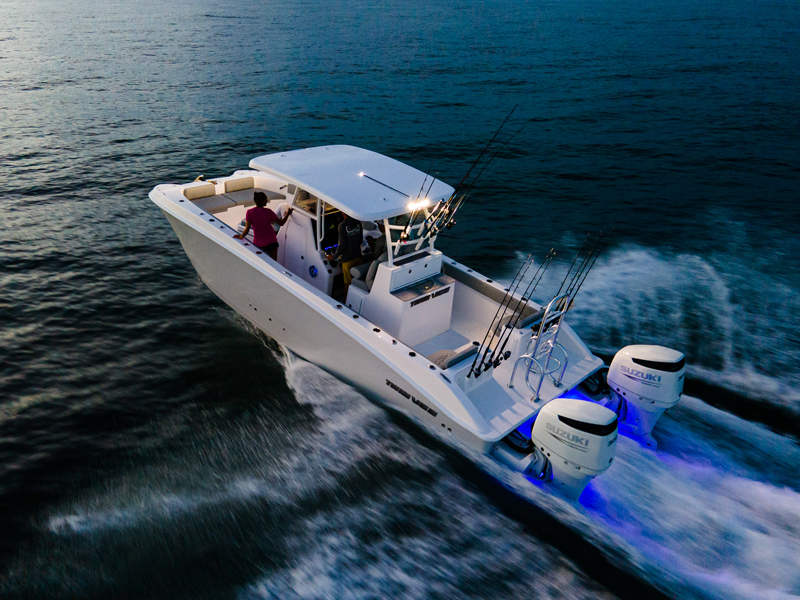 Offshore Fishing on the 280 GFX
We've had the opportunity to get up close and personal with this model and what we saw reinforced our initial impressions: it has the design and equipping for multiple-scenario fishing, with the deck space of a significantly larger monohull. Since it carries its full 9'6" beam all the way forward there's more room to roam than plenty of 30- or 32-foot monohulls can offer. And the powercat hull design is eminently competent in big water (more on that later). Plus, tackle stowage is tremendous — check out the eight-box plus bulk stowage integrated into the back of the leaning post with additional stowage in the sides. And the twin fishboxes integrated into the deck are long enough to ice down a swordfish, while the forward console lounger/coffin fishbox is big enough for a bigeye's permanent slumber. Offshore fishing? You can put a checkmark in that box.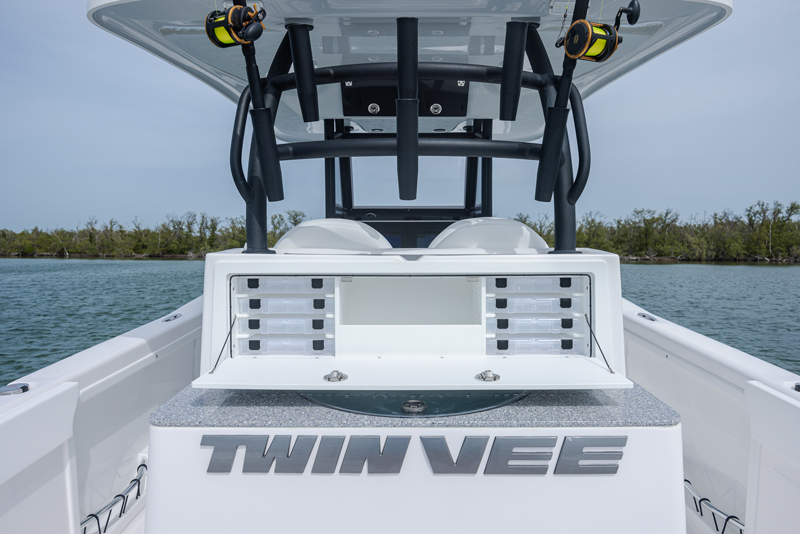 Bay Fishing on the 280 GFX
Pretty much any boat capable of fishing the ocean can be taken out into the bay, right? Pretty much, but that doesn't mean it'll be ideal for the job. First consider seakeeping. Some monohulls run best on widely-spaced oceanic rollers while others do better in a tight chop. The powercat design excels at both and is particularly good for getting atop a pound-your-teeth-out chop and turning it into an easy ride. The standard disclaimer: don't take our word for it, the ride is something you need to feel for yourself to really understand and appreciate. Wait for a windy day, then take one for a sea trial and make up your own mind.
Second, remember that very large boats designed for the ocean can be a bit unwieldy inshore. That's no problem with the 280 GFX, which can fit into most any slip, can be hauled by most any full-sized truck (with a permit where necessary), and thanks to widely-spaced outboards, can be maneuvered on a dime.
Everything else you need for standard bay fishing chores is present and accounted for. There's a 40-gallon livewell, raw water washdown, eight flush gunwale rodholders, eight vertical holders, and six rocket launchers on the pipework. So, go ahead and check that bay box.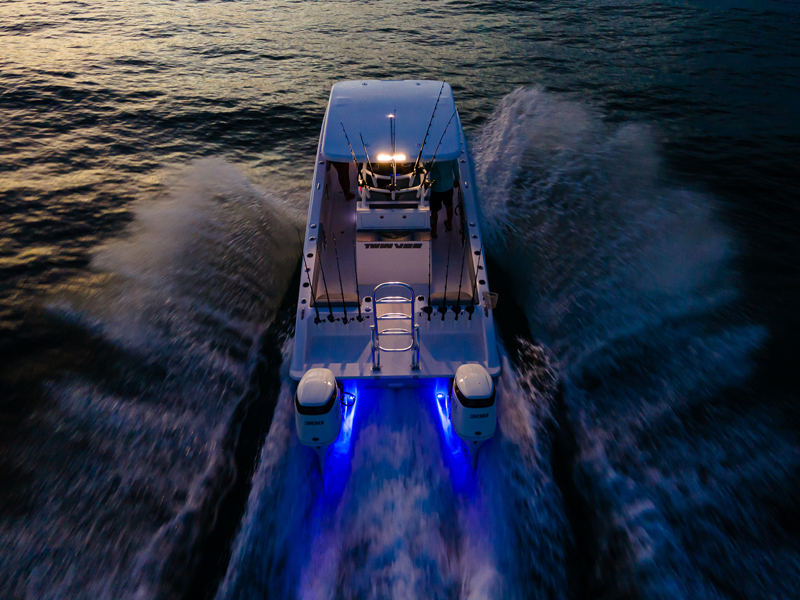 Shallow Water Fishing on the 280 GFX
This is where things get really sticky on most boats capable of fishing on the ocean and the bay. As a general rule, once you get to 28 feet of LOA and true offshore abilities, the deep-V design requires too much draft to get into shallow water. But another benefit of having two hulls as opposed to one is no big giant V — the 280 GFX drafts just 20 inches. True, that's more than a dedicated shallow water boat, but is still plenty skinny to hit most of the territory where you'll be gunning for specks and reds. Get the optional trolling motor on the bow, tilt the outboards up a bit, and you'll be probing cuts and marshes with boats half the size. The final box gets checked, too.
Fishing Everywhere on the 280 GFX
We already talked about the Twin Vee cat ride and how you need to experience it to get the full effect, but beyond that, just remember that its benefits apply to all types of fishing and cruising across the board. Similarly, the stability of this boat will prove beyond exceptional. The first time we stepped aboard a 28 GFX we walked from gunwale to gunwale and noted that it didn't rock nor roll so much as an inch. Again, don't take our word for it but get aboard one and go from side to side. Try going at trolling speed with waves hitting the hullsides, and let yourself drift in a beam sea. Feel it, and then ask yourself: have you ever been aboard a 28-footer this stable? We think we can guess the answer.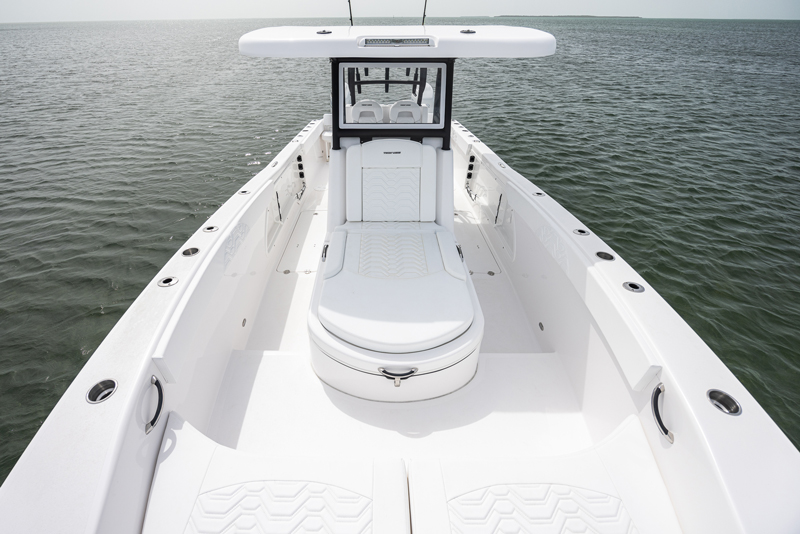 Another item that must be noted: as a member of Twin Vee's GFX model line, the boat has a much higher comfort level as compared to yesteryear's Twin Vees. When they began their complete model refresh a few years ago and shifted to the GFX line, some of the goals included bringing up the fit-and-finish detail levels, moving to higher quality seating, and adding family-friendly touches that make everyone aboard feel more comfortable. Cushions are thicker and contoured, there's a freshwater shower at the transom, and you'll find additions like the forward console chaise lounger and fold-away aft seating. Longtime Twin Vee fans will notice a big difference. And for those who haven't been aboard one before, we have just one thing to say. Again. Take one for a sea trial.
Twin Vee 28 GFX Specifications
LOA – 28'0"
Beam – 9'6"
Displacement – 8200 lbs.
Draft – 1'8"
Fuel Capacity – 130 gal.
Max. Power – 600 hp