We're walking down the docks at the Miami International Boat Show, looking at one mega-monster center console after the next, many of which have three, four, or even five outboards strapped to the transom. These big beasts are beautiful, for sure, but it's kinda funny. Because tied up amongst them is a Twin Vee 340 GFX, which requires only twin outboards — in this case a pair of Suzuki DF350s — to attain the same sort of performance while coasting across waves that would have most quad-engine monohulls with 10 feet more LOA slamming like they were hitting concrete. Yeah, of course we shot some video - check it out:
Say what you will about a powercat's strange looks or unusual handling, there is simply no way to match their smooth ride in a chop. The 340 GFX runs on a compression tunnel which narrows as you move aft, compressing air and water into a slurry that dampens every impact. Then add to that a pair of knife-like entries that slice rather than slam when they meet the waves. Net result? You won't hesitate to pop through the inlet when half the captains in the fleet say it's too rough to go even when their boats are notably larger.
As for the looks, that's a personal decision and we leave it to you to grade the boat for beauty. But we do want to point out that this boat looks nothing like the Twin Vees of yesteryear, which were a bit rough around the edges. Since renewing their lineup with the GFX models Twin Vee has shifted to fit and finish niceties like Llebroc helm seats, compression-molded hatches that are fully finished on both sides, color gel-coated T-top undersides, and so on and so forth. Don't pre-judge, because today's Twin Vee is not at all like those of yesteryear.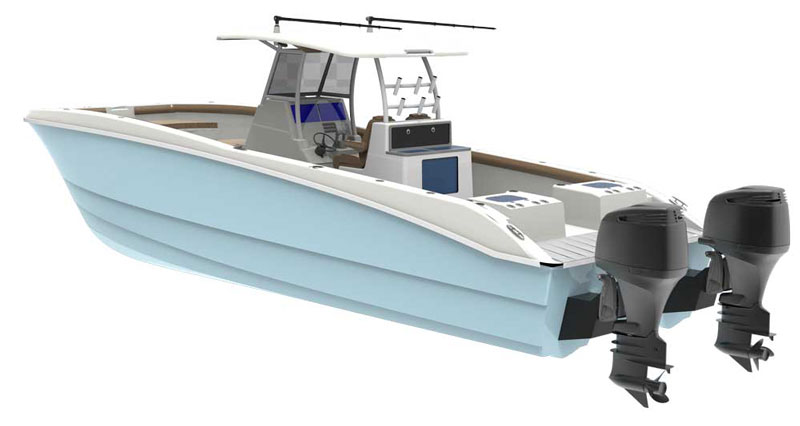 A close inspection of the boat's armaments proved that on the fishing grounds you'll find the 340 GFX is thoroughly well equipped for angling adventures. You get eight — count 'em eight — standard flush-mount rodholders in the gunwales plus five on either side of the transom, under-gunwale racks, a tackle stowage station with eight tackleboxes plus three bulk stowage drawers in the transom, a bow tackle station, a pair of in-deck fishboxes evacuated via macerators, and both raw and freshwater washdowns. Livewell capacity is a strong suit, with a pair of 45-gallon wells in the transom and a 40-gallon livewell in the back of the leaning post. There's also a monster coffin box under the forward console lounger which can serve as a bulk stowage compartment or a mega-fishbox, as the catch dictates.
The bottom line? This is one ferocious, fishy feline. No matter what we may say here, however, there's only one way to really comprehend just how well it eases through the waves — you have to take it for a sea trial, and experience it for yourself. When you get back to the dock, we promise not to say we told you so.
Twin Vee 340 GFX Specifications
LOA – 34'0"
Beam – 11'4"
Draft (hull) – 1'10"
Fuel Capacity – 382 gal.
Max. Power – 800 hp
Area Dealers – Total Marine, Grasonville, MD, (410) 604-6000.